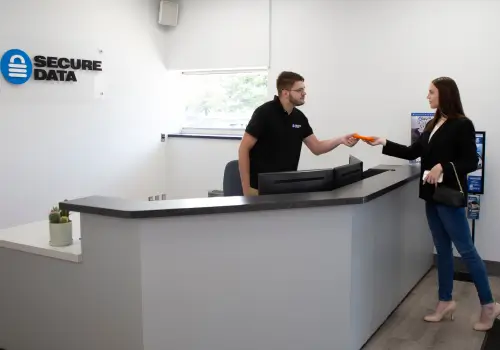 Data Recovery Services in Portland - RAID, SSD & Hard Drive Recovery
We have supported Portland residents by offering industry-leading data recovery services since 2007. Regardless of device type or complexity, we have the experience and facilities to recover your data. Our Southwest 5th Avenue store, near the intersection with West Burnside Street, is across the street from the Roseland Theater, within walking distance of downtown.
Trust the most dependable professionals for data recovery in Portland, Oregon. We strive to provide peace of mind and remarkable value to our clients, starting with a free consultation and a no-obligation estimate.
Our customers rate our services:
We Helped Thousands Get Their Lost Data Back.
With over 5,329 satisfied customers and growing, we are proud to provide outstanding customer experience and quality service that consistently exceed customer expectations.
View All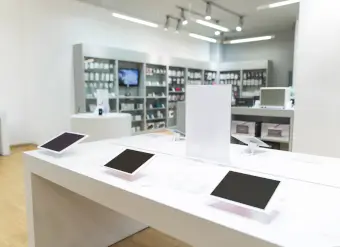 Secure Data Recovery Services
Emergency Services Available 24x7
The engineers at Secure Data Recovery have successfully recovered tens of thousands of failed devices. Our personnel possess the most industry-specific certifications of any data recovery company. We will exhaust every technological option available to resolve data loss situations for our Portland customers.
Secure Data Recovery Near You
Are you looking for data recovery services in Portland, Oregon? We have two stores in the Portland metropolitan area. In addition to the above location, you can find us at 11049 Southeast Main Street in Milwaukie, near Milwaukie Bay Park and the Willamette River.
Portland data recovery has never been more accessible or easier for residents of the City of Roses. Contact us now or visit one of our locations for hard drive data recovery in Portland. No appointments are needed.
Portland Data Recovery Company
Secure Data Recovery Services is the authority in hard drive recovery , SSD recovery and RAID recovery. Since 2007, our data recovery company has helped tens of thousands of individuals and businesses of all sizes in Greater Portland successfully recover from every type of data loss scenario imaginable. We have seen your failure type before and our team understands the importance of data in the modern world. We're ready to recover your lost data with our flexible Economy and Standard data recovery services, or immediately with our Emergency data recovery option.
What Can We Recover For You Today?
In addition to hard drive recovery and RAID recovery, we specialize in complex data loss solutions for SSD drives and other NAND-based flash memory devices, iPhone and Android smartphones and mobile devices, network-attached (NAS and SAN) storage systems, and virtual machines.

Portland, OR Data Recovery
Hilary Howell
Reviewed on Sep 07, 2023 | Nehalem, OR
Jacob and his team were so easy to work with and helpful. They were able to recover everything that I needed and did it very fast. They answered all of my questions right away and helped me with my outdated QuickBooks. I highly recommend them they are amazing at what they do.
Jeff Bresler
Reviewed on Aug 02, 2023 | Vancouver, WA
I lost my data from my external drive and I couldn''t find a way to obtain my lost information. I found Secure Data Recovery via online search and they appeared to be a reputable company specializing in recovering data from external drives. The service rep was very helpful and walked me through every step of the process. He had followed up with me multiple times and after a few simple steps, Secu... Read Morere Data was able to recover my lost information and 100% of my data was successfully recovered.
Jennifer Shatzer
Reviewed on Jan 18, 2023 | Lake Oswego, OR
Thank you Jonathan for your help in getting my data off an old external hard drive. I appreciate all you did.
Nathan Holstedt
Reviewed on Oct 31, 2022 | Pacific City, OR
AMAZING SERVICE + AMAZING RESULTS
I can''t thank Secure Data Recovery enough for the amazing customer service throughout the entire recovery process. From the moment I called, Scott McMacken was ready to assist and get my data recovered. After speaking with a handful of other data recovery service providers, Scott and Secure Data Recovery were clearly the right choice. Within 15 minutes Scott had provided an overnight shipping lab... Read Moreel and a plan to begin the diagnostic and recovery process. It just felt right with Secure Data Recovery. Scott was a real person, who cared about my problem, provided a solution and was ready to guide me through the recovery process. I was updated at every step of the process and was able to contact Scott directly for updates and any questions I had. Scott and the team at Secure Data Recovery produced the results I was needing and were able to recover over 90% of my data. Thanks to Scott and his team at Secure Data Recovery I was able to focus on my clients during the process, and rest assured that the problem was being handled by a skilled and personable team. I highly recommend Scott at Secure Data Recovery for all of your data recovery needs.
Kevin Lalowski
Reviewed on Mar 29, 2022 | Portland, OR
Big thanks to Elliot Fisher and everyone else here. Everyone was very professional and personable. They were able to work very well with me to find the best recovery options, recovered all the data, and had a new drive with everything back to me very quickly. I hope to never need their services again, but if I do, I am coming back.
Don Bryans
Reviewed on Mar 09, 2022 | Portland, OR
SDRS was able to retrieve much of the data from my crashed hard drive. Eric was very helpful in explaining all of the potential risks I''d be facing relative to what may or may not be retrieved. He was also very responsive whenever I had questions regarding the status of my project.
Why Choose Secure Data Recovery In Portland?
Certified and Verified Secure
Transparent Process
Trusted and Guaranteed Results
Secure Data Recovery Services operates in world-class facilities that undergo regular SSAE 18 SOC 1, SOC 2, and SOC 3 audits to verify the integrity of all cybersecurity management control systems. This means that your data is protected at every stage of the recovery process.
Each of our Lab facilities also has a certified Class 10 ISO 4 cleanroom. This specialized environment provides state-of-the-art filtration to remove potentially harmful airborne particulates that could damage the sensitive internal components of storage devices.
Secure Data Recovery Services' facilities in Portland have accreditation with the Better Business Bureau and maintain an A+ business rating. Your complete satisfaction is our mission. We strive to deliver the highest quality of service for every data recovery case.
BBB of Portland Accredited Company with an A+ Rating
You can view the complete history of our A+ Rating and accreditation with the BBB of Portland, including full documentation.
For more than a decade, the engineers at Secure Data Recovery Services have built a reputation as the most reliable provider of professional data recovery in the industry. Our expert team maintains a documented 96% successful recovery rate.
We maintain partnerships with every major digital storage manufacturer to ensure our custom solutions never threaten any existing product warranties. We also invest heavily in research and development to keep pace with rapidly evolving digital storage technology.
Free Data Recovery Quote
We intimately understand all data loss scenarios and will exhaust all options technologically possible to reunite you with your lost data as quickly as possible. When you choose Secure Data Recovery Services, you get the most credentialed professionals in the industry.
Service times and exact pricing for a successful recovery always depend on the specific damage to the storage, which is why we offer free, no-risk diagnostics with every standard service.
Our quotes consist of:
Price for successful recovery
Time estimates for the job
Key information about the events that led to data loss
Call 503-828-9078 to speak to a data recovery expert 24x7 and schedule your free data recovery consultation with a no-obligation price quote.