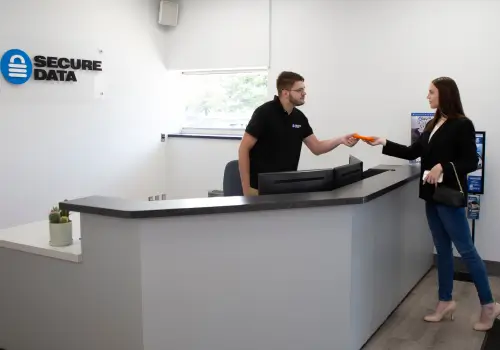 Data Recovery Services in Oregon - RAID, SSD & Hard Drive Recovery
Secure Data Recovery Services offers professional media repair and data recovery to the state of Oregon through our office in Portland. For many years, we have served the Pacific Northwest through a network of advanced facilities, providing dependable data recovery with perfect security. Our data recovery services in Oregon remain unparalleled by other companies offering data recovery solutions.

Oregon's 3.9 million residents enjoy a high quality of life, and in recent decades, a number of major corporations have established a presence in the state. We opened our Portland office to serve businesses, government offices, and personal computer users in Oregon, and our specialists have provided exceptional results for hundreds of cases.
Expert Data Recovery Services
Secure Data Recovery Services is the authority in Hard Drive Recovery, SSD Recovery and RAID Recovery. Since 2007, our data recovery company has helped tens of thousands of individuals and businesses of all sizes successfully recover from every type of data loss scenario. We understand the importance of data in the modern world and with our Economy, Standard and Emergency Data Recovery Options and state-of-the art technology we are ready to get your lost data back right now.
Experience total piece of mind with a "No Data, No Recovery Fee" Guarantee.
What Can We Recover For You Today?
We know that data loss can cause a tremendous amount of stress, especially for residents in Oregon. Hard drive data recovery companies need to provide certified and professional specialists who will recover data. Prospective Oregon clients can rely on our team of experts to get the job done. Our teams work to make the data recovery process as simple and straightforward as possible. Unlike many other data recovery providers offering hard drive repair services, we offer 24/7 customer service and online case monitoring tools. Secure Data Recovery Services also provides risk-free evaluations for all digital devices, and our no-recovery, no-charge guarantee gives you peace of mind.
To start a case or to schedule a visit to our Portland office, contact our customer service team today.
Secure Hard Drive Data Recovery Technology
Secure Data Recovery Services operates the most advanced data recovery laboratory in the United States. With a certified Class 10 ISO 4 Cleanroom and proprietary data repair utilities, we deliver an exceptionally consistent set of hard drive repair and RAID services, and our facilities are outfitted to handle data tapes, solid-state drives, and all other types of digital storage devices.
Whether you need a single file or several Terabytes of data, we provide results that you can count on. No other data recovery company comes close to what we offer in the state of Oregon. Hard drive data recovery companies should have an impeccable reputation with businesses and organizations that have relied on their services to get back on track. Our overall success rate is 96 percent, and thanks to our ongoing engineer training and our team-based approach to data recovery services, we offer industry-leading turnaround times for all types of digital devices. This also includes businesses that need RAID 5 recovery and repair. Find out more by contacting us today.
We can treat any media failure scenario, including:
Physical media failures
Electronic damage
Smoke or fire damage
Water damage
Accidental file deletion
Formatting errors
RAID rebuild failures and more
When you send your media to our Oregon facility, you can rest assured that you will receive secure, appropriate care from an experienced team of data repair engineers. This is a necessity for businesses that need to receive RAID data recovery. Secure Data Recovery Services maintains excellent security credentials, including various compliance certifications and SSAE 18 Type II certification.
What to Do When Digital Storage Media Fails
Operating a digital storage device in a failed state can cause rotational scoring, accidental overwrites, and other serious issues that greatly complicate the data recovery process. To ensure the best possible chances of a full recovery, turn your computer off as soon as you notice failure symptoms and inquire about our data recovery services.
Some of the most common symptoms that accompany media failures include:
Clicking, whirring, and other unusual noises
Missing or unreadable files
Error messages indicating bad sectors or file corruption
Operating system will not boot
RAID rebuild failures
Computer does not recognize attached media
With numerous certifications, flexible turnaround options, and a knowledgeable customer service team, Secure Data Recovery Services is Oregon's best option for hard drive data recovery, RAID repair, data tape repair, and other services. Our experienced specialists are ready to help you create an effective disaster recovery plan that minimizes your down time. To get started with a free quote and estimate contact us online.
Secure Data Recovery Process
1
Free
Consultation
Power down the device and call us, 24x7 for a free consultation and quote.
2
Free Professional Diagnostics
Submit your device at one of our locations for a non-destructive evaluation by a data recovery expert.
3
Review &
Decide
Review the diagnostic results and approve the work order at a set price, payable upon success with our "No Data, No Recovery Fee Guarantee".
4
Data Recovery & Return
Submit payment and receive your recovered data on a new external drive.