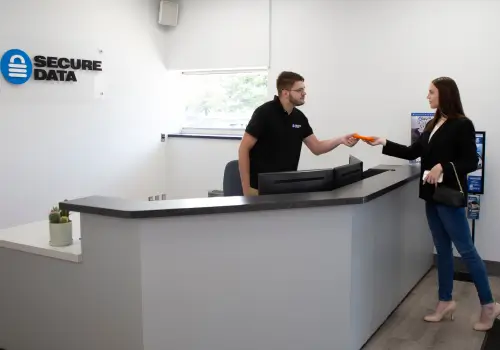 Data Recovery Services in Minneapolis - RAID, SSD & Hard Drive Recovery
We have offered professional data recovery services in Minneapolis since 2007. Recovering lost files from a failed storage device is more convenient than ever. Our store at 7920 Brooklyn Boulevard, near the intersection with West Broadway, is less than a mile from the Starlite Center in northwest Minneapolis.
Trust the experts for hard drive data recovery in Minneapolis, featuring a 96% success rate and a "No Data, No Recovery Fee" guarantee.
Our customers rate our services:
We Helped Thousands Get Their Lost Data Back.
With over 5,331 satisfied customers and growing, we are proud to provide outstanding customer experience and quality service that consistently exceed customer expectations.
View All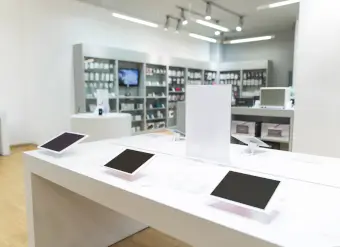 Secure Data Recovery Services
Emergency Services Available 24x7
Secure Data Recovery Near You
Need data recovery in Minneapolis? We have an additional store in the northern suburb of Coon Rapids at 13060 Riverdale Drive, near the intersection with Round Lake Boulevard, in the Riverdale Crossing shopping mall.
Minneapolis data recovery is within reach.
Call us or visit one of our stores to schedule a free evaluation and receive a no-obligation quote.
Minneapolis Data Recovery Company
Secure Data Recovery Services is the authority in hard drive recovery, SSD recovery, and RAID recovery. Since 2007, our data recovery company has helped tens of thousands of individuals and businesses of all sizes in the Twin Cities successfully recover from every type of data loss scenario imaginable. We have seen your failure type before and our team understands the importance of data in the modern world. We're ready to recover your lost data with our flexible Economy and Standard data recovery services, or immediately with our Emergency data recovery option.
What Can We Recover For You Today?
In addition to hard drive recovery and RAID recovery, we specialize in complex data loss solutions for SSD drives and other NAND-based flash memory devices, iPhones and Android smartphones, network-attached (NAS and SAN) storage systems, and virtual machines.

Minneapolis, MN Data Recovery Reviews
Brenda M
Reviewed on Sep 28, 2023 | Saint Paul, MN
Data was lost and now is found!
Very happy with the service and process of retrieving data from our camera recorder. I was a little hesitate at first to send our camera recorder with the data in it through the mail to Secure Data -wondering if it would get lost, etc. I found Secure Data to be a great company. They communicated with me quickly by phone and email through the whole process and answered all my questions. I would... Read More recommend using Secure Data.
Paul Calatayud
Reviewed on Apr 19, 2023 | Eden Prairie, MN
Fast, professional and above all data recovered!
I worked with Secure Data and Jake Gambatese who was professional knowledgeable and very fast to respond to my questions. The whole experience was very easy, free quotes shipping my data and recoverability all on timelines I was able to decide on. I had an 8TB internal HDD that had a power surge and killed the drive. It would not take power spin or register as alive in an external bay. Recoverabil... Read Moreity was far beyond anything I could do.
Jessica Lundeen
Reviewed on Apr 11, 2023 | Montgomery, MN
Although I feel these companies are severely overpriced for what I needed, Eric provided excellent customer service. He was amazing at communication and follow thru.
Derek "D Roc"
Reviewed on Apr 05, 2023 | Rochester, MN
Eric and the rest of the crew at Secure Data Recovery were able to retrieve data for me after a Crucial SSD failed. Total process was about month; from initial contact to recovered data back in hand on a USB stick. Would recommend these guys.
Andy Cohen
Reviewed on Nov 30, 2022 | Long Lake, MN
Successful HD Recovery Faster Than Promised
I found Secure Data Recovery Services online and, after a thorough discussion about our issue, I decided to give them a try. They were very responsive to the questions I had, and I appreciated their approach - there was no fee if they were not able to recover the data I wanted. Eric and others kept me informed about the recovery status and the delivered earlier than promised. I hope that we'll not... Read More need to use them again, but should we have future data recovery needs, I would definitely entrust them with attempting to recover the data.
Alyssa Moua
Reviewed on Jun 13, 2022 | Mounds View, MN
Thank you to Val and his team! I had childhood videos on a hard drive that I wanted to recover. The initial quote was a bit steep but Val and his team were able to adjust it and successfully recover my data. They were very helpful and I was very pleased with their customer service!
Why Choose Secure Data Recovery in Minneapolis?
Certified and Verified Secure
Transparent Process
Trusted and Guaranteed Results
Secure Data Recovery Services operates in world-class facilities that undergo regular SSAE 18 SOC 1, SOC 2, and SOC 3 audits to verify the integrity of all cybersecurity management control systems. This means that your data is protected at every stage of the recovery process.
Each of our Lab facilities also has a certified Class 10 ISO 4 cleanroom. This specialized environment provides state-of-the-art filtration to remove potentially harmful airborne particulates that could damage the sensitive internal components of storage devices.
Secure Data Recovery Services' facilities in Minneapolis have accreditation with the Better Business Bureau and maintain an A+ business rating. Your complete satisfaction is our mission. We strive to deliver the highest quality of service for every data recovery case.
For more than a decade, the engineers at Secure Data Recovery Services have built a reputation as the most reliable provider of professional data recovery in the industry. Our expert team maintains a documented 96% successful recovery rate.
We maintain partnerships with every major digital storage manufacturer to ensure our custom solutions never threaten any existing product warranties. We also invest heavily in research and development to keep pace with rapidly evolving digital storage technology.
Free Data Recovery Quote
We intimately understand all data loss scenarios and will exhaust all options technologically possible to reunite you with your lost data as quickly as possible. When you choose Secure Data Recovery Services, you get the most credentialed professionals in the industry.
Service times and exact pricing for a successful recovery always depend on the specific damage to the storage, which is why we offer free, no-risk diagnostics with every standard service.
Our quotes consist of:
Price for successful recovery
Time estimates for job
Key information about the events that led to data loss
Call 612-435-0660 to speak to a data recovery expert 24x7 and schedule your free data recovery consultation with a no-obligation price quote.