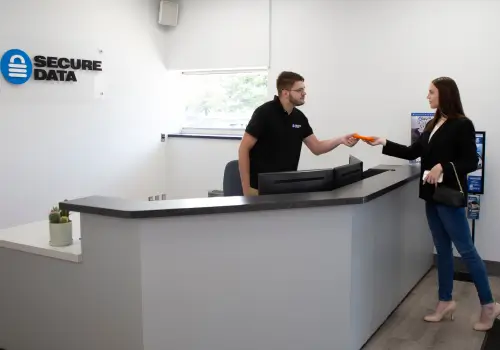 Data Recovery Services in Minnesota - RAID, SSD & Hard Drive Recovery
Secure Data Recovery Services provides data recovery, file repair, and related services to Minnesota through an office in Minneapolis. We lead our industry in technology research and development and employ some of the best professional engineers to perform our data recovery services. With an overall success rate of 96 percent, we offer extremely dependable results for our Minnesota clients.
Minnesota boasts a high quality of life for its 5.5 million residents, thanks in part to a strong economy and an active technology industry. Most of Minnesota's population resides around the Twin Cities, where there are also robust businesses. When these businesses suffer hard drive problems, they face a potential loss of valuable information. When companies need to recover data, Minnesota businesses turn to Secure Data Recovery Services. We are certified and understand the importance of performing data recovery quickly, and our local facility delivers excellent turnaround times for both personal computer users and local businesses in need of data recovery.
Expert Data Recovery Services
Secure Data Recovery Services is the authority in Hard Drive Recovery, SSD Recovery and RAID Recovery. Since 2007, our data recovery company has helped tens of thousands of individuals and businesses of all sizes successfully recover from every type of data loss scenario. We understand the importance of data in the modern world and with our Economy, Standard and Emergency Data Recovery Options and state-of-the art technology we are ready to get your lost data back right now.
Experience total piece of mind with a "No Data, No Recovery Fee" Guarantee.
Recovery Services We Offer
Secure Data Recovery Services offers a free quote and a no-recovery, no-charge guarantee for all data recovery cases. Our facilities are outfitted to provide RAID repair, data tape repair, and other advanced services, including RAID 5 data recovery. Through regular audits, we maintain the data recovery industry's best set of credentials. We also offer Minnesota's best turnarounds for data recovery services through our 24/7/365 emergency option.
To start a case or to schedule a visit to our Minnesota office, contact our customer service team today or contact us online.
How Data Loss Affects Minnesota Computer Users
When storage devices lose data, Minnesota computer users face down time, heavy reconstruction costs, and other potentially serious consequences. As a leader in professional data repair and recovery services, our goal is to offer hassle-free services, such as hard drive repair services in MN, with dependable results to help you make an effective disaster recovery plan. Our engineers can treat any data loss scenario and have extensive experience with all operating systems and file types.
Some of the most common media failure scenarios include:
Hard drive crashes
Electronic damage from power surges and other events
Damage from fire, flooding, or other environmental disasters
Virus and malicious software damage
Unintentional file deletion
Secure Data Recovery Services' laboratory features state-of-the-art tools designed to repair damaged media to a functional condition. We were the first provider offering data recovery services in Minnesota with a certified Class 10 ISO 4 Cleanroom, which protects your media during physical recoveries. Additionally, we invest in advanced security systems and hold a certification for SSAE 18 Type II attestation standards. This makes our Minnesota hard drive data recovery service not only the most dependable but also the most secure.
When you need reliable data recovery, you need an experienced provider with appropriate credentials. Secure Data Recovery Services gives you peace of mind during the data recovery process, and we proudly offer a no-recovery, no-charge policy to all of our Minnesota data recovery clients.
Steps to Take When a Digital Storage Device Fails
Any storage device can fail without warning, and to avoid accidental media damage, you should understand the warning signs that often accompany data loss.
Common warning signs of media failures include:
Unusual noises, including clicking, whirring, and grinding noises
Error messages indicating unreadable or corrupt data
Extensive file corruption or bad sectors
Frequent operating system failures
Extremely slow operation
Signs of virus damage
Visible damage to media components
Most digital devices will take on extensive damage when operating in a failed state. For instance, if you attempt to boot a hard drive after a read/write head failure, you might accidentally cause rotational platter damage, which drastically reduces your chances of a successful case outcome. If you accidentally delete files, operating your computer may cause permanent overwrites.
You can reduce your chances of permanent data loss by turning your computer off as soon as you notice signs of physical failure. Do not attempt to operate your device for any reason. Never attempt to repair your device or recover your own files, even if you can diagnose the exact cause of data loss. The best course of action is to contact a hard drive data recovery service such as Secure Data Recovery Services.
Secure Data Recovery Services gives Minnesota computer users an excellent resource for hard drive data recovery, RAID repair and other professional media services. We are one of the only providers in the country offering a full no-recovery, no-charge guarantee, and our specialists always take appropriate steps to keep your data safe and secure. Set up a risk-free evaluation today by contacting our customer service team today.
Secure Data Recovery Process
1
Free
Consultation
Power down the device and call us, 24x7 for a free consultation and quote.
2
Free Professional Diagnostics
Submit your device at one of our locations for a non-destructive evaluation by a data recovery expert.
3
Review &
Decide
Review the diagnostic results and approve the work order at a set price, payable upon success with our "No Data, No Recovery Fee Guarantee".
4
Data Recovery & Return
Submit payment and receive your recovered data on a new external drive.