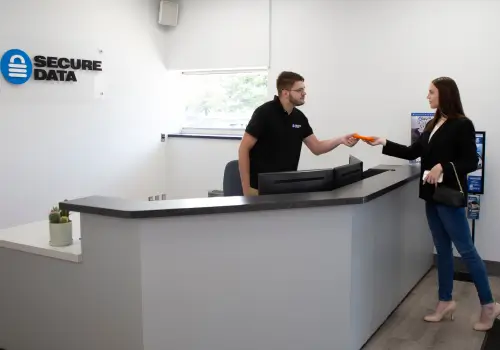 Data Recovery Services in Illinois - RAID, SSD & Hard Drive Recovery
Secure Data Recovery Services in Illinois provides an extensive set of media repair and data recovery services through a large network of offices. We have served Illinois businesses for many years, and with our excellent credentials and flexible service options, we give you an excellent way to avoid permanent data loss following a hard drive failure or other data loss event.
Illinois is one of the most economically and culturally diverse states, and with more than 12.8 million residents, it is easily the largest state in the Midwest by population. Secure Data Recovery Services operates more than 40 data recovery facilities across the United States provide fast, local results for computer users in Illinois. Hard drive data recovery is a time-sensitive issue that must be addressed right away, so go online or give us a call today.
Expert Data Recovery Services
Secure Data Recovery Services is the authority in Hard Drive Recovery, SSD Recovery and RAID Recovery. Since 2007, our data recovery company has helped tens of thousands of individuals and businesses of all sizes successfully recover from every type of data loss scenario. We understand the importance of data in the modern world and with our Economy, Standard and Emergency Data Recovery Options and state-of-the art technology we are ready to get your lost data back right now.
Experience total piece of mind with a "No Data, No Recovery Fee" Guarantee.
Recovery Services We Offer
Unlike other data recovery companies, Secure Data Recovery Services regularly invests in technology and security. We maintain extraordinary success rates for our data recovery services, and as the first Illinois provider to earn a SSAE 18 Type II certification, we always take appropriate steps to protect our clients' confidentiality. We hold full compliance certifications for the laws that affect Illinois businesses, including PCI-DSS, HIPAA, and FERPA.
If you have lost access to data on a personal computer, a large database server, or any other type of digital storage device, our specialists can help. Contact Secure Data Recovery Services today to set up a risk-free media evaluation.
What to Do When Your Data Storage Device Fails
Never attempt to recover or repair a failed device, particularly when you notice signs of a physical failure. Hard drives and other devices can take on significant damage when forced to operate in a failed state, so the best course of action is to turn your computer off. Do not attempt to repair your system with commercial data recovery utilities, as you might accidentally overwrite your files. For the best chance to fully recover data, prospective Illinois customers should give us a call right away.
Secure Data Recovery Services can treat all failure scenarios, including:
Physical hard drive crashes and media damage
Unintentional file deletion and accidental overwrites
Damage from viruses and other malicious programs
Printed circuit board (PCB) damage
RAID rebuild failures, media decay, and more
Our engineering teams can treat any type of digital storage device. If you need hard drive repair or RAID data recovery in Illinois, Secure Data Recovery Services has the experienced engineering teams and state-of-the-art technology to provide you with reliable results.
At our offices in Illinois, data recovery, top-notch hard drive repair, and our 24/7/365 emergency service option are what keep us at #1 with our clients. We can create a recovery plan that minimizes your down time after a data disaster. Contact our customer service team to speak with a certified professional and receive a free quote.
Professional Hard Drive Data Recovery and RAID Services
Secure Data Recovery Services provides a dependable success rate of 96 percent for hard drive repair services. We offer free diagnostics for all standard data recovery cases, and our Chicago office accepts local drop-offs.
Reasons to choose Secure Data Recovery Services in Illinois:
Several turnaround options, including 24/7/365 emergency services
Experienced engineering teams
A 96 percent data recovery success rate
Local offices in Chicago and St. Louis
24-hour customer service and online case monitoring
No-recovery, no-charge Guarantee for data recovery cases
Risk-Free media diagnostics
Data loss presents serious challenges for computer users, and Secure Data Recovery Services proudly delivers simple, hassle-free services with reliable results for our customers in Illinois. Hard drive data recovery is a serious issue, and our specialists can safely treat your device while maintaining excellent security controls. To schedule a visit to our facilities or to set up a new case, contact our customer service team today.
Secure Data Recovery Process
1
Free
Consultation
Power down the device and call us, 24x7 for a free consultation and quote.
2
Free Professional Diagnostics
Submit your device at one of our locations for a non-destructive evaluation by a data recovery expert.
3
Review &
Decide
Review the diagnostic results and approve the work order at a set price, payable upon success with our "No Data, No Recovery Fee Guarantee".
4
Data Recovery & Return
Submit payment and receive your recovered data on a new external drive.