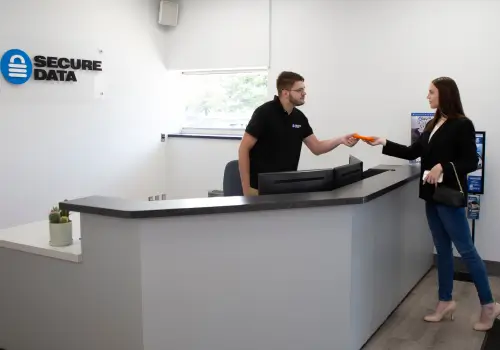 Data Recovery Services in San Francisco - RAID, SSD & Hard Drive Recovery
For over 15 years, we have served San Francisco and the Bay Area by successfully recovering data from broken hard drives, damaged SSDs, and failed servers. Our Howard Street store, between 4th and 5th Streets, is located east of the Theater District, near Yerba Buena Gardens.
Trust us for hard drive data recovery in San Francisco. We offer a free diagnostic of the device and a "No Data, No Recovery Fee" guarantee.
Our customers rate our services:
We Helped Thousands Get Their Lost Data Back.
With over 5,320 satisfied customers and growing, we are proud to provide outstanding customer experience and quality service that consistently exceed customer expectations.
View All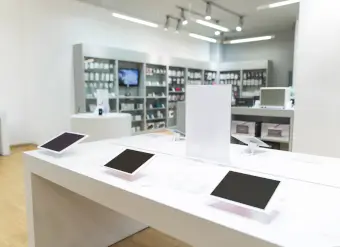 Secure Data Recovery Services
Emergency Services Available 24x7
The engineers at Secure Data Recovery have successfully recovered tens of thousands of failed devices and are certified with the most industry-specific certifications of any data recovery company. We will exhaust every option technologically available to successfully resolve the data loss situations for our San Francisco customers.
Secure Data Recovery Near You
Need data recovery services in San Francisco? We have several places throughout the Bay Area that can assist you.
We have a Berkeley store in the East Bay at 2917 9th Street, near the intersection with Ashby Avenue, a couple blocks from the Aquatic Park. For other Alameda County customers, we have a location in Newark on Mowry Avenue, near the intersection with Blacow Road, two miles from the Fremont Hub shopping center. Residents of the Peninsula can find us in San Mateo at 2727 South El Camino Real, west of Bay Meadows Park.
Call or visit one of our stores for certified San Francisco data recovery.
Data Recovery Company in San Francisco, CA
Secure Data Recovery Services are the San Francisco hard drive recovery, SSD recovery and RAID recovery experts. Since 2007, our data recovery company has helped tens of thousands of individuals and businesses of all sizes in San Francisco successfully recover from every type of data loss scenario imaginable. We have seen your failure type before and our team understands the importance of data in the modern world. We're ready to recover your lost data with our flexible Economy and Standard data recovery services, or immediately with our Emergency data recovery option.
What Can We Recover For You Today?
In addition to hard drive recovery and RAID recovery, we specialize in complex data loss solutions for SSD drives and other NAND-based flash memory devices, iPhone and Android smartphones and mobile devices, network-attached (NAS and SAN) storage systems, and virtual machines.
San Francisco, CA Data Recovery Reviews
Elen Gales
Reviewed on Sep 17, 2023 | San Francisco, CA
I called Secure Data Recovery Services to recover my files on my flash drive. Jacob M. called me right away and gave me ticket to bring my drive to the nearest drop off center. Jacob was very responsive and they offer a few options depending on your budget. To make the ling story short, I was offered the best option for recovery and I have my 1TB files back. I will definitely use their service a... Read Moregain if some mishaps happen to my drive!
James Demerin
Reviewed on Aug 18, 2023 | San Francisco, CA
Our computer which we is tied to our Fire Life Safety (FLS) system crashed on us. The FLS technician advised us to purchase another computer, however, without the programming from the hard drive, our company would be forced to pay another $40k to reprogram a brand new computer. We could avoid this if the original installer kept a backup of the programming, however, as luck would have it, the infor... Read Moremation on our hard drive was the only remaining copy. We opted to try Secure Data Recovery and have them recover/restore all data onto a new hard drive. We have not been let down by their great customer service and willingness to walk us through every step of the process. Namely, Jonathan Nguyen, was extraordinarily helpful and eased all of our concerns with the process. Thank you for the help and support, Jonathan and team!
Niroth Keo
Reviewed on Aug 17, 2023 | San Francisco, CA
Excellent customer service and data was recovered
Elliot responded to my messages rather quickly and explained things to me very well. I was also able to talk to him on the phone, so at least he wasn''t a robot. It was expensive to recover my data, but you sometimes can''t put a price on things like this. I''ll just have to eat cup ramen for a while. Thanks for the support, Elliot!
James Goff
Reviewed on Jul 06, 2023 | Redwood City, CA
Great Communication and Service
Big thank you to Jonathan Nguyen at Secure Data Recovery! Great communication and fast service in the recovery of files from a damaged portable drive. Very happy at how easy the process turned out to be!
Irene Young
Reviewed on May 16, 2023 | Richmond, CA
Jonathan Nguyen at Secure Data handled my data recovery in a perfectly professional, and caring manner. Everything was done as discussed. He inspired trust and confidence, and the price was affordable, when other companies were way out of reach. I would have paid a little more for a faster external drive to which my data was transferred and delivered. All in all, I am very happy.
Rudy Lemcke
Reviewed on Oct 25, 2022 | San Francisco, CA
I highly recommend DRS they were able to recover 90% of the data on my failed external drive. The service rep Jake was very helpful and all in all it was a good experience.
Why Choose Secure Data Recovery In San Francisco?
Certified and Verified Secure
Transparent Process
Trusted and Guaranteed Results
Secure Data Recovery Services operates in world-class facilities that undergo regular SSAE 18 SOC 1, SOC 2, and SOC 3 audits to verify the integrity of all cybersecurity management control systems. This means that your data is protected at every stage of the recovery process.
Each of our Lab facilities also has a certified Class 10 ISO 4 cleanroom. This specialized environment provides state-of-the-art filtration to remove potentially harmful airborne particulates that could damage the sensitive internal components of storage devices.
Secure Data Recovery Services' facilities in San Francisco have accreditation with the Better Business Bureau and maintain an A+ business rating. Your complete satisfaction is our mission. We strive to deliver the highest quality of service for every data recovery case.
For more than a decade, the engineers at Secure Data Recovery Services have built a reputation as the most reliable provider of professional data recovery in the industry. Our expert team maintains a documented 96% successful recovery rate.
We maintain partnerships with every major digital storage manufacturer to ensure our custom solutions never threaten any existing product warranties. We also invest heavily in research and development to keep pace with rapidly evolving digital storage technology.
Free Data Recovery Quote
We intimately understand all data loss scenarios and will exhaust all options technologically possible to reunite you with your lost data as quickly as possible. When you choose Secure Data Recovery Services, you get the most credentialed professionals in the industry.
Service times and exact pricing for a successful recovery always depend on the specific damage to the storage, which is why we offer free, no-risk diagnostics with every standard service.
Our quotes consist of:
Price for successful recovery
Time estimates for the job
Key information about the events that led to data loss
Call 415-354-5625 to speak to a data recovery expert 24x7 and schedule your free data recovery consultation with a no-obligation price quote.