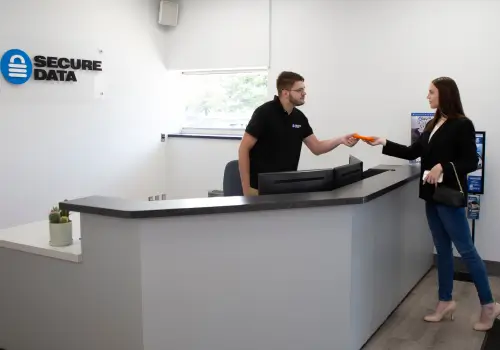 Data Recovery Services in Sacramento - RAID, SSD & Hard Drive Recovery
We have provided Northern California residents with industry-best data recovery in Sacramento. Whether you have a damaged hard drive, RAID, or a defective SSD, we have the experience and state-of-the-art tools to recover your data successfully. Visit one of our convenient Sactown locations at 2933 Fulton Avenue, between Marconi Avenue and Valley Road, just south of the Capital City Freeway in northeast Sacramento.
Trust the experts for hard drive data recovery in Sacramento. With a risk-free consultation and a "No Data, No Recovery Fee" guarantee, we offer more than just data recovery in Sacramento, CA. We provide a complete peace of mind.
Our customers rate our services:
We Helped Thousands Get Their Lost Data Back.
With over 5,453 satisfied customers and growing, we are proud to provide outstanding customer experience and quality service that consistently exceed customer expectations.
View All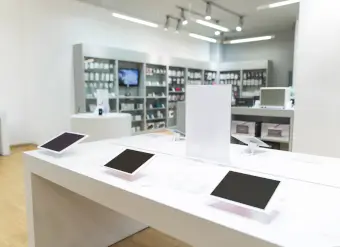 Secure Data Recovery Services
Emergency Services Available 24x7
The engineers at Secure Data Recovery have successfully recovered tens of thousands of failed devices. Our personnel possess the most industry-specific certifications of any data recovery company. We will exhaust every technological option available to resolve data loss situations for our Sacramento customers.
Recovery Services We Offer
Secure Data Recovery Near You
Need data recovery services in Sacramento? With three stores in Greater Sacramento, we have a location near you. Stop into our other Sacramento store, located at 333 University Avenue, Suite 200, in the Campus Commons neighborhood, along the banks of the American River. Or you can visit our Citrus Heights store on 5500 Sunrise Boulevard, Suite 300, near the intersection with Pebble Beach Drive.
Sacramento data recovery is easier than ever.
Call us or stop at one of our three locations for a free consultation and no-obligation quote.
Data Recovery Company in Sacramento, CA
Secure Data Recovery Services are the Sacramento hard drive recovery, SSD recovery and RAID recovery experts. Since 2007, our data recovery company has helped tens of thousands of individuals and businesses of all sizes in Sacramento successfully recover from every type of data loss scenario imaginable. We have seen your failure type before and our team understands the importance of data in the modern world. We're ready to recover your lost data with our flexible Economy and Standard data recovery services, or immediately with our Emergency data recovery option.
Sacramento, CA Data Recovery Reviews
Rahul Ranade
Reviewed on Nov 20, 2023 | Sacramento, CA
Miracles do happen ! Efficient and Speedy Recovery
From the minute I was introduced to Secure Data by one of our friends , I was impressed by the quality and level of communication . They made me aware of every step in their process of recovering my data and I got answers to almost every question that I asked promptly . They were able to recover 100% of my files from my WD hard drive which was almost 15 yrs old for Mac that suddenly stopped worki... Read Moreng and I am so grateful to have found this service! We had years and years of photos, videos and documents for our kids, was a devastating blow to lose it instantaneously. It was an amazing early Christmas present to know that we could get all those back. Thanks to Elliott , Tim and Scott who helped us every step during this process, the turnaround was super fast and the pricing was fantastic . I highly recommend Secure Data Recovery, it''s worth every penny, if you have lost anything on a drive that was important to you.
Jacob Montes
Reviewed on Sep 13, 2023 | Rancho Cordova, CA
I had a Western Digital Elements drive at 12TB that I dropped one too many times and never backed up to another drive. When I plugged my drive in one day, it stopped working and wouldn't even spin up (HDD). I contact Elliot from SDR and he helped me ship the drive to a facility to review. Within 2 days I was contacted with the results of the drive and that they could retrieve all the data (100% re... Read Morecovery). They helped me purchase a new drive (their price beat what I was able to find for a new drive) and ordered and transferee all my data in about 3 days. I received my new drive and old drive in the mail about 3 days later and all my files are there!

I honestly can't say enough about how easy it was to work with this rep and company. Yes, it is expensive when you have a 12TB drive (I bought another drive just to back up the other new one, less on learned) but you can't put a price on quality and speed of service. I highly recommend this company, 0 complaints!
Will Ru
Reviewed on Jul 03, 2023 | Rancho Cordova, CA
Johnathan who was responsible for my case was the most professional and easiest to work with person I could''ve ever hoped for. I suggest this service for all your data recovery needs!
Jim Alexander
Reviewed on May 10, 2023 | Olivehurst, CA
Just, WOW! Like so many other folks, I initially went to Best Buy to get help with my defective hard drive. When I was told that they ship the drive out to another vendor, I figured I could do that myself and ''cut out the middle man''. I started looking online and found Secure Data Recover. Upon reading reviews, I found a local site for me to go to. As it turned out, the physical location that wa... Read Mores listed on the website was no longer valid. I called Secure Data Recover from the parking lot and reached Preston Hall. Thank goodness!

My external drive had failed and I didn''t have a backup on it. (I know, shame on me!) We had 20+ years of photos of our now adult children as well as loads of photos of our grandchildren since birth. Additionally, tax records, estate documents, and just loads of important data simply couldn''t be replaced. We were heartbroken, to say the least.

Just with my conversation with Mr. Hall, I immediately had hope that all was not lost! His knowledge and general demeanor gave me hope that the odds were still pretty good that Secure Data Recovery may be able to help me. While he offered no guarantees, his confidence was really appreciated.

Mr. Hall helped me get a FedEx shipping label while I was still setting in the parking lot and I took the drive directly to FedEx. It was shipped out that evening. Within three business days, I was notified that they had my drive and were looking at it for recovery consideration. The verdict came back that a very high probability of recovery. I gave the ''go ahead'', and within seven business days, my data was recovered and on its way back to me!

Today I received my hard drive, on a new external drive. I was able to open it and ALL my data was still intact! I was ecstatic, to say the least! My wife had been in tears when the original drive failed because some of the data had to do with our late son. We have it again!!!

So, I reached out to Mr. Hall, again, and asked for a recommendation of backup options and maybe an opinion of which type of internal drives may serve me best. (The external drive I just got back is going into the safe after I copy that info to my new drive!) After my conversation with Mr. Hall, I now feel I have information that will serve me well with drives as well as backup options.

Preston Hall, THANK YOU for walking me through this process. VERY professional and really kind as well! These are traits that are missing in the support/service industry it seems and it''s very appreciated.

Again, THANK YOU!!
Dana Rad
Reviewed on May 08, 2023 | Sacramento, CA
I had an excellent experience with Jake G. He responded quickly to my emails and was very patient with all of my questions thank you Jake!
Jackie Cheng
Reviewed on Oct 12, 2022 | Sacramento, CA
Elliot answered all of my questions swiftly and explained everything I wanted to know about the process. I appreciate the excellent support I received and will come back to Secure Data Recovery in the future.
Why Choose Secure Data Recovery in Sacramento?
Certified and Verified Secure
Transparent Process
Trusted and Guaranteed Results
Secure Data Recovery Services operates in world-class facilities that undergo regular SSAE 18 SOC 1, SOC 2, and SOC 3 audits to verify the integrity of all cybersecurity management control systems. This means that your data is protected at every stage of the recovery process.
Each of our Lab facilities also has a certified Class 10 ISO 4 cleanroom. This specialized environment provides state-of-the-art filtration to remove potentially harmful airborne particulates that could damage the sensitive internal components of storage devices.
Secure Data Recovery Services' facilities in Sacramento have accreditation with the Better Business Bureau and maintain an A+ business rating. Your complete satisfaction is our mission. We strive to deliver the highest quality of service for every data recovery case.
BBB of Sacramento Accredited Company with an A+ Rating
The Better Business Bureau is California's most trusted consumer confidence agency. Our A+ rating reflects our high level of compliance with their standards, which are detailed in our latest company report.
For more than a decade, the engineers at Secure Data Recovery Services have built a reputation as the most reliable provider of professional data recovery in the industry. Our expert team maintains a documented 96% successful recovery rate.
We maintain partnerships with every major digital storage manufacturer to ensure our custom solutions never threaten any existing product warranties. We also invest heavily in research and development to keep pace with rapidly evolving digital storage technology.
Free Data Recovery Quote
We intimately understand all data loss scenarios and will exhaust all options technologically possible to reunite you with your lost data as quickly as possible. When you choose Secure Data Recovery Services, you get the most credentialed professionals in the industry.
Service times and exact pricing for a successful recovery always depend on the specific damage to the storage, which is why we offer free, no-risk diagnostics with every standard service.
Our quotes consist of:
Price for successful recovery
Time estimates for the job
Key information about the events that led to data loss
Call 916-273-4940 to speak to a data recovery expert 24x7 and schedule your free data recovery consultation with a no-obligation price quote.