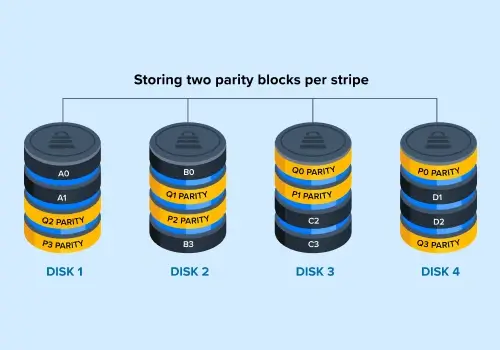 RAID 6 Data Recovery
A RAID 6 array takes the configuration of RAID 5 a step further by utilizing two disks for parity. This configuration offers high fault tolerance and drive failure tolerance and is commonly used for archiving or data retention. Though two disks for parity is better than one, the array can still fail, and you will need a professional data recovery company to prevent critical data loss.
Our customers rate our services:
We Helped Thousands Get Their Lost Data Back.
With over 5,318 satisfied customers and growing, we are proud to provide outstanding customer experience and quality service that consistently exceed customer expectations.
View All
In a RAID 6 array, there must be at least four drives with two parity stripes on each disk. This results in a slower write time, but the redundancy means that the array can withstand two disk failures. After this failure, failed drives must be replaced, but it is during a rebuild that user errors occur. Additionally, parity may not be able to fill all the gaps in storage if more than one drive is missing. Secure Data Recovery has the experience and tools to recover any available files from a failed RAID 6.
Types of RAID Failure
There are several types of failures that a RAID 6 cannot protect itself against, even with added parity. Both logical and physical failures can occur either through unforeseen circumstances or human error Some of the most common RAID 6 failures are:
Physical Failures:
Fire/Water Damage
RAID Controller Failure
Power Surge
Hard Disk Drive Overheating
Vibration Damage
Power Level Failure
Dropping Array or Damaging Drives
Logical Failures:
Corrupt Files
Read/Write Errors
Reformatting Partitions
Deletion or Overwriting
Configuration Error
Virus Damage
Firmware Corruption
Manufacturer-Approved for all RAID 6 Models
The engineers at Secure Data Recovery have decades of experience working with all RAID configurations and boast an overall 96% success rate in recovering data from all RAID levels. We are a manufacturer-approved company and work with all RAID manufacturers including:
Dell
Equallogic
Intel
HP
QNAP
Seagate
Synology
And More
Our Secure Recovery Process
Your RAID recovery starts when you ship your damaged array to us using one of our over 250 drop-off locations nationwide or by using one of our FedEx prepaid shipping labels. Our engineers will then complete a diagnostic evaluation to determine the cause of damage, price point, and estimated turnaround time. After the price is agreed upon, Secure Data Recovery will not charge you more even if the RAID recovery requires more work than anticipated.
We begin by repairing the RAID to a temporary working condition in our Class 10 ISO 4 Cleanroom. Engineers then image the disks in the array and piece together the file structures in the proper order. Once the RAID is de-striped, we will manually extract data using our proprietary tools. The Secure Data Recovery R&D team constantly develops new tools and recovery methods for existing and emerging RAID sets.
Secure Data Recovery is the only company to return your files on a FIPS 140-2 Level 3 Validated storage device to ensure total security for your sensitive files.
What to Do When Your RAID 6 Fails
After recognizing a failure in your RAID array, make note of any error messages that are shown or noises you may hear before disconnecting the power source. Do not continue to use the array as it will only cause further damage. Do not attempt to use recovery software as it cannot handle complex RAID damage and won't fix the root cause of the failure.
The best course of action is to call a trusted data recovery professional like Secure Data Recovery. We have SSAE 18 Type II Certification, Class 10 Cleanrooms, and are GSA Approved Contractors. Our customer service representatives are available 24/7 to answer questions about the RAID data recovery process and start your case. We have a 96% success rate in RAID 6 data recovery and even offer 24-hour emergency service for time-sensitive recoveries. Call us at 800-388-1266 to learn more.
RAID 6 Data Recovery Reviews
Scott Russell
Reviewed on Jan 27, 2017 | Kirkland, WA
Nice to have our family photos and videos back!
The data recovery process was very organized and Jeremy Provchy was very helpful responsive. We were able to recover almost all of our priceless family photos and videos from our failed external hard drive and have learned a valuable lesson in keeping redundant storage solutions.
Paul Fanos
Reviewed on Jan 23, 2017 | Westminster, CO
The team responded quickly at a time where we were in our worst position. Our server drives failed and had 'lost' five weeks worth of data. The same day I called SDR, I had a FedEx label in my email and my corrupted drives were on the way to their lab. Within a few days, I had learned that they were successfully able to retrieve all of our missing data and received everything on a hard drive on... Read Moree day later. I couldn't be more willing to recommend this company for your data recovery needs!
Frequently Asked Questions
What causes data loss on a RAID 6 array?

While the RAID 6 configuration offers excellent fault tolerance (it can withstand the loss of two disks in an array), three or more hard drive failures can cause data loss. This can occur during an intensive rebuild or due to an electrical event.

Logical failures are far more common for RAID 6 arrays. Your system may lose data due to accidental file deletion, software errors, virus damage or for numerous other reasons. The dual parity of the RAID 6 configuration does not protect against these failure scenarios, and it is important to note that RAID 6 is not a suitable substitute for a good backup strategy.

How does the RAID 6 parity structure affect the data recovery process?

RAID data recovery requires specialized tools, and because RAID 6 uses a dual parity, engineers need an advanced knowledge of RAID data architecture in order to provide results.

Our teams often need to work directly with data on a block level in order to reconstruct damaged or unreadable files. We regularly perform services on RAID 6 arrays, and we proudly offer a 96 percent success rate across all RAID configurations.

How much does RAID 6 data recovery cost?

Costs vary with the extent of media damage, the size of the requested files, the number of hard drives in the array and a number of other factors.

Secure Data Recovery Services offers risk-free standard diagnostics for RAID 6 systems through our network of offices; if you would like a price quote or turnaround estimate, contact our customer service team to set up an evaluation.

Can I use software to treat data loss on a RAID 6?

This can be a dangerous course of action. Commercial data recovery utilities cannot recover data from RAID systems with physical media damage, and most utilities are not optimized for the data structure of RAID.

By running software, you could contribute to file damage and corruption. In some cases, software can render your files unrecoverable, and we do not recommend any data recovery utilities.

What should I do to increase my chances of a successful RAID 6 data recovery?

Turn off your RAID 6 when data loss occurs. Do not attempt to rebuild the array if you notice unusual symptoms.

Make a list of your failure symptoms and contact a professional data recovery provider as soon as possible. Secure Data Recovery Services offers a flexible set of service options including 24/7 same-day services, and our free diagnostics provide an excellent resource for RAID 6 systems.

How will Secure Data Recovery Services return my data?

We can use the return media of your choice, and our engineers can encrypt data upon request to protect your confidentiality. Secure Data Recovery Services offers secure FTP for small amounts of data, and our extensive media library gives you numerous options to receiving your data back.