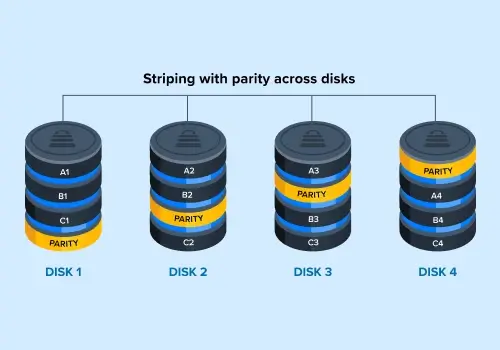 Industry Leading RAID 5 Data Recovery Services
RAID 5 arrays are universally used across storage systems including standalone, NAS, and DAS. They are commonly used because they allow for fewer disks to be utilized while still maintaining redundancy. However, redundancy does not guarantee your system won't experience data loss.
Our customers rate our services:
We Helped Thousands Get Their Lost Data Back.
With over 5,329 satisfied customers and growing, we are proud to provide outstanding customer experience and quality service that consistently exceed customer expectations.
View All
Secure Data Recovery can recover your files from a RAID 5 array in any system. We are the industry leader in RAID data recovery and our engineers have decades of experience working with all manufacturers of RAIDs. We boast an overall 96% success rate for recovery from both physically and logically damaged RAID 5 arrays.

A single RAID 5 system must have a minimum of three hard drives. Data is written to the drives at the same time and is equally distributed among them. These systems are the most popular RAID configuration for storage archival, database environments, and more. Data loss on a RAID 5 can occur due to accidental file deletion, parity loss, or it may simply wear down after time.
Secure Data Recovery engineers have decades of experience in RAID recovery in all data loss situations. Our dedicated R&D team works to discover new recovery methods for existing and emerging media and uses proprietary technology for recovery.
RAID 5 Failure Scenarios
Consumers choose RAID 5s as a way to protect their data because they offer redundancy across disks. No matter the level of redundancy, a RAID level 5 can still fail due to user error or unavoidable physical damage. With its block-level striping and distributed parity, all drives except for one in a RAID 5 array need to be present in order to function.
Drive failures can fall into a few different categories including user error, environmental damage, and mechanical failure. In any of these scenarios, the best course of action is to power down your RAID 5. Attempting to turn on your system or rebuild it may result in data loss if done incorrectly. Some of the most common causes for RAID 5 failure are:
Failed Rebuild Attempt
Malfunctioning RAID Controller
Physical Damage Including Fire and Water
Multiple Disk Failure
RAID disks inaccessible after system upgrade
Missing RAID partition
Accidental Reformatting/Reinitialization
How to Recover from a RAID 5 Failure
When your RAID 5 fails or is receiving error messages, the best course of action is to turn the system off immediately and take the following steps to recover:
Call a professional data recovery company like Secure Data Recovery and give details about your RAID failure.
Securely package your array to be shipped to our certified lab.
Receive your recovered files on secure transfer media with our FIPS 140-2 Level 3 validated data handling practices.
Create an efficient backup plan for your data to prevent critical data loss in the future.
Why Choose Secure Data Recovery
At Secure Data Recovery, we understand that a RAID-5 failure means downtime for your business and stress for home users. We have the fastest turnaround times in the industry and an emergency service with an average 48-hour turnaround for RAID recovery. Engineers take the highest precautions when working with your storage devices by creating an image of the data to work from, keeping your device in its original condition.
After the imaging process, they perform RAID 5 analysis and assembly, file system repair, or database repair if necessary before extracting the data. All of this work is done in an SSAE 18 Type II Certified lab, protecting data security throughout the entire process. Our other certifications include TRUSTe Verification, HIPAA Compliance, PCI-DSS Compliance, and a Class 10 ISO 4 Cleanroom.
Our high success rate and an A+ rating with the Better Business Bureau are only a few of the advantages of using our services. Others include:
Online case monitoring and 24/7 customer service
Risk-free diagnostics and upfront price quotes
On-site and Remote RAID 5 data recovery
High success rates and customer testimonials
When you need qualified and reliable data recovery for your RAID-5 or other RAID set, choose Secure Data Recovery. Call our 24/7 customer service line at 800-388-1266 to start your case today.
RAID 5 Data Recovery Reviews
Taylor Stoma
Reviewed on Sep 01, 2023 | Baton Rouge, LA
We were in a real bind and Scott worked with us to get our NAS back up and operating. We had over 64 TB of data that we were trying to accept possibly being lost, but they fully recovered EVERYTHING. Can''t recommend them enough.
Steven Bulifant
Reviewed on Aug 14, 2023 | Chesterfield, VA
I had a 4 bay raid setup and one of the drives failed. I tried all my local options. Geek squad couldn't help me. So after a google search I found secured data and quickly realized they were the right people for the job. They quickly and efficiently gave me instructions to ship my drives and what would happen after that. Scott was my account rep and did a great job making sure I was updated throug... Read Moreh the whole process. They were able to recover all of my data and I am thankful for their services. I would highly recommend them if you need recovery services.
Warren Ng
Reviewed on Apr 10, 2023 | Brooklyn, NY
Had an external hard drive fail on me that had most of my creative work from the last 15+ years stored on it, including a lot I was presently working on that was not backed up elsewhere. I took a chance with Secure Data Recovery & thankfully they were able to help and were able to recover all the data in its entirety. Timothy guided me through every step of the process in a timely, friendly, and p... Read Morerofessional manner, and made sure I had all the information I needed and that the new drive with the recovered data was shipped and held for me for easy pickup at a nearby drop-off location when it was all done. Thankful for all his help & to the company for restoring what I thought was lost for good.
Lauren B
Reviewed on Mar 26, 2023 | Albuquerque, NM
My new go-to team for data recovery!
My company does visual effects and motion graphics for film, TV, and online media. When an archive hard drive decides to check out, it''s no small matter. I had a 20TB drive die during a backup and decided to send it to Secure Data Recovery in the hopes that my clients'' data could be salvaged. They anticipated a 100% recovery of the media. Jonathan Nguyen got back to me immediately and worked wit... Read Moreh me throughout the process. He even was able to negotiate a rate that better fit my budget. I''m so grateful for his responsiveness and flexibility.
Joe Markey
Reviewed on Mar 02, 2023 | Brooklyn, NY
Once again a Successful Recovery !!
As an IT Support provider I have need of data recovery for new or existing clients in various Data loss Situations. I have successfully
Recovered Customer data every time with Secure Data Recovery. I Highly Recommend them . The Technical and account Reps do a great job of keeping you up to date with the status of the recovery. Thanks to Scott McMacken on the latest recovery. You keep the... Read More Anxiety level of the client down!

Ashley Hallmark
Reviewed on Feb 07, 2023 | Auburndale, FL
A Positive Experience During a Stressful Time
I found myself in the unfortunate situation of a failed/corrupted old hard drive. This drive was vital to my business so I reached out to Secure Data Recovery on the recommendation of my local computer technician once it was discovered the data could not be recovered by simpler means. To top it off, this drive was a very old RAID drive which I was told would be difficult to recover. I''ve never ut... Read Moreilized data recovery services before but Timothy Rutan was a fantastic asset through this process. He answered any questions I had and made sure I was kept updated on the status of my data recovery. I was surprised by how quick, thorough, and secure the process was. Ultimately, I was very happy to receive all of my data successfully. Thank you Tim for all of your help.
Frequently Asked Questions
What factors can affect the cost of my RAID 5 data recovery case?

RAID 5 systems can fail in a variety of ways, and your failure scenario will directly influence your recovery quote. However, dozens of other factors play a role. The size of your array, the brand of your controller card and the size of your requested files can all affect pricing.

Secure Data Recovery Services offers free standard diagnostics for all RAID 5 systems in order to provide a fast, accurate resource for our clients. Our teams can analyze your RAID 5 and deliver a no-risk price quote and turnaround estimate.

Should I attempt to rebuild my RAID 5 array after a major failure event?

No. Do not attempt to rebuild your RAID if you notice any unusual symptoms or after any failed rebuild attempt. If you attempt a rebuild, you could accidentally contribute to data corruption or physical media issues. We regularly receive cases that have incurred serious damage due to a failed rebuild or repair attempt, and we strongly recommend shutting your RAID down to prevent unintentional damage.

Whether or not you have already attempted a rebuild, you should contact our customer service team as soon as possible to discuss your options.

How can a RAID 5 lose data?

RAID 5 offers excellent speed and ample fault tolerance, but it is not a perfect storage solution. Multiple hard drive failures can cause losses by pushing the array past its point of redundancy. File corruption, failed rebuilds, virus damage and user error can also lead to data loss.

To prevent sudden failure events from affecting your data, you should back up your RAID 5 regularly.

What are some of the common symptoms associated with RAID 5 failures?

Symptoms vary from case to case. File corruption errors and operating system boot issues are fairly common, and some RAID arrays generate LED error codes when experiencing hardware failures.

While some symptoms may indicate physical or logical damage, there is some degree of overlap, and you should exercise extreme caution when handling a failed RAID 5 array.

How can I find a qualified RAID 5 data recovery company?

RAID 5 arrays use block-level striped data with a distributed parity, and data recovery engineers should have an advanced knowledge of RAID architecture. They also need access to a number of specialized tools in order to treat hard drive failures and RAID controller issues.

Secure Data Recovery Services operates the industry's first certified Class 10 ISO 4 Cleanroom, which allows for safe media repairs. We also have dedicated utilities designed for striped data, and each member of our RAID staff has years of experience with RAID 5 data. We offer exceptional success rates and can safely treat any RAID regardless of size, operating system or level.

Will my server data stay secure during the data recovery process?

Yes. Many of our RAID 5 clients ask about our security credentials, and we are proud of our position as the industry's most secure provider.

Secure Data Recovery Services holds certifications for HIPAA, FERPA, SSAE 18 Type II and a number of other standards. We can also organize custom security in many cases. Contact our customer service team for more information.