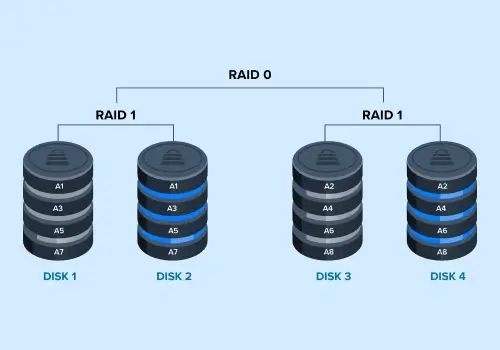 RAID 10 Data Recovery
Secure Data Recovery Services provides RAID 10 data recovery and repair for hundreds of businesses each year through more than 40 offices across the United States. With state-of-the-art technology and the most experienced RAID data recovery engineers anywhere, we offer a dedicated resource for mission-critical RAID systems.
Our customers rate our services:
We Helped Thousands Get Their Lost Data Back.
With over 5,469 satisfied customers and growing, we are proud to provide outstanding customer experience and quality service that consistently exceed customer expectations.
View All
RAID 10 is a nested RAID configuration that provides the redundancy of RAID 1 with the read/write speeds of RAID 0. Each array consists of a striped set of mirrored drives, and as such, the array can sustain one hard drive failure per set without losing data. When drive failures occur, the damaged RAID member should be switched out as soon as possible to keep the system operational.
While, RAID 10 servers are highly redundant and extremely reliable, no RAID configuration offers perfect protection from data loss. RAID 10 systems can lose data due to physical or logical events, and while full system failures are unusual given the redundancy of the RAID 10 configuration, data loss is always a possibility.
What to Do When Your RAID 10 System Loses Data
With proper system maintenance, data loss is relatively uncommon on RAID 10. Most systems have a hot spare to immediately replace damaged drives, but two drives can fail in a RAID 10 set before the RAID has a chance to rebuild the damaged member. Additionally, operating system failures and other logical issues can cause data loss since the RAID does not protect against software errors.
Depending on the size of your array and your failure scenario, you may not immediately notice data loss. Many of our clients have trouble diagnosing their RAID failures, particularly when their systems do not present noticeable symptoms. We recommend turning off your RAID if you cannot access data. Do not operate the array or use any commercial data recovery programs. Disconnect the power as soon as possible and contact a professional data recovery company to set up an evaluation for your system.
Some of the most common failure scenarios for RAID 10 include:
Multiple Hard Drive Failures Due to Power Surge or Other Event
RAID Controller Damage
Single Hard Drive Failure After Mirroring Issue
Accidental File Deletion
File Corruption
Virus Damage
Partitioning, Formatting or Re-initialization
When you lose access to a mission-critical RAID 10, you need a fast, capable data recovery company that can limit your system's downtime. Secure Data Recovery Services offers flexible RAID 10 data recovery services with knowledgeable engineering teams and best-in-class technology. We offer several service options, including 24/7/365 emergency data recovery and RAID 10 repair services, and we complete many emergency cases in less than 48 hours. To start your case, contact our customer service team today.
State-of-the-Art RAID 6 Data Repair Technology
At Secure Data Recovery Services, we recognize the importance of the RAID 10 platform. Many businesses depend on servers for day-to-day operations, and a sudden RAID failure can have enormous implications. Our data recovery experts have the knowledge and resources to perform RAID 10 data recovery safely and efficiently, and we treat all RAID cases as high priorities.
We begin each case with an evaluation, which we provide free of charge for standard RAID 10 data repair cases. If you approve our price quote and turnaround estimate, our specialists perform physical media repairs in a certified Class 10 ISO 4 Cleanroom. We clone every drive in your RAID 10 before reconstructing your array and treating logical issues.
This approach yields an outstanding 96 percent success rate, and as a SSAE 18 Type II certified company, we give you peace of mind by maintaining strict security controls throughout the process.
Reasons to use Secure Data Recovery Services:
No Recovery, No Charge Guarantee for RAID Services
Advanced RAID 10 Repair Laboratory with Proprietary Tools
Flexible Turnarounds and 24/7/365 Emergency Services
Frequent Case Updates and Access to 24/7 Customer Service
RAID 10 Repair Services to Limit Your Downtime
RAID 10 Data Recovery Reviews
Tom Turner
Reviewed on Sep 27, 2023 | Midland, TX
We had a raid 10 with 2 bad hard drives. Was able to make it raid 1 and recovered all the data on a Microsoft Server.
Steven Higgins
Reviewed on Sep 24, 2019 | Ithaca, NY
Quality customer service and data recovery speed
Our microbiology lab server''s RAID5 hard drive setup had three drives fail at once, resulting in a total data loss. I contacted SecureData and immediately was impressed by the level of professionalism and dedication to my satisfaction offered by SecureData representatives. I''d specifically like to thank Mitch, whose quick replies and detailed responses to all my questions really made the recover... Read Morey process painless. The data recovery process was quick (~ 1 week) for the number of files (tens of millions) striped across our RAID5 setup. Since our lab is housed within a university, setting up a purchase order took approximately twice as long as the data recovery. That being said, we were provided with the list of files recovered (which were all files in this case), and were happy to know we would have all our data back upon receipt of payment. I can''t say enough good things about this company and their quality work! SecureData saved multiple members of my lab weeks/months of retooling research scripts and piecing data analysis pipelines together again from scratch. I highly recommend this service to anyone else going through a data loss, especially when it involves data loss from a RAID setup on their server.
Kevin Johnstone
Reviewed on Sep 03, 2019 | Cary, NC
Lost for years, now returned
So I had a pc die on me while I was in crunch at work (Epic) and I couldn''t afford to be without the resource of a work from home machine. I bought a new Area51 and left the old to the side with the intention of dealing with it later.

3yrs+ later I no longer worked at Epic, divorced, 2 different houses since then and in a new relationship but that old machine..... it was the only place... Read More where my source PSD and max files still lived. It was also the only place with my old movies, from when my youngest was a baby through to 4 or 5.
I''d lost enough I felt.
So I plumped for Secure Data Recovery whilst bracing for the cost or the additional time delay and I was likewise preparing myself for more things that ''I couldn''t get back''.

I got everything back.

It was a truly amazing experience to be able to pore through the piece of the past that had great emotional value to me and likewise find the things I''d left to the side forgotten.
Honestly it was emotional.

My contact with Scott was polite and very fast, clearly this is just what he does, but for me, well I wasn''t sure what to expect. There was great transparency and near perfect results.
Looking online it is easy to see if a person takes the time, that they work with the real life standards and goals covered in many scifi shows, in particular the spy shows, where a HD that''s been blown to pieces until it resembles a lump of coal, is restored by a single short guy, plaid shirt with glasses in an open environment within 30 mins.

There''s no open environment, there''s a group of people in uncomfortable clothing in a sealed environment that take a week or two to restore what you lost. And the rate of update is solid, the device that''s shipped is well taken care of, the cables are fast and its all well packaged.

Its expensive for an individual, but worth it. I can only imagine the worth it has for a company with more valuable assets beyond emotional.

So I''d recommend it
Greg Little
Reviewed on Jun 13, 2019 | Troy, MI
Excellent Service and Repair
A big thank you to Scott Moses and everyone at Secure Data. The drive sent to them was in bad shape and I was thinking that important data would be lost, but Secure Data was able to recover over 99% of our data. Secure Data''s quick response, professionalism and expertise saved the day and our data!
Arístides Colón
Reviewed on Feb 08, 2019 | San Juan, PR
RAID 10 Recovery - Amazing service & treatment
I screwed up a RAID 10 while at the same time breaking the first rule of hard drive management (Always have a backup). While trying to save the data myself, I also contacted various data recovery companies to ask for pricing and to know what I could expect. Well, Ryan Wiggins, the Data Recovery Specialist that was assigned my quote request, was great throughout the entire process. He was very pati... Read Moreent, in both explaining everything that Secure Data Recovery could do for me as well as waiting for me to decide if I wanted the services or not. Also, when I finally did decide to use your services I was leaving the country to study in Cuba and he continued the process with my father, also re-explaining some of the steps to him. All in all, if it wouldn''t have been for the treatment Ryan gave me and the knowledge he showed about data recovery and RAID systems I wouldn''t have chosen Secure Data Recovery over the other companies, and the care during the process reaffirmed that I had made a great decision.

Thanks, Ryan. I know we finished the process around 5 months ago, but I just got back from Cuba (vacations YAY!) and it wasn''t till now that I started to deal with everything I couldn''t do while over there. Including this well-deserved review.