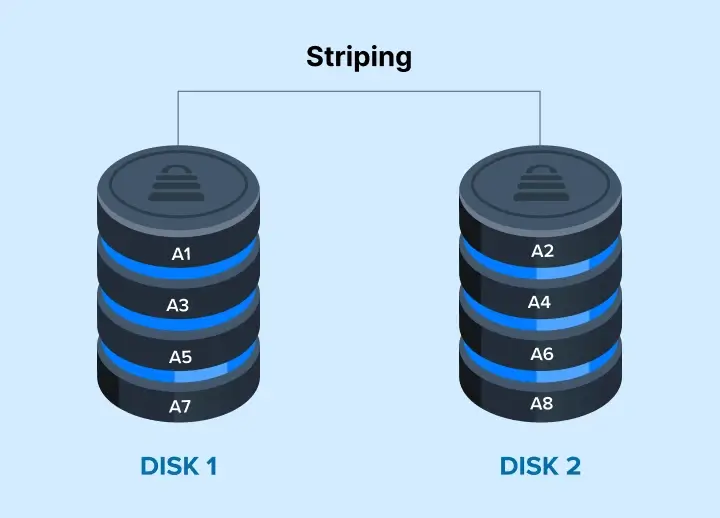 RAID 0 Data Recovery
RAID 0 is the most basic array in RAID data storage with an average of two disks and a low cost. It is a popular choice for data storage among home users who process a lot of read and write requests but don't need redundancy. The simplistic format for a RAID 0 also means that failure is just as easy. If one drive in a RAID 0 fails, then the data on the entire system is lost and only a professional data recovery company can retrieve your files. Secure Data Recovery has over a decade of experience recovering data from all RAID levels.
A single hard drive failure can prevent you from accessing data on your RAID 0 system.

A RAID 0 displays the hard drives in its configuration as a single volume. Data that is written to the RAID is striped across the disks without parity, meaning there is no redundancy if a drive fails. This configuration offers high performance for tasks like video editing and gaming that need speed.
Users with this array understand that they need to have their files backed up elsewhere, but many do not follow this procedure, resulting in serious data loss. The engineers at Secure Data Recovery have the knowledge and proprietary tools to recover critical files in difficult RAID 0 failure scenarios.
Types of RAID 0 Failure
The nature of the RAID 0 array means that there is no protection against physical and logical damage on the hard drives in your RAID configuration. There are a variety of failure scenarios and instances where your array can lose data.
Physical Failures:
Fire or water damage
Power surge
Multiple hard drive failures
RAID 0 controller failure
HDDs overheat
Printed Circuit Board (PCB) damage
Logical Failures:
Accidental deletion
Reformatting of partitions
Overwritten files
RAID 0 user error
File or database corruption
Software issues
In some cases, a RAID 0 will even become inaccessible because the ethernet or other power connections are faulty. No matter what type of failure your RAID 0 experiences, Secure Data Recovery has seen it and recovered data from the array. Our state-of-the-art recovery labs throughout North America and engineers with decades of experience in the data recovery industry allow us to provide a professional and effective recovery service.
Recovery Process
When we receive a RAID 0 in our lab, we begin by performing diagnostics on the array. After we determine the cause of failure and the recovery process, we give a price quote and estimated turnaround time. Once the client agrees to the price, we will not charge more, even if the recovery takes more time than anticipated.
We begin the recovery by repairing the disks in the array to a temporary working condition. This takes place in our Class 10 ISO 4 Cleanroom using our on-site parts inventory. After the repair, the engineers image the media to work from a copy of the data. They then recover any available files from the file system and extract the information manually. We are the only data recovery company to return your data on a hardware encrypted and FIPS 140-2 Level 3 Validated data storage device for total security.
What to Do When Your RAID 0 Fails
When your RAID 0 array fails, do not use recovery software as it may overwrite your data while installing on your host device. In many cases, the software will not work with your RAID's operating system or if it does run, will not retrieve all the files you need. Due to the range of possible failures and severity of the damage, software will not be able to recover data in serious cases.
Do not attempt a DIY recovery because opening your drives in a non-cleanroom environment will only cause further damage and can make recovery impossible. The best thing to do when your RAID 0 fails is to power down the array and disconnect the connection. This will prevent any further damage or accidental deletion while attempting to retrieve the files.
Choose an Industry Leader for RAID 0 Recovery
Secure Data Recovery is the most certified data recovery company in the industry with the following certifications and security status:
SSAE 18 Type II Certification
Class 10 ISO 4 Cleanroom
GSA Approved Contractor Status
PCI-DSS Compliant
Manufacturer Approved
Our customer service representatives are available 24/7 to answer questions about the recovery process and start a case. You can even monitor the progress of your recovery case using our online customer portal. We have a 96% success rate in RAID 0 data recovery and if for some reason we can't retrieve your files, we stand by our "no data, no recovery fee" guarantee. Call to start your case today at 800-388-1266.
RAID 0 Data Recovery Reviews
Sam Solomon
Reviewed on Dec 22, 2021 | Huntington, NY
I had a considerable amount of communication with Jake G. regarding the recovery of a hard drive, and he was incredibly responsive to my specific questions and concerns. Ultimately I did not go through with the recovery, but the service provided by Jake ensured I will be back to Secure Data Recovery for all future recovery needs.
Robert Underwood
Reviewed on Jul 21, 2021 | River Oaks, TX
Video Project saved through Recovery!
I would like to thank Scott McMacken for his help in everything. I would like to really thank the engineers who rebuilt the corrupted drives and transferred my data to a new drive. Generally if everything was just archival I could have made due without, but I had a several day video shoot on this drive for a project partially paid for. Scary moment. My father told me of Secure Data Recovery and I ... Read Morewent through the process. I highly recommend understanding ahead of time the type of drive you need for your tasks. I had about 7 TB recovered so yes, sticker shock, but end of the day this team of experts recovered my content. Now I can finish the project and move onward. Really thankful for everything Scott & Team! Y''all saved my a** haha Many cheers!
Randy Rauch
Reviewed on May 21, 2021 | Orlando, FL
Good experience with data recovery
I had thousands and thousands of photographs on a external hard drive. That were a must to recover.

Worked with a gentleman named Timur. Was very helpful over the phone and via email. He walked me through the process and was there every step of the way. I really appreciate his help and recovering my data
Lyle Granger
Reviewed on Sep 04, 2018 | Charlestown, MD
A client of mine found themselves in a very unfortunate situation. Their server crashed and they didn't have a backup. Well, they did, but it was dated and had not been tested. That said, I had to break the unfortunate news that their drives would need to be sent to a recovery firm for diagnosis and recovery. That said, Secure Data answered the call, figuratively and literally! Their sales enginee... Read Morer (Chris McMacken) was professional, knowledgeable and walked us through the process. They also provided us with a link to their customer portal, where we could follow their progress. The recovered data was returned on a secure external hard drive and to my client's delight, their data (databases, office documents and more) was intact. Thanks Secure Data for making a stressful situation more bearable!

Current Consulting & My Happy Client
Stanislav Koktysh
Reviewed on Jun 04, 2018 | Brooklyn, NY
Crucial company data recovered
Our company had a major crisis - database server crashed and all recent backups ( NT and DB files) were corrupted.
SecureData did an amazing job in recovering all crucial for day-to-day operation information.
Upon receiving recovered data company was up and running at full speed in no time.
Special thanks to our case representative Chris McMacken for his professional attitude and ... Read Moredetailed guidance throughout the whole process!!!
Charles King
Reviewed on Oct 24, 2015 | SCARSDALE, NY
Raid 0 Data Recovered Successfully
Alec Sakenes and the people at Secure Data Recovery did a great job recovering my data. The service they provided was prompt, courteous , and professional. While it was super expensive, they apparently charge no more than the going rate in this industry.

Take my advice: 1) get rid of Raid 0; the extra speed isn't worth the trouble if one of the drives fails; and 2) back up your dat... Read Morea every day so you don't get soaked like me. I hope that you never have to call Secure Data Recovery, but if you do, you'll be satisfied.
Frequently Asked Questions
What factors affect RAID 0 data recovery costs?

RAID 0 does not provide redundancy like other types of RAID, so a single hard drive failure can cause data loss. Fortunately, this often allows for a fairly straightforward data recovery plan--engineers need to fix the damaged drive, then rebuild the array and treat any file corruption.

Even so, some RAID 0 recoveries are more difficult than others. Factors that can influence the cost of your case include the number of drives in your array, your RAID's operating system, the size of the requested files and the failure scenario details.

Secure Data Recovery Services offers risk-free standard diagnostics for all RAID 0 arrays. Before we complete any recovery procedures, we will present you with a price and turnaround estimate, and we will only proceed if you approve our quote.

How long does RAID 0 data recovery take?

Turnaround time also varies, but Secure Data Recovery Services maintains an experienced staff of RAID engineers and dozens of advanced repair tools. We can treat many cases in less than a day under our 24/7/365 emergency service.

Unlike many other providers, we offer several turnaround options for our RAID clients. Our standard data recovery service includes completely risk-free diagnostics, and all of our service options feature a no recovery, no charge guarantee.

Can I use file recovery utilities to restore data on a RAID 0 system?

File utilities cannot treat physical hardware issues, and most commercial programs are not designed for striped data. By running your RAID 0 in a failed condition, you could contribute to file corruption issues. You could also overwrite data, which greatly limits the possibility of a full recovery.

We recommend shutting your RAID down right away when data loss occurs. Do not attempt to repair damaged hard drives and never run data recovery software.

Can you repair a single failed drive from my RAID 0 array and return it to me?

This approach will not result in a full recovery under most circumstances. Because RAID 0 systems stripe data across multiple disks, file corruption often occurs when a single hard drive fails.

Our engineers will need to repair your damaged drive, then work directly with your array to restore the system to a functional condition.

What tools do data recovery companies use to treat RAID 0 arrays?

We are uniquely qualified to treat physical media failures and logical issues on RAID 0 systems. Secure Data Recovery Services operates a Class 10 ISO 4 Cleanroom, and our teams have decades of combined experience with striped data. We also keep an on-site inventory of RAID controllers and hard drive parts.

Additionally, we have a number of proprietary data recovery utilities that allow for fast, safe treatment. We maintain an overall success rate of 96 percent for our RAID data recovery services.

For more information or to discuss data recovery options with an expert, call our 24/7 customer service hotline today.