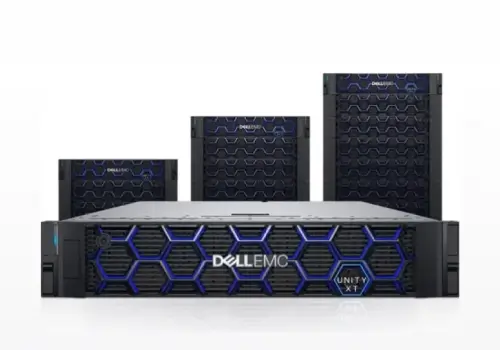 Dell RAID Data Recovery Services
Enterprise-level storage requires flexibility and reliability, and for most large scale companies, Dell Compellent and Dell EMC storage centers are the solutions. The system stores virtualized data centers and cloud services. While they can manage data on a detailed level as well as in the big picture, these systems can fail either physically or logically, resulting in costly downtime for an enterprise. Secure Data Recovery works with all media and operating systems to provide the highest quality enterprise-level data recovery in the industry.
Our customers rate our services:
We Helped Thousands Get Their Lost Data Back.
With over 5,320 satisfied customers and growing, we are proud to provide outstanding customer experience and quality service that consistently exceed customer expectations.
View All
Dell Compellent storage is a type of Storage Attached Network (SAN) that is made up of drives in a RAID array. Users can even mix and match drives within the storage array to present as a unified solution.
Dell EMC offers more flexibility with the ability to be configured as a SAN, NAS, or all-flash hybrid. A user can also manage the system using cloud services to manage virtual files. Our engineers work with all drive models and rely on their R&D team to discover new ways to retrieve files from both RAID arrays and virtual systems.
We Work with All Dell EMC Models
No matter what type of Dell Compellent SAN or Dell EMC storage solution you have, we can recover your data. Secure Data Recovery works with existing media while creating innovative recovery methods for media that will soon come to market. The devices we work with include:
Dell EMC SC9000
Dell Compellent Flash Optimized Solution
Dell EMC SCv3000
Dell Compellent FS8600
XTREMIO
Symmetrix
SC Series
EqualLogic
Dell EMC cloud storage
Dell EMC software-defined storage
And more
Even if your storage system includes an SSD, SAS, SATA, or an iSCSI operation, Secure Data Recovery can help. Our engineers have decades of experience working with Dell products and we create custom utilities for each Dell recovery case we receive. It is this dedication and advanced technical knowledge that contributes to our success rate of 96%.
Failure Scenarios for Dell Compellent Servers
Storage systems of all types can fail due to physical or logical damage. Since the file system on a Dell Compellent and Dell EMC is housed within a RAID configuration, it is vulnerable to the same failures as a RAID system such as controller failure, damaged drives, and failed rebuilds. The Dell system may also alert of logical failures such as:
Errors during data progression
Accidental file deletion from volumes
Corrupted files
Errors during system updates
Power surge leading to lost data
Overwritten or deleted LUNs
How Does Data Recovery Work?
The data recovery process begins when you call our 24/7 customer service line. A representative will guide you to one of our over 250 drop-off locations nationwide or will send you a prepaid FedEx shipping label to send your Dell Compellent or EMC device to our lab. After our engineers give a no-obligation price quote and estimated turnaround time, they will work to retrieve your files.
Secure Data Recovery offers a variety of service levels including an emergency service with a 48-hour turnaround. We operate the only Class 10 ISO 4 Cleanroom in North America and have the fastest turnaround times in the industry. If for some reason we are unable to recover your data, we stand by our "no data, no recovery fee" guarantee.
We offer a variety of recovery options that fit your data loss situation including in-lab services, remote data recovery, and on-site recovery. If your Dell EMC or Compellent server is too complex to send to our lab, or contains classified information that can't leave the premises, our engineers are ready to travel to an on-site location or perform remote recoveries. All of our work is done using proprietary recovery tools while following the strictest security protocols.
What to Do When Your Dell Storage System Fails
Though the Compellent and EMC models of devices are geared towards separate business operations, data loss is a possibility for either. When your small business or large corporation experiences a data disaster, the best course of action is to call a data recovery professional to safely retrieve your files without disrupting your business.
Our secure data recovery services are trusted by thousands each year including small business owners and corporate CEOs. Our engineers can recover files from hard drives, RAIDs, and servers that other companies have deemed unrecoverable. To start your case and learn more about our Dell Compellent and EMC recovery services, call 1-800-388-1266.
Dell Compellent Data Recovery Reviews
Costas
Reviewed on Sep 19, 2020 | Chino, CA
Honest service and personal attention
Chris McMaken answered the phone when i needed him most...my hard drive failed, and many financial and critical business documents were on the drive, but most importantly, my e-flight logbook, containing thousands of hours of flying history. As a professional pilot that is essential. Chris was realistic with me and honest as to what to expect, and more importantly communicated the process very cle... Read Morearly. Being open about price left no surprises, and i didnt feel pressured like i did at other places. Thank you Chris for working with me and helping us find a common solution...and most importantly salvaging the data!
Genevieve Dellinger
Reviewed on Jun 02, 2020 | Yucca Valley, CA
Chris McCracken - Secure Data Recovery
Secure Data Recovery was professional, communicative, and they recovered my data from a drive I thought I was lost. I am grateful for the experience, and especially thank you Chris for walking me through each step!
John Grimes
Reviewed on Apr 29, 2020 | Washington, DC
The HDD crashed on my wife''s laptop crashed, believe it or not, on Friday the 13th (I''m not superstitious, LOL) and she was in serious "panic mode". She has her own, home business and I was her onsite tech. I attempted to recover the data from the HDD but to no avail.
I, in turn, contacted Mitchell Moore with Secure Data Recovery and the process from the very beginning went very flu... Read Moreidly. Mitch kept me apprised throughout the process and I now have all of the data restored back on her laptop and she is one, happy camper.

Thank you Mitchell for your professionalism, exemplary service, and great customer support! You performed a yeomen job and I''m really appreciative. Kudos!!!