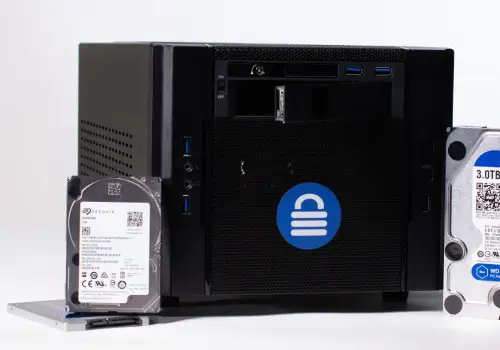 On Premise Data Recovery Platform
The SecureRecoveryBox brings a professional data recovery engineer to any power socket and internet connection in the world. Created by Data Recovery Engineers with decades of hands on experience while leveraging derivative data recovery technology from the same resources as our data recovery labs any workspace can be converted into a mini-lab. Same day local diagnostics can now be performed over the internet with the damaged device physically attached to the SecureRecoveryBox via front 2.5" and 3.5" bay. With the SecureRecoveryBox some of the data recovery cases can be solved in as little as 45 minutes depending on the type of device, amount of data and failure type.
SecureRecoveryBox can be used to diagnose and perform data recovery on all SATA Hard Drives, SSD drives, Flash Drives, USB drives, RAID arrays, corrupt files and external drives with:
Logical Failures
Deleted Data
Corrupt partitions
Damaged MBR
Damaged Sector Blocks
Allocation Errors
Firmware Errors
Lost Raid Configuration
The damaged device is securely connected via front media slot while the remote engineers have full access to power the device on/off via custom data recovery utilities embedded into the SecureRecoveryBox. Once the device is logically repaired the data can be extracted onto a brand new external device connected via the USB3.0 port. With the SecureRecoveryBox Data Recovery can start right now!
What is the advantage over Data Recovery Software?
Your data is in the best hands possible. The SecureRecoveryBox contains an arsenal of data recovery utilities not commercially available and the recovery is performed by trained and certified data recovery engineers. If the device is too damaged to be recovered remotely a diagnostics report can be generated and in some cases an image of the device can be made and preserved to save the current state of the data to be worked on offsite.
Why does an engineer need to perform the recovery?
"Most of the "un-recoverable" cases in the data recovery industry are caused by User attempt to self-correct the problem without consulting a professional first for advice." – Jake Reznik (Senior Data Recovery Engineer)
Data loss is the worst digital disaster organizations and individuals can possible experience and they generally come out of the blue. While following a 3-2-1 backup strategy (three full copies of your data, 2 local backups on different storage types and at one offsite backup) is surest way to eliminate the threat of irrecoverably losing your data, sometimes is not always possible.
During the course of our data recovery process our engineers can see a pattern of behavior in the chain of events after a data storage device fails or a file becomes corrupt that leads to data becoming permanently unrecoverable. Although, the attempts to recover data using own resources is possible in some cases, it can be compared to attempting surgery. Data storage devices are complex and fully understanding their intricate components requires years training and hands on experience.
In an attempt to quickly fix the problem our engineers notice that most users will attempt to restart the host machine and plug and unplug a storage device several times while cleaning or shaking the device in a desperate attempt to bring it back to life so a backup can be made. This part in of itself is not catastrophic, generally this does not lead to permanent data loss.
If restarts and physical jolts don't solve the problem the user will perform an online search for data retrieval techniques or videos and start to install utilities to attempt a DYI data recovery. This process is very precarious, especially in deleted data loss situations since any new data (installation and log files) written on the same storage device will overwrite all or at least a portion lost data and generally this is irreversible.
Tip: Never install data recovery software or save any new data on the affected device.
If DIY attempts and re-seating the device yield no results the users will generally contact a local computer repair expert, in-house IT or a tech savvy acquaintance to further trouble shoot the problem which is generally seals the fate of the damaged device and the data residing on it.
Contact us at 1-800-388-1266 for more information on how to deploy the power of Secure Data Recovery tools at your location.