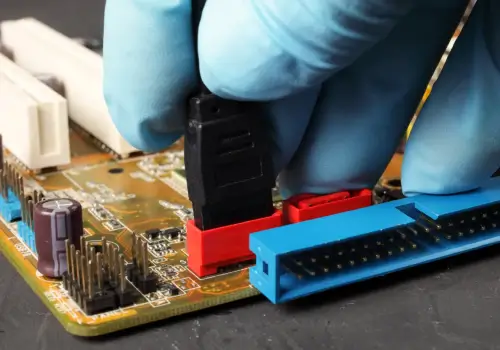 Laptop Hard Drive Connection Types
Hard drives use several different types of interfaces to communicate with your computer. Laptop drives typically use one of four interfaces, with SATA being the most popular option for modern machines.
If you have questions about your laptop's interface, contact Secure Data Recovery Services. Our expert customer service staff can help you identify your hard drive and set up a risk-free data recovery evaluation.
Common laptop hard drive connection types include:
Parallel ATA or Integrated Drive Electronics (IDE) - PATA and IDE are two common connection interfaces identified by their 40-pin input/output ports. While desktop computers often use long, thin cables (commonly called "ribbon cables") to connect to PATA/IDE interfaces, laptop drives sometimes connect directly to a port on the motherboard.
IDE was the earliest version of ATA. Developed by Western Digital, it allowed for relatively fast transfer rates; later versions of PATA allowed for rates as high as 134 megabytes per second. However, PATA gradually lost popularity in the 2000s, and most computers now use SATA.
Some of the main disadvantages of PATA included drive size limits and strict transfer limits. However, PATA drives are no less reliable than SATA drives. Many older laptops still use parallel ATA drives, and several major hard drive manufacturers still produce ATA drives.
Serial ATA (SATA) - The SATA interface allows your computer to interact with your laptop drive through a high-speed serial cable. It provides faster transfer speeds than parallel ATA by using a relatively advanced input/output queue and by utilizing higher signal rates.
SATA allows for transfer speeds of up to 600 megabytes per second, and future revisions of the technology should push these limits even higher. This interface type also allows for less cable clutter, which is important for laptop computers given the limited space in a modern laptop enclosure.
Universal Serial Bus (USB) - Many laptop owners use external hard drives with USB connections for backup or to store media files. USB drives consist of an external enclosure and a normal SATA or PATA hard drive; they can connect to virtually any computer. Several revisions of USB exist, the most recent being USB 3.0.
USB allows for transfer rates of up to 400 megabytes per second. This is limited by the interface of the hard drive inside the USB enclosure, however, and most external drives will not reach this maximum.
Firewire (IEEE 1394) - Marketed mainly by Apple, Firewire is another common interface for external hard drives. FireWire allows for transfer speeds of up to 393 megabytes per second. However, it is significantly less common than USB, and most laptops do not have built-in Firewire ports. Many Apple laptops feature FireWire.
Secure Data Recovery Services offers professional data repair and recovery for all types of laptop hard drives. Our engineers can repair damaged read/write heads, electronics and other components, and with more than 40 facilities, we offer excellent turnaround times with best-in-class security. We hold certifications for SSAE 18 Type II and other standards, and we treat all damaged laptop hard drives in a certified Class 10 ISO 4 Cleanroom. For more information or to set up a free hard drive evaluation, call us today at 800-388-1266.