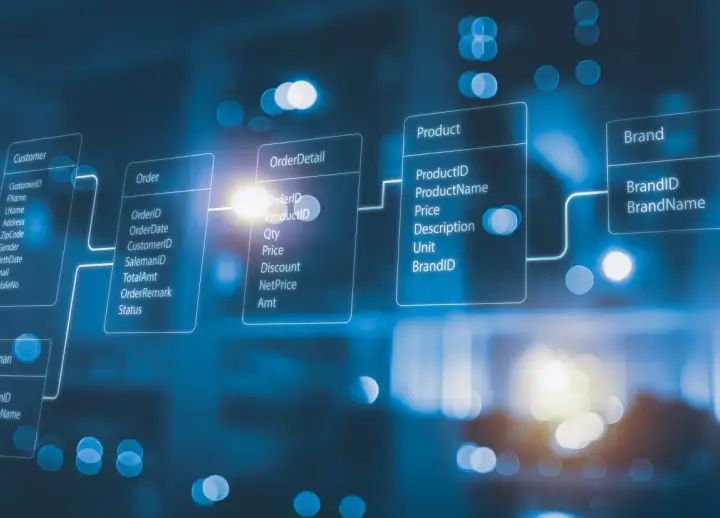 SQL Data Recovery
Secure Data Recovery Services offers specialized database recovery and repair services for SQL. Our engineers have significant experience with the SQL programming language and popular variants, and we can quickly restore damaged databases to limit your business's downtime after a data loss disaster.
Our industry-leading database specialists have the expertise in successfully recovering and repairing any type of SQL database.
SQL is a popular language used in relational database management systems. Since the late 1980s, it has been the most widely used RDBMS language in existence, and thousands of businesses depend on SQL for managing their day-to-day activities.
Whether you need to repair a damaged RAID array or individual corrupted databases, Secure Data Recovery Services provides an excellent way to retrieve your data while maintaining security and minimizing turnaround time. We specialize in RAID repair and RAID data recovery, and our engineers can safely treat any digital device while maintaining excellent security.
Common data loss scenarios for SQL databases include:
Corrupt or Unreadable Databases
Dropped or Lost Tables
Physical or Electronic Media Damage
Accidental Re-initialization
Excessive Errors During Replication
RAID Rebuild Failure
Accidental Deletion, Formatting, or Edits
To set up a SQL database recovery case or for more information, call our customer service department today.
World Leaders in SQL Data Recovery
At Secure Data Recovery Services, we treat hundreds of SQL cases each year. We start each case with risk-free diagnostics in order to find the exact cause of data loss. During our diagnostics, we create a case-specific plan for the best possible chances of a fast, successful recovery.
If your system has sustained physical damage, Secure Data Recovery Services' engineers can repair damaged hard drives and RAID components in a Certified Class 10 ISO 4 Cleanroom, a specialized environment that protects hard drives, solid-state drives and other devices.
After treating physical damage, our engineers create a perfect copy of your media. We work from the copy to restore normal access to your corrupt or logically damaged SQL database. We have experience with all SQL implementations, and our research department has developed a number of proprietary tools to allow for high success rates across all platforms.
Secure Data Recovery Services offers SQL data recovery for:
Sybase
MySQL
Teradata
Interbase
IBM DB2 and Informix
PostgreSQL
Yosemite
Mimer SQL and More
Our specialists have worked with all SQL relational database management systems including SharePoint, Access, Exchange, Lotus Notes and Sybase. After performing logical repairs, we can return your databases via secure FTP or on physical return media depending on the size of your files.
What to Do When a SQL Database Fails
If you cannot access a damaged SQL database for any reason, you should disconnect power to the affected device to preserve your system in its original condition. Do not attempt to repair corrupt SQL databases. Never try to rebuild or restore a damaged RAID array, especially if you notice signs of physical media damage. Keep your system powered down or isolate the affected partition and call our 24/7 customer service line for help.
Secure Data Recovery Services offers free diagnostics for all SQL databases and systems. Our experts can create a detailed report with a price quote, turnaround estimate and other key case information within 24 hours of receiving your media. All of our services feature a no recovery, no charge guarantee, and we hold numerous security credentials including a SSAE 18 Type II certification.
We understand how a lost SQL database can affect your business. Our 24/7/365 services provide the fastest available turnaround for SQL data recovery, and in many cases, we can work remotely to perform SQL database repair procedures without direct access to your storage media. Whether you need a single file from a damaged hard drive or corrupt SQL databases from a large RAID server, Secure Data Recovery Services offers the best option for fast, reliable database repair. Call our customer service team today to set up free diagnostics.
SQL Data Recovery Reviews
Long Tran
Reviewed on Jan 25, 2022 | Green Island, NY
Fast process, excellent recovery, awesome customer service. You will not be disappointed. I emailed the company and Jake Gambatese from Secure Data Recovery called me back within 20 minutes and explained all the options and and the process to me with details. Jake is really responsive and helpful with all the questions i have for him. I would recommend this Company to all my partners, and friends.
Newlink Genetics
Reviewed on Sep 22, 2021 | Ames, IA
I was incredibly impressed with the entire process, and I'd like to elaborate a little bit on that. When the data loss occurred that prompted the need for your services, we first attempted to use one of your competitors. I sent the drives in, they didn't ask many questions, they got a basic structure of one file, charged us over $10,000, and then called it a day. They then refused to assist once w... Read Moree identified the file they gave had nothing in it. There was no follow up, there was no in-depth digging to figure out what we were trying to recover, that was the entire process. However, when we switched to Secure Data, the entire process was about determining what we needed, finding that data, and then doing everything possible to ensure the data is fully recovered. SecureData made sure to give me information that was based on what they knew, not based on assumptions or hopes. It was a much better process that allowed me to feel much better about our data being recovered.
Elizabeth Holland
Reviewed on Sep 06, 2021 | Greenville, SC
The Best Data Recovery Specialists
Secure Data recovery is an amazing organization. My hard drives crashed due to a weather related power surge and our backup system didn't function the way it was supposed to. We thought we had lost all of our data, but found secure data recovery online and contacted Scott. He was very attentive and advised us to immediately turn off our server and send the drives to their organization as soon as p... Read Moreossible. He recommended that no other IT specialists touch them because he felt that this was the best way to avoid losing anymore data. I thought about using someone locally, versus sending my data through the mail, but Scott recommended that I not risk losing the only data that I had. I followed his instructions and packed up my hard drives and sent them to their facility in Cleveland. Scott called me as soon as they received them and kept me updated throughout the following days on the progress of the recovery. He was very attentive to my phone calls and emails. They were able to completely recover my data and sent it back on an external hard drive. We were able to plug this data into our server and everything was restored as if the power surge has never happened. I can't thank secure data recovery and Scott enough for their help. I hope I never need their services again, but if I do I won't use anybody but them.
Chris Brown
Reviewed on May 27, 2021 | Saginaw, MI
Excellent Data recovery service
Scott McMacken was excellent! He made the whole process pleasant and simple for us.
Michael Langan
Reviewed on Feb 26, 2018 | Seattle, WA
What once was lost is now found
Alec helped me through the process of recovering a dead 2TB storage drive and I have to say the process was quite smooth. I was kept up to date about my drive, what was wrong with it, and what the process would look like for recovering my data. This culminated in couple weeks later receiving an external hard drive with all my data on it, sans just a handful of (unneeded) files that weren't recover... Read Moreable. I don't recommend folks go break hard drives to try this service, but if it happens to you, Alec and SDR will help get your stuff back.
Karen Kilgore
Reviewed on Apr 16, 2015 | Sequim, WA
Thanks Jeremy for the quick response and for explaining how everything is done. Even though it turned out I didn't need your services, I was reassured to know that you'd be able to help if the local support process failed. Will be glad to call on you if I have future need.
Frequently Asked Questions
What's the average cost of an SQL data recovery?

The type of operating system, hardware configuration, and failure scenario of your SQL will affect the cost of the data recovery process. We can provide an estimate after analyzing your media in our certified lab. Our standard service includes free diagnostics and every case is given a price point and estimated turnaround time.

Does my SQL server's operating system affects the data recovery process?

Yes, but our engineers have experience with dozens of operating systems including Solaris, Windows, Mac OS X, and Linux and Unix. We treat every SQL server with the same tools and services regardless of the OS or file system.

How can I avoid downtime if my SQL server fails?

With a failed server, some downtime is inevitable but Secure Data Recovery offers a variety of service options to get customer's servers up and running again. Our emergency service has an average turnaround time of 48 hours and we have the fastest turnaround times in the industry.

Do Secure Data Recovery engineers have experience with my server's SQL implementation?

Yes, as industry leaders, we have treated hundreds of servers including MySQL, MS SQL, Oracle, DB2, PostgreSQL, and many others. We have proprietary SQL repair tools and our lab is optimized for server repair and data recovery. Engineers are constantly researching and developing recovery techniques on the newest SQL servers.

Why should I choose a professional data recovery service for my SQL server?

SQL data recovery is a specialized process that requires precision and quality work. General IT repair companies only treat some failure scenarios and a failed recovery attempt can result in permanent media damage and data loss. Secure Data Recovery is a certified company with decades of experience. We offer a "no data, no recovery fee" guarantee for every SQL case we receive.