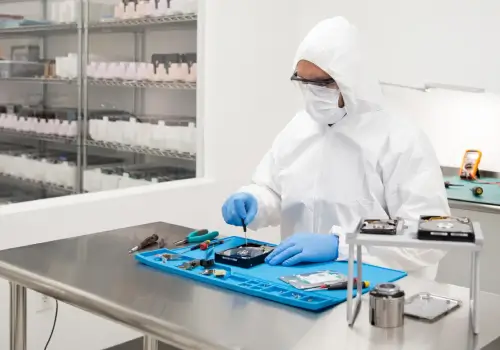 Certified Data Erasure Verification Services
Secure Data Recovery Services provides erasure verification services for all types of digital storage devices, including hard drives, RAID arrays and more.
By using cutting-edge tools to access your device, our engineers can quickly determine whether sensitive files are permanently destroyed. With a dedicated engineering staff and a comprehensive set of recovery tools, we can attempt to recover erased files and provide a comprehensive report with our results.
When you delete sensitive data from complex systems, you need absolute assurance that the information is completely unrecoverable. This is particularly important if you outsource secure deletion to a third party provider. Modern storage technologies are very resilient, and because of recent advances in the field of data recovery, file erasure requires appropriate tools and a working knowledge of modern erasure standards.
Because we specialize in data recovery, we are fully qualified to perform data erasure verification services on any type of device, regardless of operating system or other factors. Our engineers will use every available tool to recover deleted files to verify that your erasure methods comply with NIST, DOD 7 and various other standards.
Rates vary depending on the number of devices, the type of media and several other factors, but we offer flexible options to fit your budget. Contact us today to set up a quote.
Cutting Edge Security for Dependable File Deletion Verification
At Secure Data Recovery Services, we maintain a number of credentials to show our commitment to security. Our data erasure verification teams work in a controlled laboratory with closed networks, which eliminates chances of third-party access to recovered files.
We also hold a number of security credentials including:
SSAE 18 Type II SOC-1 Certification
PCI-DSS Compliance Certification
GSA Contractor Certification and More
Our laboratory also features a certified Class 10 ISO 4 Cleanroom, which we use for physical media recovery, and state-of-the-art file tools that allow for direct access to deleted data. If your system does not contain any recoverable data, we will provide our expert verification along with a detailed analysis.
If your system still contains any trace of erased files, we will present that evidence along with our completed verification report. We can also perform secure deletion services, limiting your downtime and providing absolute assurance that your media is securely overwritten.
Because we specialize in data erasure verification, we can perform analyses for virtually any number of devices while controlling turnaround times.
Getting a Quote for File Erasure Verification
Secure Data Recovery Services operates more than 50 offices, and you can drop off your media at any of our locations after setting up a case. Before visiting us, call our customer service team to discuss pricing. Our experts can provide you with a quick quote to give you the information that you need to make a decision.
We also offer flexible pricing options, which help to keep the process affordable for smaller businesses and institutions.
Some of the other advantages of our file erasure verification services:
Regular Case Updates and Dedicated Support
Compliance with Any Established Erasure Standards
Verification from the World's Best Data Recovery Engineers
Secure Deletion Services Available Upon Request
Multiple Turnaround and Pricing Options
By sending your digital media to Secure Data Recovery Services, you can verify that important data is completely inaccessible. We are one of the world's leading data recovery providers, and if our teams cannot recover your information, no other provider will be able to access it under any circumstances. Most importantly, we follow established guidelines and protocols when performing data erasure verification, and our staff uses SSAE 18 Type II SOC-1 procedures to protect your data at all times. Call us today at 1-800-388-1266 to get started or for more information.