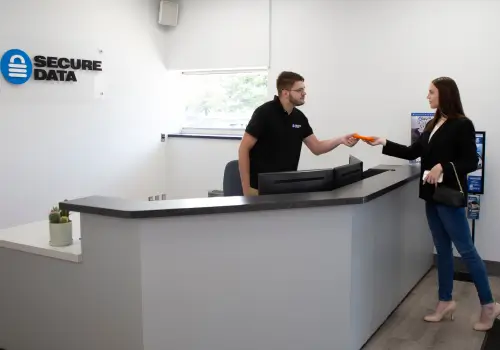 Data Recovery Services in Arlington - RAID, SSD & Hard Drive Recovery
Recovering data from damaged storage media has never been more accessible or reliable. We have served Northern Virginia with data recovery in Arlington since 2007. Our convenient Arlington Village location at 2801 Columbia Pike, on the corner of Walter Reed Drive, is available for walk-ins.
Do not settle when it comes to hard drive data recovery in Arlington, VA. Trust the experts with over 15 years of experience and guaranteed results.
Our customers rate our services:
We Helped Thousands Get Their Lost Data Back.
With over 5,320 satisfied customers and growing, we are proud to provide outstanding customer experience and quality service that consistently exceed customer expectations.
View All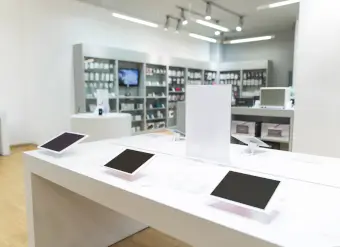 Secure Data Recovery Services
Emergency Services Available 24x7
Arlington, VA is located just outside of our country's capital and is home to respected national landmarks like the Arlington National Cemetery, Air Force Memorial, and the largest office building, the Pentagon. In addition, federal agencies including the Drug Enforcement Administration and the US Department of Defense have their headquarters in Arlington. Secure Data Recovery has the highest level of security for digital file retrieval and is proud to be a GSA Contractor who works with government institutions regularly.
Secure Data Recovery Near You
Need data recovery services in Arlington, VA? We have several options throughout the Commonwealth of Virginia.
For residents of Fairfax County, we have a Centreville location at 13848-A Lee Highway, near the junction with Centreville Road, west of downtown. You can also find us in Herndon at 727 Elden Street, around the block from the Herndon Fire Station. In Prince William County, we have a Haymarket store at 6432 Trading Square, off Interstate 66, in Haymarket Village Center. Our customers in northwestern Virginia can visit our Winchester location at 86 Featherbed Lane, near Apple Blossom Mall.
Call or stop into one of our stores for data recovery in Arlington, VA.
Data Recovery Company in Arlington, VA
Secure Data Recovery Services are the Arlington hard drive recovery, SSD recovery and RAID recovery experts. Since 2007, our data recovery company has helped tens of thousands of individuals and businesses of all sizes in Arlington successfully recover from every type of data loss scenario imaginable. We have seen your failure type before and our team understands the importance of data in the modern world. We're ready to recover your lost data with our flexible Economy and Standard data recovery services, or immediately with our Emergency data recovery option.
What Can We Recover For You Today?
Arlington, VA Data Recovery Reviews
Joe Francis
Reviewed on Aug 28, 2023 | Arlington, VA
Great Support. Responsive. Reliable. Friendly!
I was searching the web for the best Data Recovery service and ended up choosing Secure Data Recovery for their data recovery success rates.

I had a lot of very old portable drives, with ancient backups of my personal data; sadly those drives are not accessible at the present time and I needed to recover them. I was very hesitant at first knowing that every attempt to recover the data ... Read Morewould cause more damage to the disks. After reading all the positive reviews and feedback, I knew that I could trust these guys with this job. I used their online wizard to narrow down my issues and I got a fast response from them.

"No data, no recovery fee": They provided a free diagnosis of my very damaged disks and were very keen on explaining what are the issues with my drives. They invoiced me and I accepted their services. And in no time, they recovered my data with 99% and 85% of the data from those drives and I really couldn''t be more grateful!

Throughout the process, the guys were very understanding of my overwhelming travel schedule and they were super responsive and friendly. I highly recommend them as a great data recovery service.
Victor Pa
Reviewed on May 15, 2023 | Fairfax, VA
Great service at a reasonable rate
Secure Data Recovery did a great job recovering our data from a defective Western Digital external drive. Our rep Eric was very helpful explaining the process and replying back to our questions. The pricing was reasonable and turnaround time was excellent.
Yeah Hyun Cook
Reviewed on Mar 10, 2023 | Arlington, VA
I am VERY happy with the level of ownership and customer-obsession Scott (M.) has shown in handling my data recovery case. Due to personal reasons, I had to expedite the process and Scott''s timely communications and customer-service really helped me feel comfortable going through the process. He is highly articulate, clear with instructions and supportive. If you are in need of getting data recov... Read Moreery service (especially if you are in a tight timeline!), connect with Scott at Secure Data Recovery - you will be in good hands.
Taka A
Reviewed on May 24, 2022 | ARLINGTON, VA
They restored my external hard drive fully
My external hard drive was broken, and I needed to repair my data as soon as possible. I contacted several data recovery companies, and securedata.com contacted me back first. They were really quick.

They explained the process thoroughly, and they recovered all data. Scott was very helpful and professional , and I am very satisfied with his service.

I would recommend the ... Read Moreservice to others. Thank you so much for your help!
Pat Sheehan
Reviewed on Apr 20, 2022 | Arlington, VA
Jake was amazing. Although in the end, we did not proceed with the hard drive recovery process, Jake provided clear guidance on procedure, and even went to bat for me on pricing and recovery time. Customer service is just not about keeping people happy, it''s also about managing expectations and giving clear options so individuals can make informed decisions. Jake exemplified in this area, and I a... Read Morem truly grateful for all his help.

I would not hesitate to recommend the team of Secure Data Recovery based purely on this experience.

Thank you Jake.
Armand Silva
Reviewed on Apr 06, 2021 | Arlington, VA
After sending my broken hard drive to two other places, and having recovery work done at one of those places, I decided to send it here for one last hope at getting back the files I was still missing. Anthony was absolutely fantastic from beginning to end. He was incredibly kind and patiently answered all the questions I had after the diagnostics were completed, before deciding to proceed with t... Read Morehe recovery service. He explained in detail what the process would involve and was also able to assist me greatly with pricing. Considering the amount of damage my drive had sustained, the work was done in a very timely manner. When I received my backup drive, I was amazed to find that all of the files that were either missing or damaged after my previous recovery were present and intact!! This place is the best of the best, and I would highly recommend it to anyone.
Why Choose Secure Data Recovery in Arlington, VA?
Certified and Verified Secure
Transparent Process
Trusted and Guaranteed Results
Secure Data Recovery Services operates in world-class facilities that undergo regular SSAE 18 SOC 1, SOC 2, and SOC 3 audits to verify the integrity of all cybersecurity management control systems. This means that your data is protected at every stage of the recovery process.
Each of our Lab facilities also has a certified Class 10 ISO 4 cleanroom. This specialized environment provides state-of-the-art filtration to remove potentially harmful airborne particulates that could damage the sensitive internal components of storage devices.
Secure Data Recovery Services' facilities in Arlington, VA have accreditation with the Better Business Bureau and maintain an A+ business rating. Your complete satisfaction is our mission. We strive to deliver the highest quality of service for every data recovery case.
For more than a decade, the engineers at Secure Data Recovery Services have built a reputation as the most reliable provider of professional data recovery in the industry. Our expert team maintains a documented 96% successful recovery rate.
We maintain partnerships with every major digital storage manufacturer to ensure our custom solutions never threaten any existing product warranties. We also invest heavily in research and development to keep pace with rapidly evolving digital storage technology.
Free Data Recovery Quote
We intimately understand all data loss scenarios and will exhaust all options technologically possible to reunite you with your lost data as quickly as possible. When you choose Secure Data Recovery Services, you get the most credentialed professionals in the industry.
Service times and exact pricing for a successful recovery always depend on the specific damage to the storage, which is why we offer free, no-risk diagnostics with every standard service.
Our quotes consist of:
Price for successful recovery
Time estimates for job
Key information about the events that led to data loss
Call 703-260-8367 to speak to a data recovery expert 24x7 and schedule your free data recovery consultation with a no-obligation price quote.