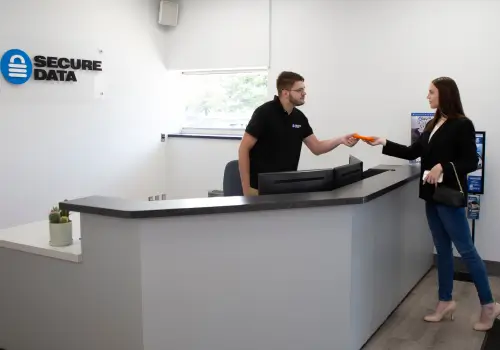 Data Recovery Services in Washington DC - RAID, SSD & Hard Drive Recovery
We have supplied residents of the Nation's Capital with first-rate data recovery services since 2007. Given our extensive experience with all storage devices and failure scenarios, our experts can resolve your case. Our location at 1915 7th Street Northwest, on the corner of Florida Avenue, is just around the block from the historic Howard Theatre.
Do not settle for less than the best when it comes to data recovery. We are the DC data recovery experts with free diagnostics and a "No Data, No Recovery Fee" guarantee.
Our customers rate our services:
We Helped Thousands Get Their Lost Data Back.
With over 5,331 satisfied customers and growing, we are proud to provide outstanding customer experience and quality service that consistently exceed customer expectations.
View All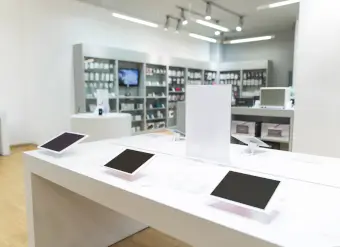 Secure Data Recovery Services
Emergency Services Available 24x7
Secure Data Recovery Near You
Need data recovery services in DC? We have several stores throughout the Capital Region.
Our Bethesda data recovery location is situated at 8019 Wisconsin Avenue, near the intersection with Highland Avenue, in the Woodmont Triangle neighborhood. Our second Bethesda store, located on Fairmont Avenue, is close to the corner of Old Georgetown Road.
For Virginia residents looking for Arlington data recovery, our store at 2801 Columbia Pike, in the Arlington Village neighborhood is ready to assist with any data loss. We also have a store in Alexandria at 5100 Leesburg Pike, near the intersection with South George Mason Drive, east of Crossroads Place.
Wherever you visit us, hard drive data recovery in Washington DC is more convenient than ever. Call us now or stop into one of our stores to start the process and receive a risk-free evaluation.
Data Recovery Company in Washington DC
Since 2007, our data recovery company has helped tens of thousands of individuals and businesses of all sizes in the District of Columbia and surrounding area recover from every data loss scenario imaginable.
Our team understands the importance of data and the impact of sudden data loss. We resolve thousands of cases each year and heavily invest in research and development. That is how we maintain a documented 96% success rate.
Your complete satisfaction is our mission. We strive to provide the best service and deliver results for each hard disk drive (HDD), solid-state drive (SSD), USB flash drive, SD card, iPhone, and Android mobile device. Our data recovery experts can perform manual file repair to restore data in cases of malware and accidental deletion or formatting, regardless of storage device. Our sophisticated tools and techniques allow us to offer professional SSD data recovery for damaged or defective components.
We specialize in developing data loss solutions for businesses and organizations with complex cases. We provide enterprise-grade data recovery services for failed RAID, network-attached (NAS and SAN) storage systems, and virtual machines. We have a large library of RAID controllers to facilitate complicated repairs. Our engineers have decades of RAID data recovery experience and can restore files from all storage levels.
We have seen your failure before and are ready to recover your lost data with our flexible Economy and Standard service options. Or receive immediate, around-the-clock assistance with our Emergency data recovery services to reduce downtime.
Hard Drive Recovery in Washington DC
Our hard drive recovery experts deliver customized solutions to Washington DC customers that suffered data loss. We can address hard drive failure caused by physical damage, mechanical breakdowns, electrical issues, and logical errors. We have experience with hard drives from every data storage manufacturer and maintain an extensive collection of replacement parts. Our technicians can recover any file type from numerous operating systems.
Whether you lost valuable photos, important documents, or sensitive business files, we have the expertise to ensure your data is successfully recovered, safe and secure. By diagnosing and repairing your hard drive in a Class 10 ISO 4 cleanroom, we can restore your device to working condition without risking further media damage and jeopardizing the original data.
We combine cutting-edge technology with an unwavering commitment to our customers. The result is an innovative data recovery service that helps you regain what matters most.
Data Recovery Washington DC
Millions of people inhabit or visit Washington DC every year. As the Nation's Capital, the District of Columbia is full of historic landmarks, monuments, and memorials, but that is not all it has to offer. Residents and tourists can discover Washington DC's eclectic dining and entertainment scene, enjoy the world-renowned Smithsonian Museums, stroll across the National Mall, or relax on the banks of the Potomac and Anacostia Rivers. Those experiences become terabytes of digital data on HDDs or SSDs, mobile devices, SD cards, and thumb drives. Drops, spills, or accidental formatting can wipe away those memories, but Secure Data Recovery can prevent data loss from becoming permanent.
Our data recovery specialists can retrieve data from all storage devices for individuals, small businesses, and large organizations. Trust the experts to recover corrupted, deleted, or inaccessible data. Our state-of-the-art laboratories, certified personnel, and specialized hardware and software can resolve even the most challenging cases.
What Can We Recover For You Today?
Washington DC Data Recovery
Dave H.
Reviewed on Aug 28, 2023 | Warrenton, VA
I lost my NAS drive raid during a power outage. So about 3 TB of files was lost. Jake and his team came to the rescue and were able to retrieve all of my files. I would highly recommend them for your data recovery.
Conrad Labandeira
Reviewed on Jul 20, 2023 | Washington, DC
Service from Scott McMacken was great!
Scott was expeditious in his handling of this very important case of data recovery. I am very pleased.
Conrad Labandeira
Daniel S. Day
Reviewed on Jun 11, 2023 | Meridian, ID
This is the second time that I have used the Data Recovery Services. I have had great results both times. Great service and communication. I am a happy customer.
Navy Marine Mustang
Reviewed on Jun 07, 2023 | Hampton, VA
SOFTWARE'S PREMIER EXPERTS
What comes to mind regarding the service my Family received from SDR is Simply IMPRESSIVE!!! Scott, my lead tech advisor was more than patient and understand of Our Families Needs. The data on our now damaged hard drives could not be retrieved without the assistance of a professional technician. Scott and his team went to work with out delay and had results for us in two short weeks! Scott kept... Read More me in the loop and provided updates per my requests via email. It was fulfilling to know at each step where my service request was progressing. I shared with Scott not only Great-Job, this was likely not our last visit! Although we prepare for the services Scott and his provide, rest assured if you require those services-You'd Best Seek the Professionals!!! Scott, I send this note with Heartfelt Thanks for aiding my Family and I by recovering some irreplaceable photos taken in Afghanistan! YOU ARE THE BEST! I MEAN IT! :-) If I can be of added Reference, feel free to reach out to me directly. Very Best, Commander J Landrom
Roger Chinery
Reviewed on May 25, 2023 | Olney, MD
Secure Data Recovery..Preston Hall
Preston Hall made my experience very positive
He was very congenial, responsive and professional.
Just a positive experience
He put a very positive face to the Your wonderful organization
Thank you Preston
Adam W. Schindler
Reviewed on May 22, 2023 | Washington, DC
Excellent Data Recovery Service with Exceptional
Elliot Fisher went above and beyond to restore my lost video media. Their expertise and professionalism were evident from the start, and Elliot''s outstanding customer service made the entire process seamless. I am grateful for their prompt and reliable assistance and highly recommend their services.
Why Choose Secure Data Recovery in Washington DC?
Certified and Verified Secure
Transparent Process
Trusted and Guaranteed Results
Secure Data Recovery Services operates in world-class facilities that undergo regular SSAE 18 SOC 1, SOC 2, and SOC 3 audits to verify the integrity of all cybersecurity management control systems. This means that your data is protected at every stage of the recovery process.
Each of our Lab facilities has a certified Class 10 ISO 4 cleanroom. This controlled environment provides state-of-the-art filtration to remove harmful particulates that could damage the sensitive internal components of storage devices.
For more than a decade, the engineers at Secure Data Recovery have built a reputation as the industry's most reliable provider of professional data recovery. Our expert team maintains a documented 96% success rate, the most industry-specific certifications, and the fastest turnaround times.
We maintain partnerships with every major data storage manufacturer to ensure our custom solutions do not threaten existing product warranties. We also invest heavily in research and development to keep pace with rapidly evolving storage technology. Discover why you should choose professional data recovery services.
Free Data Recovery Quote
We understand all data loss scenarios and will exhaust every available option to quickly reunite with your lost files. When you choose Secure Data Recovery, you get the most credentialed professionals in the industry.
Service times and exact pricing for a successful recovery always depend on the specific damage to the storage device, which is why we offer free diagnostics with every standard service.
Our quotes consist of:
Price for successful recovery
Time estimates for job
Key information about the events that led to data loss
Call 202-407-9400 to speak to a data recovery expert 24x7 and schedule your free consultation with a no-obligation price quote.
Frequently Asked Questions
How does our data recovery process work?

After speaking to a data recovery adviser, you will receive a reference number and a free estimate. The recovery process starts once your storage device arrives at one of our laboratories.

Diagnostics: A data recovery professional begins with a comprehensive evaluation of the media and develops a plan to retrieve the files.
Repair: If the device is inaccessible, a data recovery technician will restore it to a working condition using specialized hardware and software.
Imaging: Once operable, an engineer creates a byte-for-byte clone of the failed device, ensuring the original data remains intact throughout the data recovery process.
Extraction: A data recovery specialist extracts the recoverable files from the device's image.
Validation: A technician saves the data to a secure destination and uses software to confirm the required files have been successfully recovered.
Delivery: Our team returns the recovered data in a secure manner on a chosen external drive.

Do I need an appointment?

After speaking to a data recovery adviser, you will receive a reference number and a free estimate. The recovery process starts once your storage device arrives at one of our laboratories.

What are the store hours in Washington DC?

Our store at 1915 7th Street Northwest is open Monday through Saturday from 10 AM to 7 PM. It is open on Sunday from 12 PM to 6 PM. In case of emergency, call 202-407-9400 for immediate assistance.