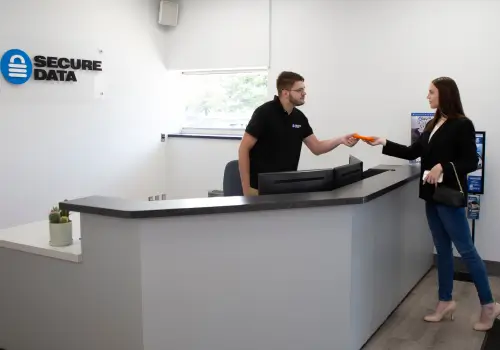 Data Recovery Services in Oklahoma City - RAID, SSD & Hard Drive Recovery
We have supported the I-35 Corridor with data recovery in OKC for over 15 years. SSD, RAID and hard drive data recovery in Oklahoma City has never been easier. Our location at the corner of North MacArthur Boulevard and Northwest 42nd Street is a few blocks north of the historic U.S. Route 66.
Experience complete convenience and peace of mind with Free Diagnostics and a "No Data, No Recovery Fee" guarantee.
Our customers rate our services:
We Helped Thousands Get Their Lost Data Back.
With over 5,329 satisfied customers and growing, we are proud to provide outstanding customer experience and quality service that consistently exceed customer expectations.
View All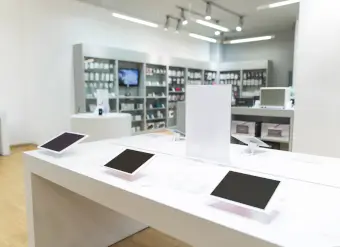 Secure Data Recovery Services
Emergency Services Available 24x7
The engineers at Secure Data Recovery have successfully recovered tens of thousands of failed devices. Our personnel possess the most industry-specific certifications of any data recovery company. We will exhaust every technological option available to resolve data loss situations for our Oklahoma City customers.
Secure Data Recovery Near You
Are you looking for data recovery services in Oklahoma City? Visit the above location. Or you can find us at our Tulsa store at 3015 South Sheridan Road, near the Johansen Acres neighborhood, just northwest of the Interstate 44 and Highway 64 junction.
Regardless of the location, data recovery in Oklahoma is easier than ever.
Call us or stop at one of our stores for more information. We offer a free consultation and quote as part of our services.
Oklahoma City Data Recovery Company
Secure Data Recovery Services is the authority in Hard Drive Recovery, SSD Recovery and RAID Recovery. Since 2007, our data recovery company has helped tens of thousands of individuals and businesses of all sizes in Oklahoma City and its surrounding areas successfully recover from every type of data loss scenario imaginable. We have seen your failure type before and our team understands the importance of data in the modern world. We're ready to recover your lost data with our flexible Economy and Standard data recovery services, or immediately with our Emergency data recovery option.
What Can We Recover For You Today?
In addition to hard drive recovery and RAID recovery, we specialize in complex data loss solutions for SSD drives and other NAND-based flash memory devices, iPhone and Android smartphones and mobile devices, network-attached (NAS and SAN) storage systems, and virtual machines.

Oklahoma City, OK Data Recovery
Tyler Dean
Reviewed on Jul 21, 2023 | Oklahoma City, OK
Recovers what others cant
Long story short, originally picked Secured Data Recovery to recover an external drive. They inspected the drive and determined a near perfect recovery. My company decided they wanted to use another recovery company. Secure Data sent my drive back and was then sent to Company B. Well after nearly 4 months of waiting there, they finally reported the drive was too damaged and sent it back. I believe... Read Mored Company B damaged the drive and didn't want to own up to. Convinced my company to try Secure Data. Well what do you know, Secure Data Recovery did amazing. The drive was showing damage now, but the still recovered 97% plus. Jake and the team at Secure Data did a wonderful job thank you-"!
Diane Floyd
Reviewed on Jun 17, 2023 | Yukon, OK
Great service & incredible customer support!
Immediate panic set in as I was no longer able to open or retrieve files from a USB thumbdrive that contained several years worth of professional work. After attempting to retrieve the data with some local tech assistance, we were able to access some of the data, but it was only raw data with no file names. After finding Secure Data Recovery through a quick internet search, they were helpful from ... Read Morethe beginning. Elliott Fisher walked me through their process with reassurance at every step. Part of the reassurance was knowing that if they could not recover a majority of the data, there would not be a significant financial obligation. Elliott was prompt in responses and extended the offer to continue to help and answer questions as I received my recovered data back. I would highly recommend Elliott and Secure Data Recovery!
JENNIFER COOK
Reviewed on Mar 21, 2023 | Lindsay, OK
You guys! I was so afraid I would never see my kids baby pictures again! Thanks to Elliot F. I have them all. It is pricey, but good grief the memories are worth it!!! For sure recommend!
Walt Nassauer
Reviewed on May 18, 2021 | Colgate, WI
I took a crashed hard drive on my iMAC to Apple and they said they couldn''t do anything with it. I sent it to Secure Data and they recovered everything which I didn''t expect. Timothy Rutan from Secure Data was the Account Rep assisting with the project. He was very responsive, courteous and available throughout the entire process. I''d highly recommend him!
Madcow
Reviewed on Apr 07, 2021 | Durant, OK
I thought my 6 TB hard drive full of data was lost when my toddler dumped his drink into the computer, but Secure Data Recovery got it back in much less time than expected. My customer service rep, Anthony, was very thorough with his explanations and answering my questions. Only a small handful of businesses have ever provided me with customer service of this level.
Craig Sarah Stout
Reviewed on Mar 10, 2021 | Owasso, OK
I rarely give reviews, but if a business has done exceptional work, then I want others to know! Secure Data Recovery has been amazing!! Timothy R was great at communicating with me! I had many questions, concerns, and hesitations and Tim was always patient and easy to communicate with. I was very distraught at the loss of my data (20 years of photos - including all photos of both my kids from birt... Read Moreh to current). Tim was to the point and stated the facts of what might & might not be possible for my recovery. I never felt pressured or given false hope of what they might be able to accomplish. Luckily, because of my type of storage issue, they were able to get 100% recovery in less time than stated! I am so glad that I was referred to Secure Data Recovery and would highly recommend them!


Why Choose Secure Data Recovery in Oklahoma City?
Certified and Verified Secure
Transparent Process
Trusted and Guaranteed Results
Secure Data Recovery Services operates in world-class facilities that undergo regular SSAE 18 SOC 1, SOC 2, and SOC 3 audits to verify the integrity of all cybersecurity management control systems. This means that your data is protected at every stage of the recovery process.
Each of our Lab facilities also has a certified Class 10 ISO 4 cleanroom. This specialized environment provides state-of-the-art filtration to remove potentially harmful airborne particulates that could damage the sensitive internal components of storage devices.
For more than a decade, the engineers at Secure Data Recovery Services have built a reputation as the most reliable provider of professional data recovery in the industry. Our expert team maintains a documented 96% successful recovery rate.
We maintain partnerships with every major digital storage manufacturer to ensure our custom solutions never threaten any existing product warranties. We also invest heavily in research and development to keep pace with rapidly evolving digital storage technology.
Free Data Recovery Quote
We intimately understand all data loss scenarios and will exhaust all options technologically possible to reunite you with your lost data as quickly as possible. When you choose Secure Data Recovery Services, you get the most credentialed professionals in the industry.
Service times and exact pricing for a successful recovery always depend on the specific damage to the storage, which is why we offer free, no-risk diagnostics with every standard service.
Our quotes consist of:
Price for successful recovery
Time estimates for the job
Key information about the events that led to data loss
Call 405-369-7042 to speak to a data recovery expert 24x7 and schedule your free data recovery consultation with a no-obligation price quote.