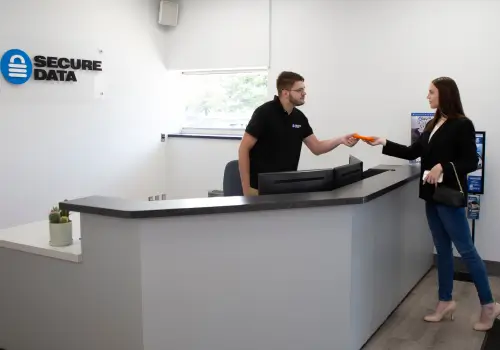 Data Recovery Services in Oklahoma - RAID, SSD & Hard Drive Recovery
Secure Data Recovery Services provides Oklahoma with a complete set of data loss solutions. We have advanced hardware, state-of-the-art file utilities and the industry's most experienced engineering teams, and our experts can repair damaged hard drives, RAID arrays and other devices to completely restore missing files.

Known as the Sooner State, Oklahoma is home to 3.8 million residents and several large cities including the capital of Oklahoma City. The state's varied economy draws from diverse sources with a particularly strong industrial presence, and Secure Data Recovery Services is proud to serve the region through a series of offices throughout the Midwest.
Expert Data Recovery Services
Secure Data Recovery Services is the authority in Hard Drive Recovery, SSD Recovery and RAID Recovery. Since 2007, our data recovery company has helped tens of thousands of individuals and businesses of all sizes successfully recover from every type of data loss scenario. We understand the importance of data in the modern world and with our Economy, Standard and Emergency Data Recovery Options and state-of-the art technology we are ready to get your lost data back right now.
Experience total piece of mind with a "No Data, No Recovery Fee" Guarantee.
Recovery Services We Offer
Some of the most common data loss scenarios include:
Electronic Media Damage
Mechanical Hard Drive Failures
Flash Memory Wear
File Corruption and Accidental Deletion
Failed Rebuild Procedures on RAID Arrays
For many Oklahoma computer users, these types of issues can be disastrous. File loss can cause downtime or other serious problems for businesses, and in many situations, recreating the lost data is prohibitively expensive or practically impossible.
Secure Data Recovery Services' engineering teams can retrieve data from virtually any device regardless of the extent of damage. All of our services feature the industry's best security credentials, and we provide free diagnostics for all standard cases. Every diagnostic report includes a full price quote and turnaround estimate to help you make an informed case decision.
Our goal is to provide our Oklahoma data recovery clients with workable, budget-able solutions, and we have a reputation as an industry leader thanks to our strong dedication to our clients. Call us today to get started or for more information.
Advanced Resources for Reliable Data Retrieval in Oklahoma
Because hard drives and other devices store tremendous amounts of data in a fairly small physical area, data recovery companies need special technology to prevent permanent media issues from affecting each case.
Secure Data Recovery Services is fully qualified to provide Oklahoma data recovery solutions, and we were the first company to perform mechanical media repairs in a certified Class 10 ISO 4 Cleanroom. This environment delivers complete protection during hard drive repair, RAID data recovery and other advanced procedures.
Additionally, our engineers have years of experience with every type of digital storage device. They have access to the latest tools and file utilities, including a substantial hardware library with thousands of parts and components. Our teams follow strict security protocols when treating every case to prevent unauthorized data access throughout our process.
What to Do When You Lose Access to Important Data
If you lose important files, make a note of failure symptoms including unusual sounds and error messages. Never operate your media after a failure or run software; even if you have had success with data recovery utilities in the past, you should not operate any application on a damaged device. Doing so could cause permanent damage depending on the exact nature of the failure. Instead, turn your system off and contact Secure Data Recovery Services to set up a risk-free evaluation.
Our engineers have seen thousands of data loss scenarios, and because we invest heavily in our facilities, we provide an outstanding overall success rate of 96 percent. Our teams can quickly assess media damage to provide you with a price quote and a realistic turnaround estimate, and if you choose to proceed, we can often return data in only a few days under our standard service option.
Secure Data Recovery Services provides:
Same-Day 24/7/365 Emergency Services
No Recovery, No Fee Guarantee
Advanced Services Including RAID Repair and Data Tape Repair
24-Hour Access to Experienced Customer Service Team
Local Pickup Options for Emergency Cases
As a leader in Oklahoma data recovery, we can deliver a full, working copy of your files while staying within a set time frame, and our service options help to keep your case within your budget. Secure Data Recovery Services also offers controlled security and dependable results for all types of digital devices. Call us today at 1-800-388-1266 to set up a new case or for more information.
Secure Data Recovery Process
1
Free
Consultation
Power down the device and call us, 24x7 for a free consultation and quote.
2
Free Professional Diagnostics
Submit your device at one of our locations for a non-destructive evaluation by a data recovery expert.
3
Review &
Decide
Review the diagnostic results and approve the work order at a set price, payable upon success with our "No Data, No Recovery Fee Guarantee".
4
Data Recovery & Return
Submit payment and receive your recovered data on a new external drive.