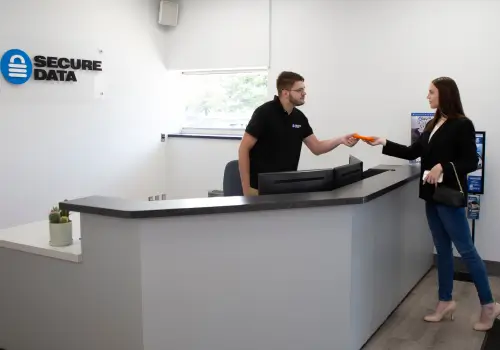 Data Recovery Services in Orchard Park - RAID, SSD & Hard Drive Recovery
Secure Data Recovery Services provides New York with easy access to our industry-leading data recovery services through an office in Orchard Park, New York. We specialize in hard drive repair, RAID recovery, mobile data recovery and other data loss solutions, and all of our services feature high success rates and advanced security.
Our customers rate our services:
We Helped Thousands Get Their Lost Data Back.
With over 5,453 satisfied customers and growing, we are proud to provide outstanding customer experience and quality service that consistently exceed customer expectations.
View All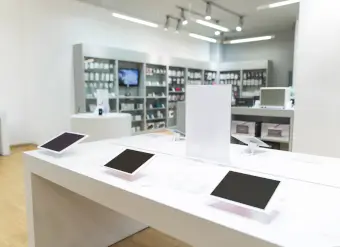 Secure Data Recovery Services
Emergency Services Available 24x7
Expert Data Recovery Services
Secure Data Recovery Services is the authority in Hard Drive Recovery, SSD Recovery and RAID Recovery. Since 2007, our data recovery company has helped tens of thousands of individuals and businesses of all sizes successfully recover from every type of data loss scenario. We understand the importance of data in the modern world and with our Economy, Standard and Emergency Data Recovery Options and state-of-the art technology we are ready to get your lost data back right now.
Experience total piece of mind with a "No Data, No Recovery Fee" Guarantee.
Recovery Services We Offer
Orchard Park, NY Data Recovery Reviews
Lenore Zaunere
Reviewed on Oct 27, 2023 | Hermon, NY
Responsible, Reliable and Technically Proficient
I had sixteen years of personal and historical research data on my internal WD Hard Drive, only some of which I had backed up. One day, the 1TB hard drive spontaneously became inaccessible. Although experienced in the use of DOS and Windows, and unafraid to attempt a "repair" myself, I soon realized that outside help was required. The hard drive was quiet, no knocks, no weird sounds - just inac... Read Morecessible.
When I called Secure Data Recovery, Scott explained the company''s process of data recovery and answered the numerous and scrupulous questions I presented him with. He was precise and professional in his responses and very patient!
When I decided to send the Hard Drive in for analysis, Jake followed up with the same patience and professionalism, and I now have a working external hard drive with all my "inaccessible" data intact and recovered.
I particulary appreciate the format of the recovered data with it''s original directory structure and filenames intact. That had been a major concern of mine which I made clear to the team.
Thank you Jake and Scott and the engineering team of Secure Data Recovery.
Lenore Zaunere
Akila Worksongs
Reviewed on Jun 07, 2023 | Brooklyn, NY
Thanks to Scott''s management of my external hard drive emergency, I was able to get my data recovered within days, even over a holiday weekend. I am pleased.
Jeffrey Mead
Reviewed on Dec 23, 2022 | Caledonia, NY
Excellent successful service
Secure Data Recovery did as promised, at the price quoted, and I am thrilled to again have my unreplaceable photos. (I had been on a canoe trip in the Yukon and after three weeks of photographing, without possibility of iCloud back-up, my iPhone completely failed and would not restart. Even Apple could not restart it. I now know I can back up to a USB drive without needing a laptop or iPad.) ... Read Morer />
Scott Scott McMacken, the Data Recovery Specialist on my case, was excellent and kept me informed as the process progressed. I am grateful for the excellent service and desired result.
Paul Jennette
Reviewed on Nov 16, 2022 | Freeville, NY
The IT department at my office recommended Secure Data Recovery for a failed external hard drive, and I'm so glad I followed their advice! Jake Gambatese, the customer service rep assigned to my case, was very friendly, professional, and willing to answer my questions. The whole process, from shipping the drive to SDR to getting the data back on a new solid state drive, went smoothly and much fa... Read Morester than I had expected. While I must admit I was initially shocked by the cost, after looking into it I realized it was both justified and consistent with the market. Getting all those "lost" files back was worth every penny.
Thanks, Jake and SDR!
Jean Storckman
Reviewed on Nov 28, 2017 | Highland Mills, NY
Very Professional Service
I couldn't have asked for a better experience. Immediate help every step of the way. These guys are GREAT!!

Fabrizio Azzolini
Reviewed on Sep 23, 2016 | Glendale, NY
Teacher becomes the student
I have always preached to family and friends about backing up data. I even laughed at some of them when their drives crashed and they lost it all..well Karma got me. I got lazy and was not backing a pc used primarily for games...along the way started keeping files, documents and pictures on it as well..One day it was all gone..I searched for data recovery and came across Secure Data Recovery and R... Read Moreob Anderson. He guided me through the process and Secure got 99% of my files back.. Needless to say, everything now it triple redundant on the backup!!!
Thanks Rob for the quick and efficient help in getting my files back.
Fabrizio Azzolini
Rapid Free Media Evaluations
Secure Data Recovery Services' absolutely free media evaluations tell you exactly where you stand when data loss impacts you. We provide you a detailed list of all recoverable files and folders plus a report on media condition. Our evaluations avoid the risk of inexpert recovery attempts that often make the situation worse.
We also offer multiple service options, including our 48-hour turnaround emergency service, so you make the best decision for your time frame and budget. Once you approve proceeding, you are fully covered by our No-Recovery/No-Cost guarantee.
Verified Data Recovery Expertise
Our company has worked hard since its inception to build world-class data recovery capabilities you can count on. Our efforts are demonstrated by our technical, security and business practice certifications:
Technical Capabilities
First data recovery company to install Class 10 ISO 4 Cleanrooms
SOC 1® and SOC 2® Under the Guidance of SSAE 18 Security
EU-US Privacy Shield Framework
PCI Data Security Standards
DoD-standards 256-bit encrypted networks
We employ Apple Mac Certified technicians and are approved by major hardware manufacturers and vendors.
Business Practices
GSA Approved Contractor
TRUSTe Certified Policy
A+ BBB Accreditation
#1Top Ten Reviews Ranking for Data Recovery
All of our capabilities are regularly updated, reviewed and verified by third-party auditors.
Data Loss Strikes When Least Expected
Data loss may occur due to system failure or malware that degrades the operation of a hard drive, memory card or USB flash stick. A major cause is operator error when files are accidently deleted or a drive is mistakenly formatted.
Whatever the cause, our highly-trained recovery specialists are adept at repairing or restoring conventional hard drives, solid-state drives, memory cards, USB flash drives, tape, DVR storage, RAID arrays, SIMs and more. Their skills include repair of databases, virtual servers, storage controllers, home and business computers, mobile devices and remote storage as well.
Call Today for Expert Data Restoration In Orchard Park
Call 1-800-388-1266 to learn more about data recovery from our knowledgeable customer service team.
They are available 24/7/365 to initiate a free case evaluation or answer questions about our other professional services including e-discovery, data migration and media conversion.