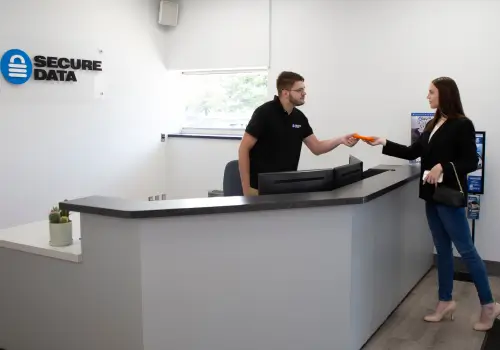 Data Recovery Services in Marlton - RAID, SSD & Hard Drive Recovery
The people of Marlton, New Jersey rely on Secure Data Recovery Services when they need data recovered. We are a leader in the data recovery industry with a 96% success rate and our engineers have decades of experience dealing with SSDs, MACs, Androids and iOS devices, flash drives, and many more.
Our customers rate our services:
We Helped Thousands Get Their Lost Data Back.
With over 5,469 satisfied customers and growing, we are proud to provide outstanding customer experience and quality service that consistently exceed customer expectations.
View All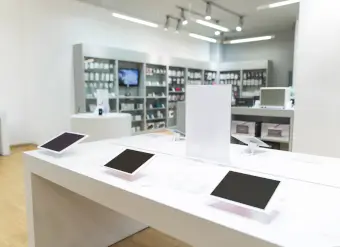 Secure Data Recovery Services
Emergency Services Available 24x7
Expert Data Recovery Services
Secure Data Recovery Services is the authority in Hard Drive Recovery, SSD Recovery and RAID Recovery. Since 2007, our data recovery company has helped tens of thousands of individuals and businesses of all sizes successfully recover from every type of data loss scenario. We understand the importance of data in the modern world and with our Economy, Standard and Emergency Data Recovery Options and state-of-the art technology we are ready to get your lost data back right now.
Experience total piece of mind with a "No Data, No Recovery Fee" Guarantee.
Recovery Services We Offer
Marlton, NJ Data Recovery Reviews
Ashley Grochowski
Reviewed on Jul 10, 2023 | Hammonton, NJ
Successful recovery of data
They were able to recover my data from my external hard drive.
Sushant Sawkar
Reviewed on Jul 29, 2018 | Robbinsville, NJ
Excellent Service - Luke Muralli
I contacted Secure Data - when one fine weekend my laptop crashed. It had not been backed up for last 3 months so I had important pictures, documents that were on the verge of being lost. Luke Murrali was assigned to my case. He first tried to understand what my issue was , laid out very clearly options before me and explained how this process works. After filling up required information, my la... Read Moreptop was shipped - Because of the condition of the hard disk - it took longer than normal - however each time I called, I was able to get update.

Finally once the engineers figured out to recover the data , Luke called me and sent instructions about what files I would get and the ones that were lost. It did come up with cost - however the important thing is I had my memorable moments back with me.. Luke was very professional, clear in his explanations. Initially they had copied the data on the default media however I wanted to try the secure drive with blue tooth features. Normally it would mean the process to transfer the data to the new drive take another extra 8 days but Luke expedited the process and I had my drive shipped to me in next 2 days.

Overall I am satisfied with the service, professionalism and technical capabilities of the engineering team - they are strongly backed by likes of Luke and it makes the whole process transparent. They are like physicians who can calm your nervousness of loosing data and give you hope - which is backed by their expert engineers.

One suggestion is to have automated updates posted on the case - I had to ask for update only then I was provided one. Overall excellent service !! Thank you Luke Murrali and engineers who worked behind the scenes..
Amy Oluschak Hipple
Reviewed on Jun 19, 2018 | Glenside, PA
One day several months ago, I tried to access the data on my external drive. To my dismay, it was impossible. I was crushed, as this was easily pictures and home movies dated back from 2003. Everything, and I mean everything, was on my drive. I was beyond disappointed when I realized I may never get these precious memories back. I went around to businesses locally and attempted to find a reput... Read Moreable company who I felt could actually recover my data without destroying more of it in the process, all at a price I could afford.
I contacted Secure Data, and after speaking with Frederick Wright, I felt that there was at least a chance of recovery. I was personally able to drop off the drive to the King of Prussia office, where I was professionally greeted. I was assured everything would be taken care of and that Frederick would be in contact with me shortly.
I was promised a no data, no recovery service with a free diagnostic to see if the drive was recoverable. I signed the appropriate paperwork to get the process started. Within a few days, I received back great news that Secure Data felt my drive was recoverable, but the price was a little out of my budget. I contacted Frederick with my concerns and he was able to help me come up with an affordable price that fit my budget. The turnaround time was fast and Frederick was in contact with me through the entire process. Frederick was kind enough to answer my many questions and ease me through the process.

I would highly recommend Secure Data and Frederick Wright for anyone who needs recovery services. At no point during the recovery process was I concerned about the privacy of my data or the quality of the service. I will not hesitate to use their services again!


Frank Gagliardi
Reviewed on Apr 02, 2018 | Trenton, NJ
We had an old computer crash. Needless to say it was not backed up.
In a panic, I called Secure Data Recovery. Todd was extremely professional and right there to help.
The process was easy and everything was automated right down to the file list that was sent for verification.
Within a few days I had a copy of the data and a complete clone. The clone booted right up when installed.... Read More
These guys are great.
Joy Masi
Reviewed on Feb 19, 2016 | Haddon Township, NJ
Out of nowhere my hard drive crashed. I'm a wedding photographer and all of my work was just..gone. I was in complete shock. Secure Data Recovery recovered my 3TB hard drive and kept me constantly updated. Chris M. would even call me minutes after I would send an email with a questions. Great customer service and complete professionalism. A thousand and one times, thank you!
Our certifications and top-notch facilities make us the number one choice for data recovery. We are:
SSAE 18 Type II certified
HIPAA compliant
FERPA compliant
PSI-DSS compliant
Secure Data Recovery is one of the only companies in the industry that operates a Class 10 ISO 4 Cleanroom. This ensures that your device won't endure any more physical damage by limiting the amount of dust particles in the work space. This gives us the best chance at recovering your data from a damaged device. Our certifications and facilities are audited on a regular basis by a third-party to ensure we meet industry standards.
Our customer service representatives are available 24/7 for assistance and can take you through the recovery process. We offer several services so you can choose what works best for your budget and time schedule. Our standard service offers free diagnostics and each case is given a price quote and estimated turnaround time. For expedited data retrieval, we provide the people of Marlton and all of our clients with emergency services which have an average turnaround of 48 hours.
Data Failure Signs
Whirring or clicking noises
Computer doesn't recognize the device
Physical damage
Error messages
Our free diagnostic report and online case monitoring gives you peace of mind during the recovery process. For more information or to start your risk-free case, call our customer service line at 1-800-388-1266.