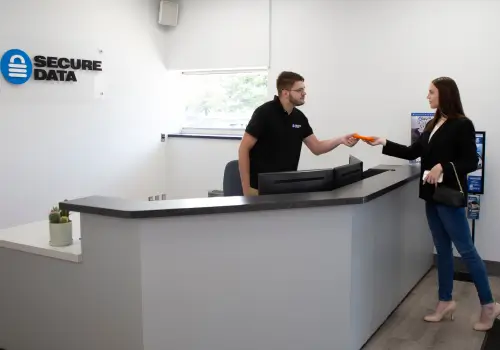 Data Recovery Services in Pennsylvania - RAID, SSD & Hard Drive Recovery
Through our Pittsburgh and Philadelphia offices, Secure Data Recovery Services provides dedicated data recovery and media repair services for the entire state.

Our Service Centers
Greater Pittsburgh Area
Greater Philadelphia Area
Pennsylvania is the sixth-largest state in the United States by population, with more than 12.7 million residents. It is known for its rich history, numerous national landmarks, and strong banking and agriculture industries that contribute to Pennsylvania's relatively large economy.
Expert Data Recovery Services
Secure Data Recovery Services is the authority in Hard Drive Recovery, SSD Recovery and RAID Recovery. Since 2007, our data recovery company has helped tens of thousands of individuals and businesses of all sizes successfully recover from every type of data loss scenario. We understand the importance of data in the modern world and with our Economy, Standard and Emergency Data Recovery Options and state-of-the art technology we are ready to get your lost data back right now.
Experience total piece of mind with a "No Data, No Recovery Fee" Guarantee.
What Can We Recover For You Today?
Our offices provide the state's businesses and residents with a dependable, local set of media services. RAID 5 data recovery, industry-leading security certifications, and a 96 percent success rate allows us to treat virtually any data failure scenario safely and effectively in order to provide you with quality data recovery services. In Pennsylvania, customers may contact us today online or by phone to schedule a risk-free evaluation.
An Advanced Hard Drive Data Recovery Laboratory
Data recovery is an extremely specialized service. In order to maintain high recovery rates, engineers need access to highly accurate equipment.
With more than 40 offices across the United States, we are the most experienced and capable hard drive repair service. We invest in our state-of-the-art data recovery laboratory and perform all hard drive and RAID repair procedures in a certified Class 10 ISO 4 Cleanroom to deliver the best possible results for our Pennsylvania customers.
Our Pennsylvania facilities feature:
A 96 percent hard drive data recovery success rate
Advanced firmware repair devices and other proprietary tools
A full no-recovery, no-charge guarantee with every case
Qualified data tape repair and RAID services
Risk-free evaluations for standard data recovery cases
Compliance with HIPAA, FERPA, and PCI-DSS
At Secure Data Recovery Services, we know that data loss often presents serious challenges for computer users. Hard drive data recovery can be an overwhelming task, but by investing in state-of-the-art technology, we give you a simple way to recover from unexpected data loss events in a matter of days without security or media safety risks. We are also one of the most trusted providers of RAID data recovery in Pennsylvania.
We offer several turnaround options for our clients hoping to recover data. Prospective Pennsylvania clients may contact our 24/7/365 emergency services when looking to recover from a mission-critical media failure. We complete most emergency cases within 48 hours and offer pick-up and drop-off services for our emergency clients through our Pittsburgh and Philadelphia offices.
What to Do When Your Digital Device Fails
When you notice the symptoms of data loss, you need to take immediate steps to ensure the best possible chances of recovery.
Common data loss symptoms include:
Clicking, whirring, and other noises
Error messages indicating file corruption and bad sectors
Signs of virus or malicious software infection
Operating system will not load
Computer does not recognized attached devices
RAID fails to rebuild successfully
Visible damage to electronics or other components
Never attempt to operate a damaged device for any reason. Do not run hard drive data recovery software, file utilities, or any programs - you may accidentally overwrite data or contribute to media damage. Keep your system powered off until you can speak with a qualified data recovery professional.
If you need professional results, you need help from an industry leader. Secure Data Recovery Services has a reputation as Pennsylvania's most trustworthy data recovery provider, and our specialists are prepared to handle your case regardless of the file system, operating system, or other factors. Unlike other hard drive data recovery services, our risk-free evaluations give you the peace of mind that you need to make a smarter case decision. By maintaining the industry's most complete set of security credentials, we give you excellent peace of mind while your case progresses. Visit one of our facilities today and speak with a certified data recovery professional.
Secure Data Recovery Process
1
Free
Consultation
Power down the device and call us, 24x7 for a free consultation and quote.
2
Free Professional Diagnostics
Submit your device at one of our locations for a non-destructive evaluation by a data recovery expert.
3
Review &
Decide
Review the diagnostic results and approve the work order at a set price, payable upon success with our "No Data, No Recovery Fee Guarantee".
4
Data Recovery & Return
Submit payment and receive your recovered data on a new external drive.