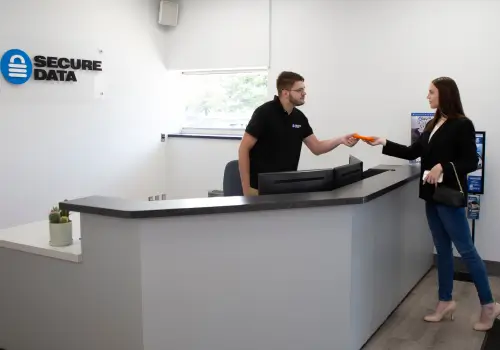 Data Recovery Services in East Brunswick - RAID, SSD & Hard Drive Recovery
Secure Data Recovery Services provides East Brunswick with a dependable source for hard drive data recovery, RAID recovery and repair, data tape repair, and other professional media services.
Our customers rate our services:
We Helped Thousands Get Their Lost Data Back.
With over 5,331 satisfied customers and growing, we are proud to provide outstanding customer experience and quality service that consistently exceed customer expectations.
View All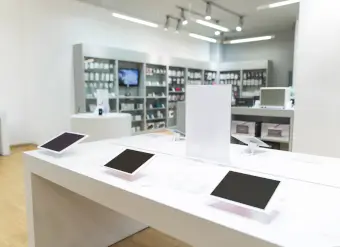 Secure Data Recovery Services
Emergency Services Available 24x7
Expert Data Recovery Services
Secure Data Recovery Services is the authority in Hard Drive Recovery, SSD Recovery and RAID Recovery. Since 2007, our data recovery company has helped tens of thousands of individuals and businesses of all sizes successfully recover from every type of data loss scenario. We understand the importance of data in the modern world and with our Economy, Standard and Emergency Data Recovery Options and state-of-the art technology we are ready to get your lost data back right now.
Experience total piece of mind with a "No Data, No Recovery Fee" Guarantee.
What Can We Recover For You Today?
East Brunswick, NJ Data Recovery Reviews
Jake Kemp
Reviewed on Aug 08, 2023 | Bedminster, NJ
Very good customer service, very fast responses, knowledgeable and especially patient to all my uneducated questions.
Depending on the issue with the HD and related solutions, the price might surprise you. However, it seems possible to negotiate some discount

Chris Deluca
Reviewed on Jun 16, 2023 | Old Bridge, NJ
Excellent service, even better customer support.
Had my 15+year old hard drive recovered fully which I didn't think was possible especially after taking it to a few other data recovery shops in which they were unable to recover my data in which I barley even had communication with them, but with secure data recovery and team, I got everything on that failed drive back in a flash and problem free. Timothy Rutan Really took time to answer any and ... Read Moreall questions I had and was very patient with me and worked with me to get this drive back knowing how much it meant to me. If it wasn't for Tim and the recovery team, this experience would have been just okay, but because of them, it was beyond excellent. Tim, thank you for everything you have done to make sure I was worry free and satisfied with the work everyone did to get my data back. A+++
David Cohen
Reviewed on Jun 04, 2023 | Mount Laurel Township, NJ
fast, efficient, friendly service
i worked with Jonathan Nguyen who was friendly, communicated the process well, and was responsive to emails in a very timely manner.
Douglas Fisher
Reviewed on May 31, 2023 | Haddonfield, NJ
Secure Data Recovery did a fantastic job recovering data from a broken thumb drive containing vital business data. They not only were able to do the recovery quickly, but the price was incredibly reasonable. I highly recommend their services.
Kimberly Klein
Reviewed on Jun 29, 2022 | Spotswood, NJ
Well, as unexpected as it was, my business computer crashed! BIOS wouldn''t load, it was a complete disaster. I called Secure Data Recovery and was connected with Jake. He was very attentive and told me I can get my hard drive dropped off that very same day! It was only 2-3 days before he got back to me, and stated they were able to do a full recovery of my data. I was surprised as I thought all w... Read Moreas lost.
Jake Gambatese was awesome right from the very beginning. He followed up with everything extremely quickly, answered all my silly questions (since I know nothing about technology) and had my data back to me before the time frame agreed upon. If you are in need of recovery, and think all is lost, talk to this guy. He knows his stuff!
John
Reviewed on Feb 21, 2022 | Lincoln Park, NJ
Thank God For Secure Data Recovery!!
My WD My Cloud stopped working and I sent it to Secure Data Recovery and received a call right away from Val Kirvenko. He advised me that his company would not only be able to recover my data, but also that he's 96% sure it will be done. I was told it would take 3-4 weeks and I received it in less then 2 weeks. All of my stuff was recovered and I so happy with everything he did for me. I would Hig... Read Morehly Recommend Secure Data Recovery to anyone who has a problem with there devices. Thanks Again Val for all you did to make this happen!!!
In keeping with our company standards of operation, our East Brunswick location is fully accredited with the Better Business Bureau.
BBB of New Jersey - Accredited Company with an A+ Rating
The BBB is New Jersey's leading voice in the promotion of good faith between consumers and businesses. In addition to accrediting qualifying firms, the BBB issues company reviews, and our latest report details the standards that led to our top rating.
We opened our East Brunswick facility to give New Jersey's 8.86 million residents an efficient way to recover from sudden media issues. Many New Jersey computer users need a completely secure and reliable data recovery provider, and our local office uses the latest technology for a better overall return on your investment when you need to recover data. East Brunswick residents and those who live in the surrounding area can be sure that they are getting the best services when they choose us.
We hold a number of advanced security credentials to show our commitment to our clients and our dedication to the highest-quality data recovery services in East Brunswick, New Jersey. Secure Data Recovery Services was the first provider to earn a SSAE 18 Type II certification, and we also hold up-to-date compliance certifications for FERPA, PCI-DSS, and HIPAA. We operate New Jersey's only certified Class 10 ISO 4 Cleanroom, which allows our engineers to safely perform hard drive data recovery procedures without risking accidental media damage. Hard drive data recovery has never been safer than with Secure Data Recovery Services.
Secure Data Recovery Services has a reputation as the East Coast's best data recovery provider, so if you have lost access to important files, our specialists can help. Contact us today to set up a risk-free evaluation or for more information about any of our services, including RAID data recovery.
Hard Drive Data Recovery Technology and Credentials
You need a data recovery provider that will keep your files confidential during hard drive recovery. East Brunswick clients can be assured that Secure Data Recovery Services maintains a full set of security credentials, and we invest in state-of-the-art technology to keep your media and your data safe during repair procedures.
We hold compliance certifications for all of the major federal laws that affect Nevada businesses, including HIPAA, FERPA, and PCI-DSS, to ensure privacy while we recover data. East Brunswick clients can be certain that our facilities have full SAS 70 and SSAE 18 Type II certifications. Like many service providers in the East Brunswick area, we are a member of the General Services Administration (GSA) contractor schedule, and we offer excellent rates on all of our services to government clients through this program.
Secure Data Recovery Services also owns and operates a certified Class 10 ISO 4 Cleanroom, which allows for high recovery rates and fast case turnaround times. We regularly hire third-party firms to audit our facilities, and unlike our competitors, we offer full certification reports for all of our credentials online.
Because we invest in technology and ongoing training for our local engineers at our facility in East Brunswick, hard drive data recovery success rates are at 96 percent. Our specialists can treat any device regardless of operating system, file system, or other factors, and our local office accepts pick-ups and drop-offs for even faster service.
What to Do When a Digital Device Fails
Whether you lose data due to a mechanical malfunction, accidental deletion, or any other reason, you should immediately turn your media off to avoid accidental damage. Do not attempt to operate your device for any reason. Never run data recovery software or attempt physical repairs, as this could reduce your chances of successful data recovery. East Brunswick businesses and residents can take advantage of Secure Data Recovery's local drop-off service for a risk-free evaluation.
Common signs of data loss include:
Clicking, whirring, knocking, or grinding noises
Visible damage to electronics boards
Computer will not recognize or mount media
Incorrect hard drive size or model number in BIOS
Excessively slow operation
Error messages indicating missing files or corruption
Errors indicating damage from viruses or other malware
Accidental file deletion or overwrites
If you notice any of these symptoms, you need assistance from a professional data recovery provider in order to restore your device to its original condition. By turning your media off right away, you will preserve your data and limit the cost of your case.
Through our office in East Brunswick, data recovery clients can benefit from our numerous security credentials and the industry's best Cleanroom certification, while enjoying the convenience of local service. Secure Data Recovery Services delivers excellent results for hard drive data recovery, RAID repair, and other media services. To set up risk-free diagnostics with a free quote, or for detailed information about any our services, call our customer service team today.