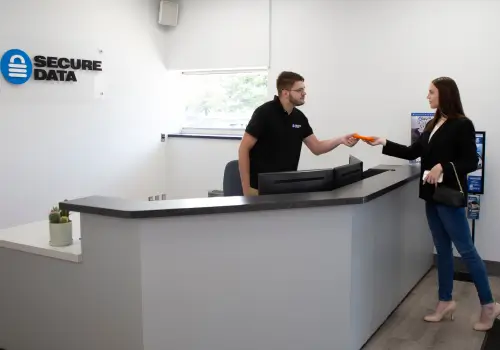 Data Recovery Services in St Louis - RAID, SSD & Hard Drive Recovery
We have supplied data recovery in St Louis for over 15 years. Our certified engineers have experience recovering data from various storage devices, including failed hard drives, servers, and SSDs. Visit one of our stores in the Gateway City, located at 7120 Manchester Avenue in the Ellendale neighborhood of St Louis, near the intersection with McCausland Avenue.
Do not settle for less than the best. Use the experts for hard drive data recovery in St Louis, complete with a comprehensive, Free consultation and "No Data, No Recovery Fee" guarantee.
Our customers rate our services:
We Helped Thousands Get Their Lost Data Back.
With over 5,329 satisfied customers and growing, we are proud to provide outstanding customer experience and quality service that consistently exceed customer expectations.
View All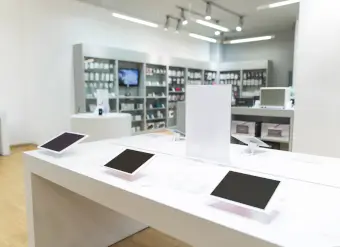 Secure Data Recovery Services
Emergency Services Available 24x7
The engineers at Secure Data Recovery have successfully recovered tens of thousands of failed devices. Our personnel possess the most industry-specific certifications of any data recovery company. We will exhaust every technological option available to resolve data loss situations for our St Louis customers.
Secure Data Recovery Near You
Are you seeking data recovery services in St Louis? We have a convenient location near you. Stop into our other St Louis store at 3636 South Geyer Road, located just north of the Laumeier Sculpture Park. We also have a location at 201 North Kirkwood Road in the western suburb of Kirkwood, a block north of Kirkwood Station.
Wherever you decide to visit us, data recovery in St Louis, MO is easier than ever before.
Call us or stop at one of our stores to learn more. We provide a detailed, free diagnostic and offer a no-obligation quote as part of our services.
St Louis Data Recovery Company
Secure Data Recovery Services is the authority in hard drive recovery, SSD recovery, and RAID recovery. Since 2007, our data recovery company has helped tens of thousands of individuals and businesses of all sizes in the St Louis metropolitan area successfully recover from every type of data loss scenario imaginable. We have seen your failure type before and our team understands the importance of data in the modern world. We're ready to recover your lost data with our flexible Economy and Standard data recovery services, or immediately with our Emergency data recovery option.
What Can We Recover For You Today?
In addition to hard drive recovery and RAID recovery, we specialize in complex data loss solutions for SSD drives and other NAND-based flash memory devices, iPhone and Android smartphones and mobile devices, network-attached (NAS and SAN) storage systems, and virtual machines.
St Louis, MO Data Recovery Reviews
Patrick Goldbach
Reviewed on Sep 06, 2023 | Freeburg, MO
SDR came through without a hitch
Our experience with Secure Data Recovery has been nothing short of amazing thanks to Jake and his team''s help. His responsiveness and transparency during the process of restoring data from our CEO''s non-functioning hard drive made the experience smooth and reassuring. I would highly recommend SDR for future data recovery needs!
Pam Nutt
Reviewed on Jul 15, 2023 | Eureka, MO
Fantastic Service & Top Notch Delivery
Couldn''t be more pleased with the results - the Secure Data Recovery team was able to recover family pictures that we thought we''d never see again. The experience was great, Jake guided us through the process and kept me informed along the way. It''s some of the best customer service I''ve ever received and the quality of the work exceeded my expectations. I highly recommend this group and will ... Read Moremost definitely use them again should the need arise.
Werkallday Werkallday
Reviewed on Apr 25, 2023 | Saint Louis, MO
Elliot was great to work with. He was there to answer any questions I had and was very clear and quick to respond. He was able to help me with the cost of the overall process to make sure I was able to get my data.
Dan Hughes
Reviewed on Jan 29, 2023 | Saint Louis, MO
Had an old external hard drive that wouldn''t power on with years and years of family photos on it. Right from my initial call, Scott, navigated me through the process and was always available by phone or email. I would recommend this service to anyone trying to recover important data.
Karth Antony
Reviewed on Nov 28, 2022 | St. Louis, MO
Excellent job recovering most of the files from a non functional hard drive. Quick turnaround as well.
Matt Zahnweh
Reviewed on Oct 13, 2022 | Clayton, MO
Eric Dvorin was our Strategic Account Manager for our device''s recovery from Secure Data. He was very helpful and knowledgeable when it came to the process, timeline and expectations. I hope to never be in a situation where I need to recover data from a bad hard drive again, but if I do I''ll reach out to Eric.
Like all of our locations, our St. Louis office is fully accredited with the Better Business Bureau. Our A+ rating with the BBB reflects a high level of compliance with their demanding standards.
Why Choose Secure Data Recovery in St Louis?
Certified and Verified Secure
Transparent Process
Trusted and Guaranteed Results
Secure Data Recovery Services operates in world-class facilities that undergo regular SSAE 18 SOC 1, SOC 2, and SOC 3 audits to verify the integrity of all cybersecurity management control systems. This means that your data is protected at every stage of the recovery process.
Each of our Lab facilities also has a certified Class 10 ISO 4 cleanroom. This specialized environment provides state-of-the-art filtration to remove potentially harmful airborne particulates that could damage the sensitive internal components of storage devices.
Secure Data Recovery Services' facilities in St Louis have accreditation with the Better Business Bureau and maintain an A+ business rating. Your complete satisfaction is our mission. We strive to deliver the highest quality of service for every data recovery case.
BBB of St. Louis Accredited Company with an A+ Rating
You can view the complete history of our A+ Rating and accreditation with the BBB of St. Louis, including full documentation.
For more than a decade, the engineers at Secure Data Recovery Services have built a reputation as the most reliable provider of professional data recovery in the industry. Our expert team maintains a documented 96% successful recovery rate.
We maintain partnerships with every major digital storage manufacturer to ensure our custom solutions never threaten any existing product warranties. We also invest heavily in research and development to keep pace with rapidly evolving digital storage technology.
Free Data Recovery Quote
We intimately understand all data loss scenarios and will exhaust all options technologically possible to reunite you with your lost data as quickly as possible. When you choose Secure Data Recovery Services, you get the most credentialed professionals in the industry.
Service times and exact pricing for a successful recovery always depend on the specific damage to the storage, which is why we offer free, no-risk diagnostics with every standard service.
Our quotes consist of:
Price for successful recovery
Time estimates for the job
Key information about the events that led to data loss
Call 314-754-7562 to speak to a data recovery expert 24x7 and schedule your free data recovery consultation with a no-obligation price quote.
Some of the key advantages of Secure Data Recovery Services include:
A no-recovery, no-fee guarantee on every case
Advanced hard drive data recovery technology
Expert RAID services
Multiple service levels and 24/7/365 emergency services
24/7 customer support
Online case status tools
Dedicated engineers with decades of combined experience
If you need to access files on a damaged storage device, our expert engineering team can help recover your data. Prospective St. Louis clients can expect consistent, reliable results when choosing our services. Contact us today to set up a risk-free evaluation on our data recovery services. Our St. Louis office accepts drop-offs, and we offer 24/7/365 services with local pick-up for emergency cases that need data recovery.
Expert Hard Drive Data Recovery and RAID Services
Secure Data Recovery Services is the only company in Missouri with a certified Class 10 ISO 4 Cleanroom, which provides protection for hard drives and other devices during data recovery procedures. Hard drive data recovery companies need to provide certified and professional data recovery solutions that do not harm devices. We can safely treat hard drives, solid-state drives, and all other digital devices without risking accidental damage. By rebuilding your device's failed components in our laboratory, we can fully restore your data to its original, working condition within several days.
Our facilities also feature a number of other tools designed specifically for data repair and data recovery. St. Louis businesses rely on their RAID systems to produce redundancy and high performance. We have a large library of RAID controller cards and media components, and our engineers have years of experience performing tape repair, RAID repair, and other complex services in St. Louis. RAID 5 data recovery is one of our most popular services, and we treat hundreds, if not thousands, of cases each year. Thanks to our regular research and development expenditures, we maintain a 96 percent success rate at our St. Louis facility. Contact our support staff online to find out more about data recovery in St. Louis.
What to Do When a Storage Device Fails
Never operate a failed storage device under any circumstance. This is particularly important for hard disk drives; when a hard drive fails, it can sustain serious physical damage in a matter of seconds. To guarantee the best possible chances of a full recovery, you should immediately turn your system off and contact us about our hard drive repair services in St. Louis.
Bring your device to our St. Louis facility for a professional evaluation. Our specialists can quickly determine whether or not your system has recoverable data and provide an approximate turnaround time and price quote.
Secure Data Recovery Services has the facilities and the relevant security credentials to handle any case. We fully comply with the information privacy laws that affect St. Louis businesses, and our engineers take extraordinary care when treating your media.
We also hold a number of certifications, including:
SAS 70 certification and SSAE 18 Type II certification
HIPAA and FERPA compliance certification
General Services Administration (GSA) contractor certification
Class 10 ISO 4 Cleanroom certification
PCI security certification
Data loss can cause a tremendous amount of stress. When you work with Secure Data Recovery Services, you get fast, reliable results and excellent peace of mind. Our St. Louis office gives you an easy way to get started, and because we offer free diagnostics for hard drive data recovery and other media services, you can get an accurate price quote and turnaround estimate without making a major commitment.