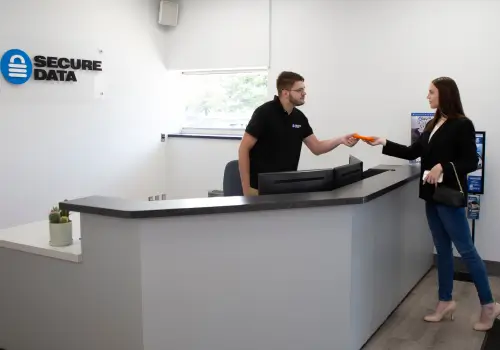 Data Recovery Services in Lexington - RAID, SSD & Hard Drive Recovery
Recovering your lost data from a failed hard drive, SSD, RAID or other data storage has never been more convenient for residents of the greater Lexington, KY area. Our Virginia Street office is adjacent to Historic South Hill at the junction with South Broadway and just south of the Mary Todd Lincoln House.
We give you total peace of mind with our "No Data, No recovery Fee" Guarantee.
Our customers rate our services:
We Helped Thousands Get Their Lost Data Back.
With over 5,320 satisfied customers and growing, we are proud to provide outstanding customer experience and quality service that consistently exceed customer expectations.
View All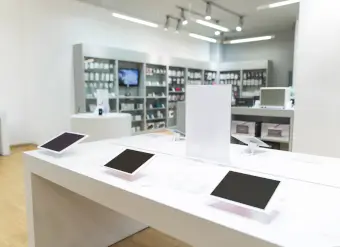 Secure Data Recovery Services
Emergency Services Available 24x7
Secure Data Recovery Near You
Do you need data recovery in Lexington, KY? We have multiple offices in Fayette and Jefferson counties in Kentucky. Our Lexington, KY office is adjacent to the University of Kentucky campus. We also serve the greater Louisville area with locations in Rockford Plaza just west of Cloverleaf, and on Forest Green Blvd. south of Tom Sawyer State Park. If you're in Bowling Green, visit us just over the Tennessee border in Nashville on Charlotte Pike near the junction with American Road and east of the Cumberland River.
Stop in or call to schedule your free data recovery consultation with a no-obligation price quote.
Lexington, KY Data Recovery Company
Secure Data Recovery Services is the authority in hard drive recovery , SSD recovery, and RAID recovery. Since 2007, our data recovery company has helped tens of thousands of individuals and businesses of all sizes in Lexington, KY and surrounding areas successfully recover from every type of data loss scenario imaginable. We have seen your failure type before and our team understands the importance of data in the modern world. We're ready to recover your lost data with our flexible Economy and Standard data recovery services, or immediately with our Emergency data recovery option.
What Can We Recover For You Today?
In addition to hard drive recovery and RAID recovery, we specialize in complex data loss solutions for SSD drives and other NAND-based flash memory devices, iPhone and Android smartphones and mobile devices, network-attached (NAS and SAN) storage systems, and virtual machines.
Lexington, KY Data Recovery Reviews
Tina Marie Camp Scheff
Reviewed on May 02, 2023 | Berea, KY
Professional Great Service
I worked with Jake Gambatese. Jake was very professional and reassuring, which I needed because I was incredible stressed out at the prospect of loosing my data. I thought I had it all backed up, but then found that not all of my backups were functional. Nearly 6TB of documents, photos and movies, including 360 videos were on the hard drive. Although I did think the price was high, I was willing t... Read Moreo pay it to get my data back. Jake gave me good advice on how to handle any future situations with hard rives (drops, weird sounds, etc). My data was recovered and I was so happy that my file structure was even retained. I would not hesitate to recommend Secure Data Services, and Jake in particular to anyone needing data recovery.
Don French
Reviewed on Oct 05, 2022 | Berea, KY
Positive results with secure Data recovery. Scott McMacken kept me informed on what they were doing through out the discovery process and informed me that my data could be recovered from my external hard drive. Thank you for your help Scott.
Gabe Cripe
Reviewed on Mar 21, 2021 | Southgate, KY
I worked with Scott McCacken who walked me through the process and was really helpful. He gave me realistic expectations about cost and turn-around time. I got everything I needed off my flash drive when other companies told me it was probably lost for good. I have already been recommended secure data recovery to others.
Larry Jarrell II
Reviewed on Feb 03, 2021 | Shepherdsville, KY
Had Great experience with Scott.
Shanna Justice
Reviewed on Nov 15, 2019 | Pikeville, KY
Cost a bit more than expected but they were able to completely recover my data. My Recovery Specialist Elijah was the best! He kept me up to date on each step of the process. Overall good experience. THANK YOU!
Rudy Vogt
Reviewed on Nov 12, 2019 | Louisville, KY
Chris Mc. was very helpful in understanding what might be possible with a crashed hard drive. The cost to get a prognosis is very reasonable considering what really could be at stake. In my case, unfortunately, the damaged hard drive was destroyed by a third party before Secure Data Recovery had a chance to even look at it. I will definitely keep them in mind for the next issue, which will come... Read More along sooner or later.
Why Choose Secure Data Recovery In Lexington, KY?
Certified and Verified Secure
Transparent Process
Trusted and Guaranteed Results
Secure Data Recovery Services operates in world-class facilities that undergo regular SSAE 18 SOC 1, SOC 2, and SOC 3 audits to verify the integrity of all cybersecurity management control systems. This means that your data is protected at every stage of the recovery process.
Each of our Lab facilities also has a certified Class 10 ISO 4 cleanroom. This specialized environment provides state-of-the-art filtration to remove potentially harmful airborne particulates that could damage the sensitive internal components of storage devices.
For more than a decade, the engineers at Secure Data Recovery Services have built a reputation as the most reliable provider of professional data recovery in the industry. Our expert team maintains a documented 96% successful recovery rate.
We maintain partnerships with every major digital storage manufacturer to ensure our custom solutions never threaten any existing product warranties. We also invest heavily in research and development to keep pace with rapidly evolving digital storage technology.
Free Data Recovery Quote
We intimately understand all data loss scenarios and will exhaust all options technologically possible to reunite you with your lost data as quickly as possible. When you choose Secure Data Recovery Services, you get the most credentialed professionals in the industry.
Service times and exact pricing for a successful recovery always depend on the specific damage to the storage, which is why we offer free, no-risk diagnostics with every standard service.
Our quotes consist of:
Price for successful recovery
Time estimates for the job
Key information about the events that led to data loss
Call 859-203-3468 to speak to a data recovery expert 24x7 and schedule your free data recovery consultation with a no-obligation price quote.