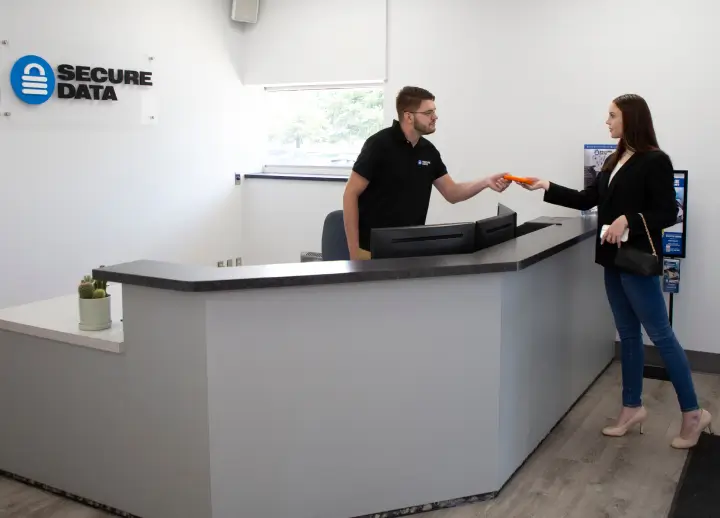 Secure Data Recovery Services in Kentucky
Secure Data Recovery Services is a professional data recovery provider with more than 40 offices throughout the United States. We provide data recovery services in Kentucky through our office in Louisville.

With steady agricultural production and a growing, diverse economy, Kentucky is home to more than 4.38 million people. Many businesses in the Bluegrass State depend heavily on hard drives, RAID servers, and other storage systems for day-to-day activities, and sudden data loss is a serious problem for the state's residents. When you need hard drive repair services, we are here to help you restore most lost files, including RAID 5 data. Recovery assistance is as close as your phone.
Expert Data Recovery Services
Secure Data Recovery Services is the authority in Hard Drive Recovery, SSD Recovery and RAID Recovery. Since 2007, our data recovery company has helped tens of thousands of individuals and businesses of all sizes successfully recover from every type of data loss scenario. We understand the importance of data in the modern world and with our Economy, Standard and Emergency Data Recovery Options and state-of-the art technology we are ready to get your lost data back right now.
Experience total piece of mind with a "No Data, No Recovery Fee" Guarantee.
What Can We Recover For You Today?
Secure Data Recovery Services provides an effective way to avoid permanent data loss. With advanced technology and experienced hard drive data recovery teams, we can restore access to damaged or inaccessible files in a matter of days.
Reasons to use Secure Data Recovery Services in Kentucky:
A 96 percent data recovery success rate
Multiple service options and 24/7/365 emergency services
State-of-the-art hard drive data recovery technology
Data tape repair, RAID repair and other advanced services
Online case status lookup tools
No-recovery, no-charge guarantee and free diagnostics
We offer risk-free diagnostics for our Kentucky clients. By bringing or shipping your storage device to our Louisville facility, you can get an accurate evaluation report with a free quote and turnaround estimate within several days. Secure Data Recovery Services also offers data recovery services with expedited options including an industry-leading 24/7/365 emergency data recovery service along with a 48-hour average turnaround.
When you need fast, professional data recovery, Secure Data Recovery Services can help. Contact our customer service team today to start your case.
State-of-the-Art Hard Drive Data Recovery Technology
All data recovery companies need to invest in their facilities to provide consistent results. Secure Data Recovery Services has the tools and experience to provide reliable recoveries, and we constantly develop new technologies for the benefit of our Kentucky clients. Our specialists can work with any operating system or file system, and because our engineers regularly participate in ongoing training programs, we can effectively treat any storage device or system.
We can treat any data loss scenario, including:
Failed hard drives, solid-state drives, and other devices
Corrupt or unreadable files
Damage from viruses, Trojans, and other malicious software
Accidental file deletion, formatting, and overwrites
Damage to electronic media components
Damaged databases, email archives, and other files
Whether you need immediate access to hard drive data recovery services to recover personal data or sensitive professional files, Secure Data Recovery Services' engineering teams always take appropriate precautions to protect your confidentiality. We were the first data recovery company in Kentucky to establish a certified Class 10 ISO 4 Cleanroom, which allows our engineers to safely carry out hard drive data recovery procedures, and we hold a number of security compliance credentials, including SSAE 18 Type II certification. For a full list of our credentials, visit our certifications page.
What to Do When a Digital Storage Device Fails
When a storage device fails, it may make unusual noises or generate error messages. Your computer might not detect attached storage devices, and you might have trouble opening or using files in a particular location. Depending on the source of the damage, your computer might not recognize your media. Before any attempt is made to recover data, computer users should keep in mind these precautions.
If you notice any of these failure symptoms, you should turn your computer off immediately. Do not attempt to recover or restore your files for any reason; never use data recovery software or file utilities, as you might accidentally contribute to data loss. Look for a qualified data recovery provider and get a professional media evaluation.
For the best results, start a case with Secure Data Recovery Services today. Our engineering teams can quickly analyze your device to provide a full data recovery diagnostic report, including a price quote and turnaround time, and we offer a full no-recovery, no-charge guarantee with every case.
When you lose mission-critical files, you need help from a reliable hard drive data recovery company. Secure Data Recovery Services offers the best media services in Kentucky. When you need RAID data recovery or other data repair or file recovery, our specialists are ready to help you make an appropriate plan for your case.
Secure Data Recovery Process
1
Free
Consultation
Power down the device and call us, 24x7 for a free consultation and quote.
2
Free Professional Diagnostics
Submit your device at one of our locations for a non-destructive evaluation by a data recovery expert.
3
Review &
Decide
Review the diagnostic results and approve the work order at a set price, payable upon success with our "No Data, No Recovery Fee Guarantee".
4
Data Recovery & Return
Submit payment and receive your recovered data on a new external drive.