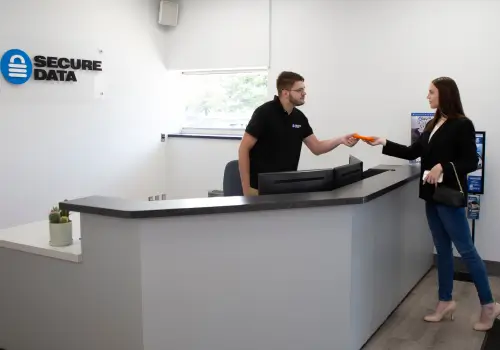 Data Recovery Services in Noblesville - RAID, SSD & Hard Drive Recovery
Secure Data Recovery Services is the most trusted data recovery provider in Noblesville, IN, and across the state of Indiana. Our certified data recovery engineers have the most industry-specific certifications of any professional data recovery service and can successfully recover data from damaged or failing hard disk drives, solid-state drives, RAID and NAS servers, mobile devices or virtual machines, with 24-hour emergency services in Noblesville, Indianapolis, and Avon. Call or drop by to receive immediate assistance with your failed media. You don't need an appointment.
Our customers rate our services:
We Helped Thousands Get Their Lost Data Back.
With over 5,329 satisfied customers and growing, we are proud to provide outstanding customer experience and quality service that consistently exceed customer expectations.
View All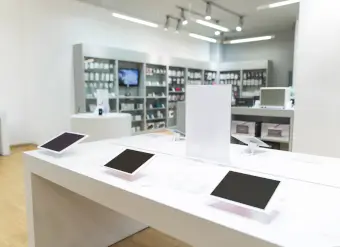 Secure Data Recovery Services
Emergency Services Available 24x7
Our U.S.-based customer service team provides round-the-clock support to ensure that you get the fastest access possible to professional data recovery services on Noblesville, IN, for your HDD, SSD, RAID or NAS server, or your iPhone or Android mobile device.
Other Secure Data Recovery Service Locations Near You:
Expert Data Recovery Services
Secure Data Recovery Services has built a reputation as one of the most trusted names in the industry. Since 2007, we have driven innovation in RAID recovery, hard drive recovery, solid-state drive recovery, and Android/iPhone mobile phone data recovery in the Noblesville, IN area and across North America. Our customers include individual consumers, small and medium-sized businesses, government agencies, and multinational corporations. Choose the data recovery option that best fits your needs, including Economy, Standard, or Emergency 24/7 service. We even offer onsite or remote data recovery service for cases that require enhanced data security and confidentiality. Our data recovery experts maintain a documented 96% successful recovery rate. Every customer also receives our "no data, no recovery fee" guarantee. If we can't recover your data, you pay nothing.
What Can We Recover For You Today?
Noblesville, IN Data Recovery Services Reviews
Susan Post
Reviewed on Sep 26, 2022 | Noblesville, IN
Great customer service, fast turnaround
Jonathan N was thorough when he gave me information and then very patient when I recapped it all back to him to make sure I understood. He kept me informed every step of the way. Emails were clear, links always worked, and I never had any questions about what I was getting for my money. I have not yet received the new hard drive with my recovered data but trust it will work as well as everythi... Read Moreng has thus far. Would definitely recommend.
Shaun Arnold
Reviewed on May 11, 2021 | Noblesville, IN
Excellent Service from Kim N.
Thanks to Kim N. and her team I now I have pictures/memories back that I thought I'd never see again! I sent in my hard drive and had it back in less than a month. Everything was not recovered but I got a lot more back than I ever thought was imaginable! And when I called to get updates Kim either answered or called back the same day! Thank you so much Kim N. and the secure data team!
Darius Evans
Reviewed on Apr 25, 2021 | Fishers, IN
Excellent Customer Service From Scott McMacken
Scott stayed in contact with me every step of the process. He was always available to answer my calls and questions. Thank you Scott. I recommend Secure Data Recovery for anyone in need of this service.
Randy Slaughter
Reviewed on Apr 15, 2021 | Noblesville, IN
Timothy was super helpful all throughout my case. His communication was prompt and informative, and he walked me through some of my cases unique complications with ease, and offered his personal guarantee that he could resolve my issues and he did. The level of care I received was very attentive, and I couldn''t recommend a better person to assist with clients.
Haitham Al - Gharaibeh
Reviewed on Feb 25, 2021 | Carmel, IN
I want to thank secure data recovery for the amazing help and especially Scott McMacken who helped me from the first step and answering all my questions and explaining everything I need to do.
I hope someday I could afford to fix my WD ??
James Macky
Reviewed on Dec 08, 2020 | Noblesville, IN
My device was assessed quickly and I was updated on my options for data retrieval. Very smooth and efficient process. Elijah was extremely helpful and answered all of my questions.
Noblesville is the seat of Hamilton county and lies on the banks of the White River at the extreme northeastern edge of the broader Indianapolis metropolitan area. Midwest railway lines made the city a focus of regional commerce and manufacturing during the 19th century, and the discovery of large reserves of natural gas later helped to increase the population of the city. Its proximity to Indianapolis contributes to Noblesville's modern economic prosperity, and the city has begun to draw increased attention from industrial and commercial developers. Secure Data Recovery Services chose Noblesville for this local facility to make access to cutting-edge professional data recovery services more convenient for communities outside the urban Indianapolis area.
Our expert technicians can successfully resolve any type of data loss, including:
Electrical and mechanical device failures
Physical damage from fire, water, or natural disasters
Accidental file deletion or formatted drives
Recovery from ransomware and malware attacks
RAID configuration loss
Operating system file corruption
Worn or corroded media
Our data recovery engineers successfully resolve access to lost files, reconstruct damaged hardware, restore corrupted data, and conduct professional services for full hard drive recovery, RAID recovery, NAS and virtual machine recovery, and Android and iPhone mobile device recovery. Local customers in Noblesville can now access certified data recovery service technicians that specialize in all operating systems and that have the most industry-specific certifications available to ensure confidentiality and data security through all stages of the data recovery process. Residents of Noblesville can also take advantage of 24/7 emergency assistance by contacting one of our customer support team members online or by phone for an evaluation at our Noblesville office.
What to Do When a Digital Device Fails
The most important step you can take to prevent permanent data loss on a device that shows signs of failing is to turn the device off. Continuing to use a failing device can cause additional physical damage and prevent any future successful data recovery. Attempting to fix a damaged or failing device yourself can do the same thing. Residents of Noblesville should contact our local office the moment they experience difficulties with their digital storage device to set up a free consultation.
Our customers in Noblesville all receive a free diagnostic and comprehensive report that documents the cause of data loss. They also get a no-obligation price quote before any data recovery work begins. If you're experiencing data loss, call our Noblesville office immediately. Secure Data Recovery Services offers several data recovery options to fit every need, including expedited or emergency 24/7/365 services to get you up and running with the least amount of downtime.
Professional Hard Drive Recovery in Noblesville, IN
The security and confidentiality of customer data is our highest priority. Secure Data Recovery Services does more than just provide industry-leading recovery and repair of hard drive, RAID, NAND-based flash memory, and other media devices to residents of Noblesville, IN. We undergo regular audits of all our facilities to ensure compliance with all relevant laws and security standards. Noblesville customers can visit our website for full details about technical certifications, security controls, and full SSAE 18 SOC 1, 2, & 3 audit results.
Secure Data Recovery Services' certifications include:
SSAE 18 SOC 2 Type II auditing
FIPS 140-2 Level 3 validated data handling procedures
HIPAA, FERPA, and PCI security compliance
General Services Administration (GSA) contract holder
Secure Data Recovery Services has built a solid reputation as the most trusted name in professional data recovery services in Noblesville, IN. Whether you accidentally deleted a file, dropped your portable hard drive, or damaged your RAID server, our expert technicians have custom solutions for every data loss situation. Our data handling practices and secure data recovery facilities feature state-of-the-art data security controls to ensure that your data is kept confidential and free from unauthorized access through every stage of the data recovery process.
Secure Data Recovery Services' expert engineers work in the most sophisticated data recovery labs, which all feature certified Class 10 ISO 4 cleanrooms, to maintain the highest standards of data integrity amid even the most invasive data recovery operations. The quality of our custom tools and utilities as well as our commitment to excellence explains our documented 96% success rate, including the most complex RAID recoveries and repairs, virtual machines, and tape backup systems.
If you require data recovery services in Noblesville, IN, or in a nearby community, call one of our customer support team members at any time for a free consultation or to open a data recovery case. They can even help you prepare a comprehensive disaster recovery plan to help protect against any future data loss as a result of natural disasters or cybersecurity incidents.