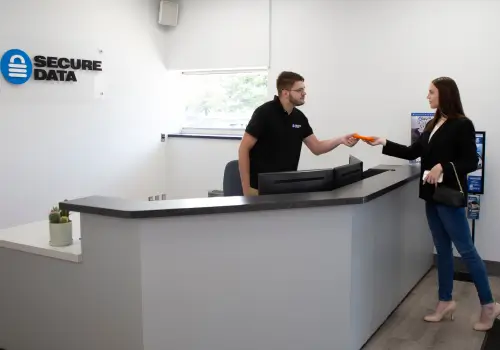 Data Recovery Services in Denver - RAID, SSD & Hard Drive Recovery
We have assisted the greater Denver area for more than a decade by successfully recovering data from failed servers, malfunctioning SSDs, and damaged hard drives. Visit us at our 17th Street location in Denver's Central Business District near the junction with Welton Street three blocks north of the Colorado Convention Center. No appointment necessary.
Our customers rate our services:
We Helped Thousands Get Their Lost Data Back.
With over 5,329 satisfied customers and growing, we are proud to provide outstanding customer experience and quality service that consistently exceed customer expectations.
View All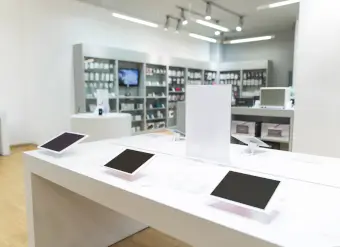 Secure Data Recovery Services
Emergency Services Available 24x7
The engineers at Secure Data Recovery have successfully recovered tens of thousands of failed devices and are certified with the most industry-specific certifications of any data recovery company. We will exhaust every option technologically available to successfully resolve the data loss situations for our Denver customers.
Secure Data Recovery Near You
Do you need data recovery in Denver? We have a data recovery office near you with multiple locations across Adams, Arapahoe, Denver, Douglas, Jefferson, El Paso, and Larimer counties. You can get immediate service at our data recovery Fort Collins office on West Laurel Street just a few blocks north of Colorado State University. Need data recovery in Parker? Visit us on West 94th Street just a few miles east of Standley Lake.
Call or drop by to schedule a free data recovery consultation and no-obligation price quote.
Denver Data Recovery Company
Secure Data Recovery Services is the authority in hard drive recovery, SSD recovery and RAID recovery. Since 2007, our data recovery company has helped tens of thousands of individuals and businesses of all sizes in Denver and its surrounding areas successfully recover from every type of data loss scenario imaginable. We have seen your failure type before and our team understands the importance of data in the modern world. We're ready to recover your lost data with our flexible Economy and Standard data recovery services, or immediately with our Emergency data recovery option.
What Can We Recover For You Today?
In addition to hard drive recovery and RAID recovery, we specialize in complex data loss solutions for SSD drives and other NAND-based flash memory devices, iPhone and Android smartphones and mobile devices, network-attached (NAS and SAN) storage systems, and virtual machines.
Denver, CO Data Recovery Reviews
Maxwell Maurice
Reviewed on Sep 11, 2023 | Boulder, CO
They did what others could not!
Secure Data Recovery was able to do it! I had a damaged HDD that I sent in to another data recovery service to get some precious photos back. They took forever and were unable to recover a single photo! I then sent the HDD to Secure Data Recovery and they were able to recover much more! Elliot Fisher was my rep and he did an excellent job and handling my questions and getting me answers. He was po... Read Morelite and prompt in his responses! Great job everyone!

-Maxwell Maurice


Jason Skurcenski
Reviewed on Aug 12, 2023 | Centennial, CO
Very Thorough and Responsive
I worked with Elliot to recover data from my father in law''s external disk drive that was many years old. He did a great job walking me through the process and was very responsive to my questions via email and on the phone. My data was recovered and is already in the mail back to me. Great job Elliot! I highly recommend Secure Data Recovery and Elliot!
Jackie Hodge
Reviewed on May 24, 2023 | Aurora, CO
THANK YOU, THANK YOU, THANK YOU!
Eric and the team from Secure Data Recovery saved irreplaceable pictures from an external hard drive that our dog got ahold of and chewed up! The birth of our first granddaughter along with the first couple years of her life, my sons graduation, and numerous other sentimental pictures were on that drive. Their service was fast and efficient! I now have a flash drive with ALL of my pictures restore... Read Mored and I am SO very grateful!! Thank you Secure Data Recovery!
Scott W
Reviewed on Apr 20, 2023 | Westminster, CO
Eric assisted in recovering data from an iPhone that had been backed over by a car and the case bent severely. They were able to recover all data and create a back up image of the phone so we could just do a restore to a new device. They did a great job and expedited the service and delivery of the data on a USB stick. Highly satisfied with their service. Thank you!
Kimberly Soria-Cardona-Ruiz
Reviewed on Apr 04, 2023 | Denver, CO
I had an external hard drive that had failed on me. I was super bummed as it had videos and pictures of my loved ones (a few special people that have passed away) since 2002. I took it to 3 local places near me and NO-ONE could figure it out. I found this company on Google and read the reviews and took the risk of sending it out of state with one last hope that the data could be saved. To my surpr... Read Moreise, Tim was able to get ALL of my data back; I was so happy. I really thought I had lost all those memories forever. I was going to give 4 stars due to the cost of doing this, but I literally can not put a price on precious memories and was happy to pay the amount I was billed. It is a little pricey, but worth every penny. He even emailed after my new external hard drive was received to make sure I was able to access my data with no problems. I would 100% recommend as he was able to do exactly was I had asked for.
Sue Hicks
Reviewed on Feb 13, 2023 | Denver, CO
I am so grateful to Secure Data Recovery Services for retrieving computer files I thought were lost forever. The files were stored on a thumb drive that got damaged in my purse--so much so that no device would even recognize the thumb drive. I was upset to think I''d have to recreate so many work files, and distraught to think I''d lost years and years of personal photos that are irreplaceable. Bu... Read Moret Secure Data Recovery Services was able to quickly and efficiently return my list files to me. The process was quick and Eric was extremely helpful and professional. I highly recommend Secure Data Recovery Services.
Why Choose Secure Data Recovery In Denver?
Certified and Verified Secure
Transparent Process
Trusted and Guaranteed Results
Secure Data Recovery Services operates in world-class facilities that undergo regular SSAE 18 SOC 1, SOC 2, and SOC 3 audits to verify the integrity of all cybersecurity management control systems. This means that your data is protected at every stage of the recovery process.
Each of our facilities also has a certified Class 10 ISO 4 cleanroom. This specialized environment provides state-of-the-art filtration to remove potentially harmful airborne particulates that could damage the sensitive internal components of storage devices.
Secure Data Recovery Services' facilities in Denver have accreditation with the Better Business Bureau and maintain an A+ business rating. Your complete satisfaction is our mission. We strive to deliver the highest quality of service for every data recovery case.
BBB Accredited Company with an A+ Rating
A full company review from the BBB shows our A+ rating, which is the highest score possible. This top rating demonstrates our exceptional commitment to the BBB's service standards and a history of compliance.
For more than a decade, the engineers at Secure Data Recovery Services have built a reputation as the most reliable provider of professional data recovery in the industry. Our expert team maintains a documented 96% successful recovery rate.
We maintain partnerships with every major digital storage manufacturer to ensure our custom solutions never threaten any existing product warranties. We also invest heavily in research and development to keep pace with rapidly evolving digital storage technology.
Free Data Recovery Quote
We intimately understand all data loss scenarios and will exhaust all options technologically possible to reunite you with your lost data as quickly as possible. When you choose Secure Data Recovery Services, you get the most credentialed professionals in the industry.
Service times and exact pricing for a successful recovery always depend on the specific damage to the storage, which is why we offer free, no-risk diagnostics with every standard service.
Our quotes consist of:
Price for successful recovery
Time estimates for the job
Key information about the events that led to data loss
Call 303-968-2728 to speak to a data recovery expert 24x7 and schedule your free data recovery consultation with a no-obligation price quote.