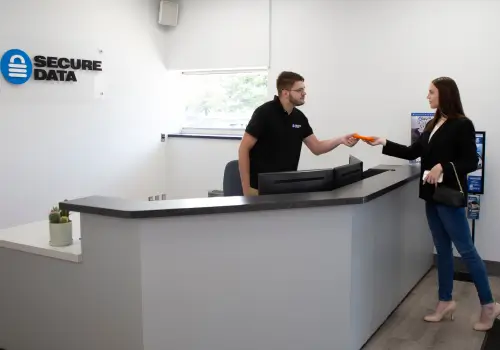 Data Recovery Services in Colorado - RAID, SSD & Hard Drive Recovery
Secure Data Recovery Services in Colorado is the most qualified media recovery and data repair company for your data loss needs. We offer excellent success rates, flexible turnaround options, and advanced data repair technology through our facility in Denver.

Our Service Centers
Greater Denver Metropolitan Area
Greater Colorado Springs Area
With gorgeous landscapes and one of the nation's most business-friendly tax climates, Colorado is home to more than 5.18 million residents. It has a diverse economy, and several Fortune 500 companies have an established presence. Hard drive data recovery is an intimidating task for the average computer user, so contacting an experienced data loss professional is the best option.
Expert Data Recovery Services
Secure Data Recovery Services is the authority in Hard Drive Recovery, SSD Recovery and RAID Recovery. Since 2007, our data recovery company has helped tens of thousands of individuals and businesses of all sizes successfully recover from every type of data loss scenario. We understand the importance of data in the modern world and with our Economy, Standard and Emergency Data Recovery Options and state-of-the art technology we are ready to get your lost data back right now.
Experience total piece of mind with a "No Data, No Recovery Fee" Guarantee.

Recovery Services We Offer
When you need a professional resource for hard drive data recovery, data tape repair, and RAID data recovery in Colorado, you need Secure Data Recovery Services. Visit our Denver office or contact one of our certified data recovery specialists online today for a free quote.
What to Do When a Storage Device Fails
To keep your system from sustaining serious damage, you should turn it off as soon as you recognize the symptoms of data loss. Do not turn your device on for any reason. Never attempt to repair your storage device, and never run data recovery software, as you might accidentally overwrite files and drastically reduce your chances of a successful recovery. For those looking to immediately recover data, Colorado residents should give us a call as soon as possible.
Some of the most common warning signs of media damage include:
Unusual noises, including clicking, whirring, and grinding sounds
Error messages indicating unreadable or inoperable files
Signs of damage from viruses and malicious software
Visible damage to electronics or other components
Extremely slow computer operation
Disappearing files or folders
Computer does not recognize attached media
Our Denver office can provide you with a risk-free media evaluation within several days of receiving your device. We will perform several key tests to provide an accurate price quote and turnaround estimate, and if you decide to pursue recovery, our no-recovery, no-charge guarantee provides essential peace of mind throughout the process. Secure Data Recovery Services offers an outstanding success rate of 96 percent for RAID data recovery and hard drive repair services.
Reliable Hard Drive Data Recovery Technology
With state-of-the-art tools and a certified Class 10 ISO 4 Cleanroom, we have built a strong reputation as the best data recovery specialists. Our engineering teams can treat virtually any type of digital device safely, and we hold more security credentials than any other provider. Secure Data Recovery Services' Denver office features multiple service options and full compliance with the laws that affect Colorado businesses, including FERPA, and PCI-DSS. These qualifications help us to provide the most trusted data recovery services in Colorado.
Reasons to choose Secure Data Recovery Services in Colorado:
Advanced technology and a 96 percent success rate
Multiple service options
24/7/365 emergency option
RAID repair and other advanced RAID services
No-recovery, no-charge guarantee
Knowledgeable customer service and around-the-clock support
Pick-up and drop-off services for emergency data recovery cases
Hard drive crashes and other sudden media failures affect thousands of Colorado computer users each year. By investing in our facilities, we provide a dependable alternative to costly data loss. Secure Data Recovery Services is one of the only providers in the country with true 24/7/365 emergency services, and our flexible service options give you an easy way to plan your recovery. For residents looking for digital media service in Colorado, RAID 5 data recovery, hard drive data recovery, and our excellent 24/7 emergency service options put us ahead of our peers. Schedule a media evaluation at our Colorado facility today.
Secure Data Recovery Process
1
Free
Consultation
Power down the device and call us, 24x7 for a free consultation and quote.
2
Free Professional Diagnostics
Submit your device at one of our locations for a non-destructive evaluation by a data recovery expert.
3
Review &
Decide
Review the diagnostic results and approve the work order at a set price, payable upon success with our "No Data, No Recovery Fee Guarantee".
4
Data Recovery & Return
Submit payment and receive your recovered data on a new external drive.