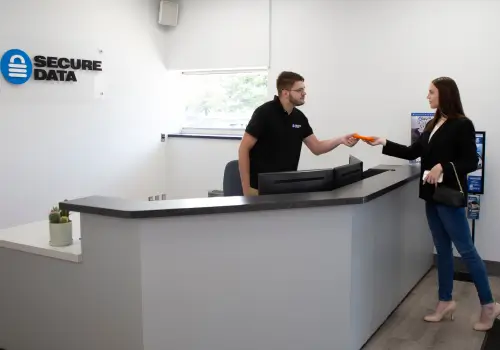 Data Recovery Services in San Jose - RAID, SSD & Hard Drive Recovery
Recovering from a failed HDD, SSD, RAID, flash drive, or memory card has never been more convenient for residents of San Jose and Silicon Valley. Our downtown store at 124 East Santa Clara Street, between South 3rd and 4th Streets, is less than a quarter mile west of San Jose City Hall. No appointments needed.
We are the experts for hard drive data recovery in San Jose. Experience total peace of mind with our "No Data, No Recovery Fee" guarantee.
Our customers rate our services:
We Helped Thousands Get Their Lost Data Back.
With over 5,320 satisfied customers and growing, we are proud to provide outstanding customer experience and quality service that consistently exceed customer expectations.
View All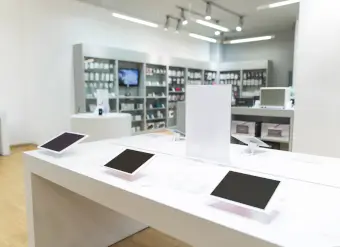 Secure Data Recovery Services
Emergency Services Available 24x7
The engineers at Secure Data Recovery have successfully recovered tens of thousands of failed devices and are certified with the most industry-specific certifications of any data recovery company. We will exhaust every option technologically available to successfully resolve the data loss situations for our San Jose customers.
Secure Data Recovery Near You
Need data recovery in San Jose? We have several locations throughout Silicon Valley. In Santa Clara, we have a store at 3777 Stevens Creek Boulevard, near the intersection with Saratoga Avenue, west of the San Tomas Expressway. You can also stop at our Sunnyvale store at 510 Lawrence Expressway, near the intersection with East Arques Avenue, south of U.S. Route 101. Or find us at our Campbell location on South Bascom Avenue in the Pruneyard Shopping Center.
We offer plenty of options for San Jose data recovery.
Call us or visit one of our nearby stores to start the data recovery process.
Data Recovery Company in San Jose, CA
Secure Data Recovery Services are the San Jose hard drive recovery, SSD recovery and RAID recovery experts. Since 2007, our data recovery company has helped tens of thousands of individuals and businesses of all sizes in San Jose successfully recover from every type of data loss scenario imaginable. We have seen your failure type before and our team understands the importance of data in the modern world. We're ready to recover your lost data with our flexible Economy and Standard data recovery services, or immediately with our Emergency data recovery option.
What Can We Recover For You Today?
In addition to hard drive recovery and RAID recovery, we specialize in complex data loss solutions for SSD drives and other NAND-based flash memory devices, iPhone and Android smartphones and mobile devices, network-attached (NAS and SAN) storage systems, and virtual machines.
San Jose, CA Data Recovery Reviews
Piotr Przybyszewski
Reviewed on Jul 17, 2023 | San Jose, CA
100% of data recovered from MacBook Pro M1
A couple of months ago, I had the unfortunate mishap of spilling white wine on my relatively new MacBook Pro M1, which led to the complete shutdown of my laptop. With a nearly full 1TB disk of critical, unbacked-up data, I was devastated by the potential loss. I initially approached Apple for assistance. But their quoted repair, (at more than half of the price of a new computer) would be destructi... Read Moreve to the data. These new MacBooks have basically everything – including the SSD – integrated on the motherboard, and rather than repairing individual components, they would replace the entire motherboard. As the data was actually more important to me that the computer itself, I had to continue shopping elsewhere. At that point, I frankly didn't even know if data recovery was possible, considering all the security that Apple built into the system. After discovering Secure Data Recovery online, I filled out the necessary forms and was assigned Elliot as my point of contact. Elliot''s guidance and support throughout the entire process were invaluable. He patiently addressed my concerns and provided a detailed explanation of the data recovery procedure. Data recovery took about 5 weeks and incurred significant costs, but they were able to successfully recover 100% of my data. Exceptional work! Thank you!
Richard Christie
Reviewed on Jun 22, 2023 | Manteca, CA
Its "Jake " from SF.....no just kidding, actually its Jake from secure data recovery, he was professional , patient and accommodating all the way till conclusion. Well done mate !
Happy days !
Rc



James Wood
Reviewed on Apr 17, 2023 | Fresno, CA
My wife''s phone wouldn''t turn on one morning, so we took it in to a local repair shop. They spent two weeks with it, but in the end said the motherboard needed to be replaced and the data could not be recovered. I found SDR through a google search and saw it had favorable reviews. Daniel guided me through the process and they were able to fix a broken circuit in the phone to recover 100% of the ... Read Moredata. They completed the job faster than estimated, and we received the working phone and a USB drive with the data. It wasn''t cheap, but the phone had years of pictures and videos including those of our baby that we couldn''t put a price on. I''m very satisfied with the service.
Justin Laurena
Reviewed on Aug 30, 2022 | San Jose, CA
Great customer service from Scott!
This is my first time working with Secure Data and it definitely won''t be my last. Scott replied fast and was always there to answer my questions. Amazing customer service and the SSD was fully recovered. 100% would definitely recommend Secure Data Recovery!
R.Mariano
Reviewed on Jun 02, 2022 | San Jose, CA
Grateful that we found this company to do the data recovery for our company hard drive. Thanks to Scott McMacken and his team. They''re very professional and easy to work with. We highly recommend this company. Great job!
Vance Ikezoye
Reviewed on Dec 31, 2020 | Los Gatos, CA
Secure Data recovered all my files. The process was straightforward and well explained by Scott. The only issue I had was I would have liked better updates on the website. Thanks.
Why Choose Secure Data Recovery In San Jose?
Certified and Verified Secure
Transparent Process
Trusted and Guaranteed Results
Secure Data Recovery Services operates in world-class facilities that undergo regular SSAE 18 SOC 1, SOC 2, and SOC 3 audits to verify the integrity of all cybersecurity management control systems. This means that your data is protected at every stage of the recovery process.
Each of our Lab facilities also has a certified Class 10 ISO 4 cleanroom. This specialized environment provides state-of-the-art filtration to remove potentially harmful airborne particulates that could damage the sensitive internal components of storage devices.
For more than a decade, the engineers at Secure Data Recovery Services have built a reputation as the most reliable provider of professional data recovery in the industry. Our expert team maintains a documented 96% successful recovery rate.
We maintain partnerships with every major digital storage manufacturer to ensure our custom solutions never threaten any existing product warranties. We also invest heavily in research and development to keep pace with rapidly evolving digital storage technology.
Free Data Recovery Quote
We intimately understand all data loss scenarios and will exhaust all options technologically possible to reunite you with your lost data as quickly as possible. When you choose Secure Data Recovery Services, you get the most credentialed professionals in the industry.
Service times and exact pricing for a successful recovery always depend on the specific damage to the storage, which is why we offer free, no-risk diagnostics with every standard service.
Our quotes consist of:
Price for successful recovery
Time estimates for the job
Key information about the events that led to data loss
Call 408-912-1814 to speak to a data recovery expert 24x7 and schedule your free data recovery consultation with a no-obligation price quote.