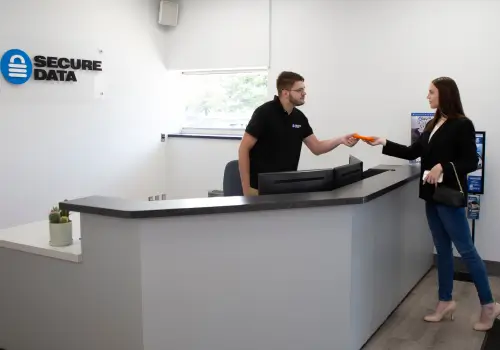 Data Recovery Services in Birmingham - RAID, SSD & Hard Drive Recovery
Secure Data Recovery Services is the best source for data recovery services in Birmingham. With experienced engineering teams and the industry's first certified Class 10 ISO 4 Cleanroom, we can retrieve files from virtually any damaged storage device regardless of operating system or failure scenario.

Our customers rate our services:
We Helped Thousands Get Their Lost Data Back.
With over 5,469 satisfied customers and growing, we are proud to provide outstanding customer experience and quality service that consistently exceed customer expectations.
View All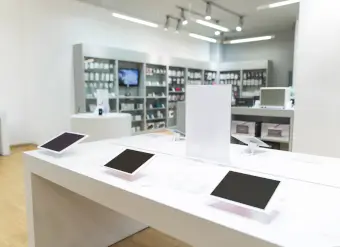 Secure Data Recovery Services
Emergency Services Available 24x7
Expert Data Recovery Services
Secure Data Recovery Services is the authority in Hard Drive Recovery, SSD Recovery and RAID Recovery. Since 2007, our data recovery company has helped tens of thousands of individuals and businesses of all sizes successfully recover from every type of data loss scenario. We understand the importance of data in the modern world and with our Economy, Standard and Emergency Data Recovery Options and state-of-the art technology we are ready to get your lost data back right now.
Experience total piece of mind with a "No Data, No Recovery Fee" Guarantee.
Recovery Services We Offer
Birmingham, AL Data Recovery Reviews
CORY GOBLE
Reviewed on Jul 01, 2023 | Warrior, AL
Great service and customer service
I rarely leave reviews, but I felt one was necessary this time. Secure Data Recovery was able to repair our external hard drive that had stopped working; it included numerous pictures from our wedding, first five years of marriage, work files backup, and more. Just as important as the repair itself, Scott was always available and helpful each step of the way with what I believe was the best custom... Read Moreer service I have ever had with a company. We are truly appreciative and highly recommend this company to anyone in a similar situation.
John Collins
Reviewed on Jun 09, 2023 | Birmingham, AL
When I accidentally broke my flash drive I lost many legal files. Secure Data Recovery wS able to retrieve my files and ship a new flash drive to me very quickly. I would recommend them to anyone needing this service. J. Collins

Zachl
Reviewed on May 20, 2023 | Pell City, AL
We had an older external hard drive with priceless photos from our graduating senior''s childhood that we were unable to retrieve. Secure Data came through for us (97%+ recovery!) in the timeframe that we had agreed would work for our needs and Elliot Fisher made it happen for us. While this can admittedly be a pricy endeavor, it was within our reach and ... how do do you put a price on pricele... Read Moress memories of photos and videos of the family!?! Thanks so much!
Susan Holmes
Reviewed on Feb 09, 2023 | Hayden, AL
Legal Secretarial Services
I can''t say enough about my experience with Scott. I called him in a panic when my Seagate external hard drive wouldn''t let me access any of my years worth of files. He was able to do a total recovery at a very affordable price. He kept in touch with me from the beginning to the end keeping me up to date on the progress. He was very professional and takes his profession to heart. He goe... Read Mores above and beyond to resolved any issues. I will definitely recommend him to my clients for their needs.
Alfonso Smith II
Reviewed on Nov 23, 2022 | Birmingham, AL
Great service, efficient communication...
Great service, efficient communication and a really easy way to get the right technical support. I talked with Scott. He was very helpful and answered all my questions concerning my needs. I feel that he gave me an accurate picture of my situation and how to proceed.
Luke Stevens
Reviewed on Oct 28, 2022 | Huntsville, AL
Excellent Customer Service
Scott M. and the secure data recovery team did an excellent job recovering some data for a program at my company. Quick, professional, attentive and thorough. Would highly recommend.
All of our locations are accredited with the Better Business Bureau, and our A+ rating reflects a commitment to exceptional customer interaction with every case.
BBB of Birmingham Alabama Accredited Business with an A+ Rating
The BBB issues company reviews to report accreditation levels and ratings. Our latest review details the standards that led to our top rating of A+.
As the largest city in the state of Alabama and one of the first major economic centers of the state, Birmingham boasts several higher education institutions and a progressive business climate. Many of our local clients work in banking, finance, and health care, and we provide excellent security to help these customers maintain compliance during data recovery.
Our Birmingham clients are provided with exceptional security, and by offering a comprehensive set of services, we offer a one-stop disaster recovery solution for all businesses and personal computer users in the city.
Advantages of Using Secure Data Recovery – Birmingham
Compliance with HIPAA, FERPA and PCI-DSS
SSAE 18 Type II Security Certification
Fast Turnaround Times and Multiple Service Options
Exclusive 24/7/365 Emergency Data Recovery Services
No Recovery, No Charge Guarantee
Knowledgeable Customer Service and Online Case Monitoring Tools
We specialize in hard drive data recovery, and for many years, we have provided hard drive repair services in Birmingham and the wider region. To schedule a visit to our office, contact the Secure Data Recovery Services customer service team today.
Steps to Take When Digital Devices Fail
Immediate action must be taken to prevent permanent data loss when a digital device malfunctions. Operating your digital storage device when damaged might cause overwrites or additional physical media damage, so shut your system down as soon as possible. Running any type of utility on a damaged or failed device is not recommended.
At Secure Data Recovery Services, we treat hundreds of cases every year through our national network of offices. In our experience, most cases are completely recoverable, and we operate with an overall success rate of 96 percent. However, by shutting off the damaged device you can dramatically improve the likelihood that we will successfully recover your data. Contact our Birmingham office as soon as possible to bring in your damaged device and begin the recovery process.
Secure Data Recovery Services is one of the only data recovery companies in the state of Alabama to offer a risk-free media diagnostic. Our engineers will analyze your storage media, perform diagnostic tests and then provide you with a no-risk quote for recovery services. Your quote will also include an accurate estimate of the turnaround time for you case as well as a list of recoverable files, when possible. Bring your damaged storage media to our Birmingham office to begin the recovery process and start your case.
Birmingham Hard Drive Data Recovery Tools and Technology
All data recovery companies must have access to specialized tools in order to safely perform repairs. Secure Data Recovery Services leads the industry with out cutting edge technology research and development.
Our facilities feature advanced media recovery tools including:
A Certified Class 10 ISO 4 Cleanroom
An Extensive Library of Media Components
Proprietary File Utilities and Media Repair Tools
Firmware Repair Machines and More
Through our ongoing research and development investments, we maintain Secure Data Recovery Services' position as the leading data recovery provider in Birmingham. RAID 5 data recovery, data tape repair, and other highly specialized media services can be done at our exceptional facility. We offer excellent success rates and can treat most cases in a matter of days. In addition to physical media issues like hard drive crashes and RAID data recovery, our specialists in the Birmingham office can treat accidental file deletion, virus damage and other non-physical data loss scenarios. Secure Data Recovery Services' engineers have years of experience and can perform all essential repairs while recovering data from your device, greatly reducing your downtime after a major disaster.
When you send your media to Secure Data Recovery Services, you always receive fast, knowledgeable treatment from certified professionals. With quick turnarounds and exceptional recovery rates, we provide an excellent resource for hard drive data recovery, RAID services, and much more. Our specialists are always ready to help you form a recovery plan that minimizes your downtime.