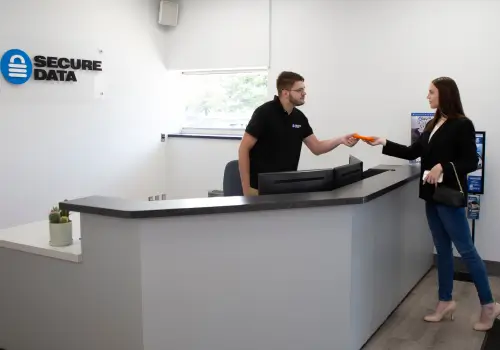 Data Recovery Services in Alabama - RAID, SSD & Hard Drive Recovery
Secure Data Recovery Services provides a dependable, safe resource for data recovery through our office in Birmingham, AL. With spectacular natural landscapes and a number of notable industries, Alabama is home to more than 4.8 million people. We have served the state through our expansive network of offices for many years, and by establishing a local facility, we give Alabama businesses and personal computer users an extremely reliable resource for professional media services.

Expert Data Recovery Services
Secure Data Recovery Services is the authority in Hard Drive Recovery, SSD Recovery and RAID Recovery. Since 2007, our data recovery company has helped tens of thousands of individuals and businesses of all sizes successfully recover from every type of data loss scenario. We understand the importance of data in the modern world and with our Economy, Standard and Emergency Data Recovery Options and state-of-the art technology we are ready to get your lost data back right now.
Experience total piece of mind with a "No Data, No Recovery Fee" Guarantee.
Recovery Services We Offer
As the provider of the most trusted hard drive repair services in Alabama, we maintain strict security credentials and a fully outfitted media laboratory.
Why Choose Secure Data Recovery Services in Alabama:
Multiple service options and fast turnaround times
Advanced RAID services
State-of-the-art data recovery laboratory
96 percent data recovery success rate
No recovery, no charge guarantee
Risk-free diagnostics for all standard data recovery cases
24/7/365 emergency data recovery services
SSAE 18 Type II security certified
Secure Data Recovery Services provides completely risk-free diagnostics for Alabama computer users, and our Birmingham facility offers pick-up services for emergency cases. Hard drive data recovery can be much easier with our help, so call our customer service team to get a free quote today.
State-of-the-Art Hard Drive Data Recovery Technology
Recovery services in Alabama are performed by a team of engineers with access to highly specialized tools designed to successfully treat hard drives and RAID data. At Secure Data Recovery Services, we invest heavily in research and development in order to maintain our high success rates.
Our Laboratory Features:
A certified Class 10 ISO 4 Cleanroom
Advanced firmware repair systems
Proprietary file repair tools
Experienced engineering teams
Secure Data Recovery Services offers many types of solutions for customers and businesses in Alabama due to our advanced technology. We offer hard drive data recovery, data tape repair, RAID repair, virtual server recovery, as well as dozens of other recovery options for various types of media storage. RAID 5 recovery, server data recovery, SSD data recovery… no recovery is too complex for our professional technicians.
Our engineers can safely treat any storage device regardless of operating system or file system, and our no-recovery, no-charge guarantee gives you peace of mind while your device is at our facility. Secure Data Recovery Services is the industry leader, and with more than 40 offices throughout the United States, we have the resources to treat any data loss disaster effectively.
What to Do When a Digital Storage Device Fails
If you experience a failure or error in your storage device, we recommend shutting down your computer as soon as possible to prevent serious damage. Operating a digital storage device after a physical failure can result in permanent damage to the mechanical components as well as the chance that a data recovery program could overwrite key data.
Some of the most common signs of data loss storage drive failure include clicking sounds, file corruption, and slow computer operation. You might not be able to access important files, and your computer may not recognize attached storage devices. These symptoms are serious, but by shutting down your device, you will preserve your storage media in the original state and greatly reduce your chances of permanent data loss, increasing our ability to recover data. Alabama's best and most professional data recovery provider can help you today.
Secure Data Recovery Process
1
Free
Consultation
Power down the device and call us, 24x7 for a free consultation and quote.
2
Free Professional Diagnostics
Submit your device at one of our locations for a non-destructive evaluation by a data recovery expert.
3
Review &
Decide
Review the diagnostic results and approve the work order at a set price, payable upon success with our "No Data, No Recovery Fee Guarantee".
4
Data Recovery & Return
Submit payment and receive your recovered data on a new external drive.