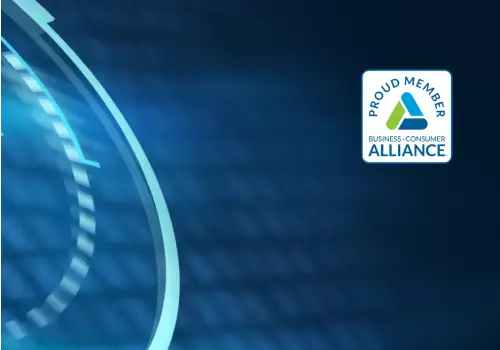 Certified Data Recovery Services From a Business Consumer Alliance Charter Member
Secure Data Recovery Services is an industry leader in RAID, SSD, and hard drive recovery, and we proudly endorse the high ethical standards and practices of the Business Consumer Alliance. That's why we're charter members of the organization and remain committed to providing transparent service with guaranteed results to customers at our more than 250 locations across North America.
The Business Consumer Alliance promotes ethical business practices and ensures an efficient, fair response for customer complaints.
BCA is a non-profit organization that promotes fairness and honesty in the marketplace by helping consumers resolve complaints with businesses. Using data from dispute mediation as well as customer reviews and testimonials, BCA assigns companies letter grades to help the public make the most informed decision when choosing a service provider.
Verify Our BCA Charter Member Information
Business Consumer Alliance Member with an AAA Rating
This profile provides information about past complaints resolved through the Business Consumer Alliance and shows our commitment to ethical standards and practices. It also shows and explains our AAA rating.
Verify our Business Consumer Alliance Profile
Advantages of Data Recovery Service from a BCA Member
Confidence that the fairness and quality of our service has been independently verified
Convenient letter grades to make quick and informed decisions about our reliability
Access to all past reviews and complaints related to Secure Data Recovery Services
Free mediation services through BCA for resolving disputes
Trust Is at the Heart of what We Do
Our AAA+ rating by the BCA isn't the only measure of our commitment to the best possible customer care. Secure Data Recovery Services has earned its reputation as the most trusted data recovery provider in the industry by giving our customers the most transparent, professional, and secure services available for any data loss situation.
We exhaust every avenue technologically possible to resolve your data loss, and we stand by the excellence of our work. In addition to free comprehensive diagnostics and a no-obligation price quote, we offer a "no data, no recovery fee" guarantee. If for any reason we can't recover your data, you pay nothing.
The Most Reputable Choice for All Your Data Recovery Needs
Secure Data Recovery Services invests heavily in research and development to keep pace with the rapid evolution in storage drive technology. We want to give you the best chance of recovering your lost data, whether it's from the latest heat-assisted magnetic recording devices or an old legacy drive that you've had laying around for years.
Data security is an essential part of data recovery. Our state-of-the-art facilities undergo regular SSAE 18 SOC 1, SOC 2, and SOC 3 audits to verify the effectiveness of our cybersecurity management control systems. We also conduct all invasive data recovery operations in certified Class 10 ISO 4 cleanrooms. We protect your data through every stage of the recovery process.
Secure Data Recovery Services is a name you can trust. Our data recovery engineers have decades of combined experience and maintain a documented 96% success rate. We also provide flexible data recovery options, including emergency 24x7, onsite and remote services. Call us at 800-388-1266 for a free consultation.