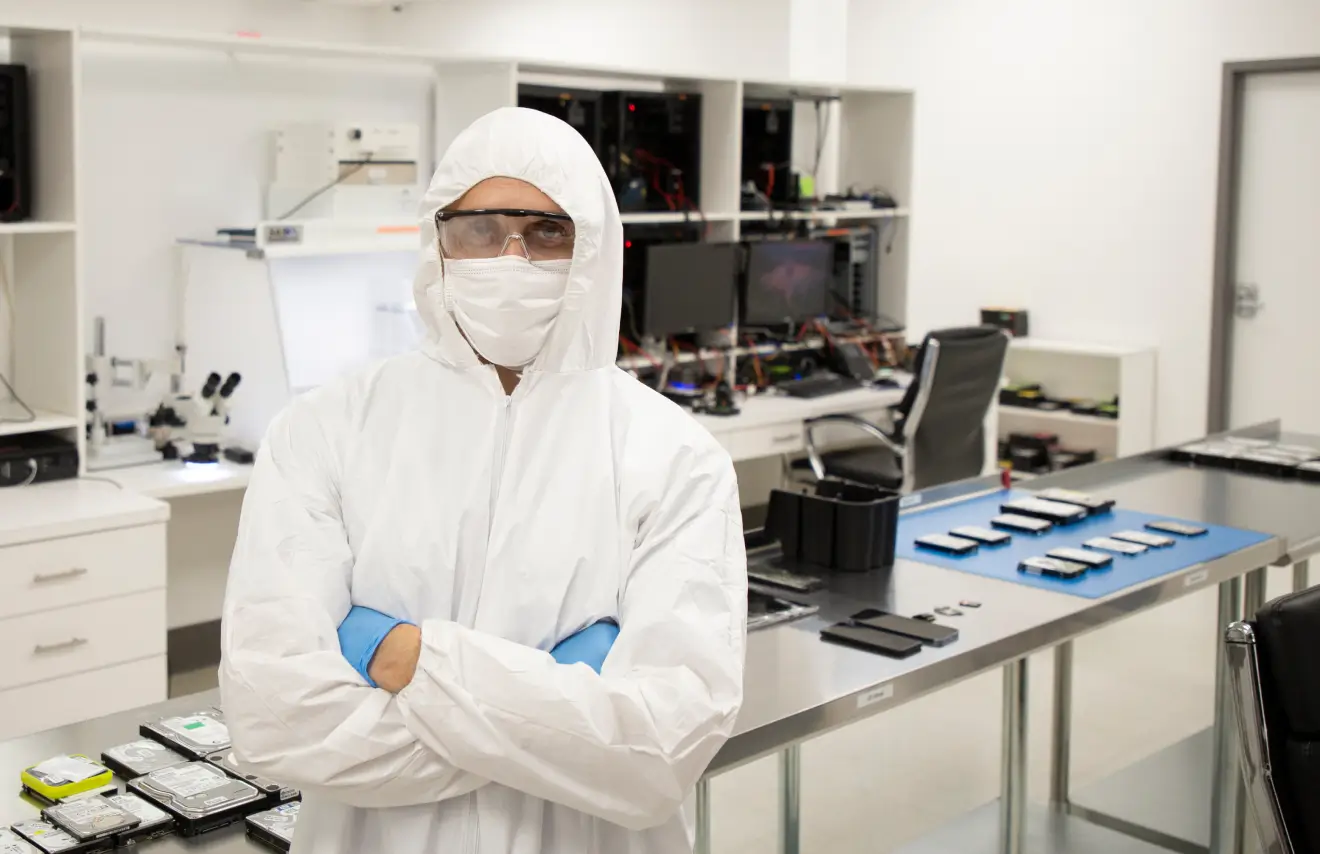 Why Choose Us
Secure Data Recovery has built a reputation as the most trusted data recovery company in the industry. We have the greatest number of industry-specific certifications, proving that both our facilities and employees exceed industry standards. It is our dedication to customer satisfaction and certified secure recovery process that have earned us an A+ rating with the Better Business Bureau.
Certified
The certifications we receive and the compliant practices we implement keep your data secure. We have the following:
SSAE 18 Type II SOC 1, 2, and 3 Certification - Certifies that we have a controlled environment that protects the confidentiality and privacy of processed and stored data.
Certified Class 10 ISO 4 Cleanrooms - We are the only data recovery company in the U.S. with this certification, which means the recovery environment allows fewer than 2.9 particles per cubic meter of space.
HIPAA Compliance - Our team is trained to follow these procedures when handling data and we save, access and transport individual medical and personal information securely.
EU-U.S. Privacy Shield and Swiss U.S. - Frameworks that allow for personal data transfers between EU and Switzerland to the U.S.
TRUSTe Enterprise Privacy and Data Governance Certification - Our privacy and data governance practices for personal information comply with laws and regulatory standards.
PCI-DSS Compliance - Since 2013, we have been compliant with these standards to store, process, and transmit unmasked cardholder data in a Secure Credit Card Environment.
FIPS 140-2 Level 3 Validated Data Handling Practices - We are the only data recovery company with this validation, which is an information technology security accreditation program for validating that cryptographic devices meet security standards.
Convenient
Data loss can happen at any moment, which is why our customer service representatives are available to speak with you on the phone 24/7. Once we gather information about your media, we will find the most convenient drop-off location for you to take your device. If the location is too far, we gladly send you a prepaid FedEx shipping label to send your device directly to our lab.
We have the fastest turnaround times in the industry because we know that data loss sets you back in both your work and personal life. As your case progresses, you can monitor it through our easy-to-use online portal. We even ship your data back to you on completely secure transfer media. You don't have to worry about a thing from the moment you first call. See how our other customers view our services: Customer Testimonials & Letters of Appreciation
Committed
Secure Data Recovery will take on cases that other companies write-off as unrecoverable. We are committed to retrieving your files in all circumstances whether your device has physical or logical damage. Our overall success rate of 96% proves that we treat every case with the same level of dedication.
We have a proactive Research and Development team that discovers new recovery methods for existing and emerging media. They will exhaust every possible recovery technique on your media to get your files back to you. If for some reason we are unable to recover your data, you won't pay. That is our "No Data, No Recovery Fee" guarantee.