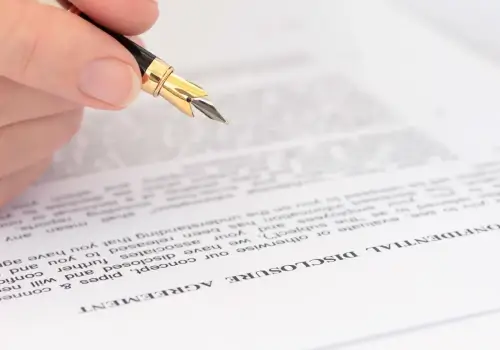 We take your information security very seriously.
When you need a professional data recovery, security is a major priority. At Secure Data Recovery Services, we have built our reputation on our excellent data security policies. We take every possible step to keep our customers' files confidential, and whether we are treating a damaged camera card or a large RAID array, we always use the same reliable procedures to provide consistent security.
We offer the world's most confidential data recovery services by using logical media handling procedures and state-of-the-art technologies. Our controls include:

Secure Servers
We store most recovered data on closed networks. When storing data on externally accessible servers, we use a series of dedicated controls and filesystem-level encryption to completely prevent any chance of unauthorized access.

Regular Security System Updates
As a SSAE 18 Type II certified data recovery provider, we focus on building long-term, sustainable systems. Our systems are up to date and not susceptible to electronic attacks.

Reliable Access Protocols
Our staff cannot access your data, and we automatically purge backup copies of your recovered files within 14 days using Department of Defense (DOD) compliant deletion methods.

Encryption
As encryption experts, we understand the importance of updated algorithms. We can encrypt any device and offer a comprehensive set of return media options. Secure Data Recovery Services also uses advanced encryption to protect data on our premises.

Regular Audits and Attestations
By testing and auditing our facilities, we guarantee consistent practices. We use experienced third-party firms to keep our systems in check.

Smart Data Return Policies
When we return your data after completing our services, we make sure that you are the only person with access. We use secure FTP servers to transfer information electronically, and when shipping physical media, we use encryption and signature authorizations to protect sensitive files.
We strictly maintain our security systems to adapt to new threats, and we pledge to use the latest technologies to protect your data at all times. When you trust your device to Secure Data Recovery Services, you get dependable results.
Certified Data Recovery Security from an Industry Leader
Security is always our top priority. We will never take steps that could compromise your privacy, and we will never transfer your files to a third party without your explicit permission. Likewise, our engineers will never open your files unless you provide us with direct authorization.
As part of our commitment to our clients, we maintain a number of security credentials for widely used standards. We regularly schedule audits and attestations of our security systems to provide a transparent, unbiased overview of our networks and protocols.
Our security credentials include:
HIPAA and FERPA Compliance Certifications
PCI Security Certification and PCI-DSS
SSAE 18 Type II Certification
SAS 70 Certification and More
Many of our clients need our engineers to follow specific guidelines in order to protect especially sensitive data. We have decades of combined engineering experience in the data recovery industry, and we can work directly with your company legal department to fulfill any reasonable requests. Contact our customer service team for more information.
When you work with Secure Data Recovery Services, you always get confidential data recovery with flexible service options and reliable turnaround times. Our best-in-class data security systems provide you with absolute peace of mind, and we are always willing to take extra steps as needed to meet your requirements. If you have any questions about our security controls or if you would like to start a case, call us today at 1-800-388-1266.