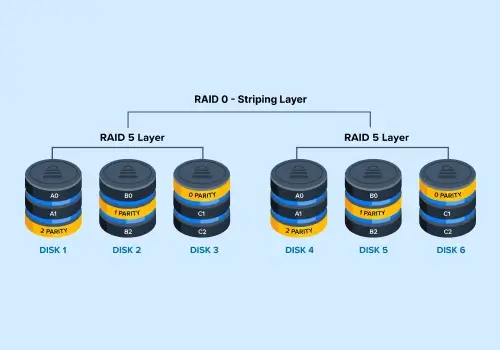 RAID 50 Data Recovery
Secure Data Recovery Services provides an advanced resource for RAID 50 data recovery and repair. As the nation's leading RAID specialists, we treat hundreds of cases each year through a network comprised of dozens of offices, delivering fast results for personal and professional RAID users.
Our customers rate our services:
We Helped Thousands Get Their Lost Data Back.
With over 5,453 satisfied customers and growing, we are proud to provide outstanding customer experience and quality service that consistently exceed customer expectations.
View All
A RAID 50 array essentially consists of a RAID 0 striped across a RAID 5. It offers better fault tolerance and faster read/write speeds than RAID 5 without the single point of failure of a solitary RAID 0, and many businesses use RAID 50 for mission-critical applications that value performance over storage efficiency.
RAID 50 arrays can typically sustain multiple hard drive failures without losing data. However, these systems can lose data if multiple hard drives fail within the same set; this is one of the most common failure scenarios at this RAID level. No RAID configuration offers perfect protection from software faults and operating system failures, so RAID 50 is also susceptible to virus damage and related issues.
Some of the most common failure scenarios for RAID 50 include:
RAID Controller Failure
Parity Loss
Multiple Hard Drive Failures in Single Set
Virus Damage or File Corruption
Accidental Deletion, Formatting or Partitioning
Failed RAID Rebuild
When data loss occurs, businesses need fast help from a certified RAID 50 data recovery company. Secure Data Recovery Services offers dedicated RAID data repair for RAID 50 and all other nested RAID levels. With a certified Class 10 ISO 4 Cleanroom and an extensive set of security credentials, we offer fast, professional services for arrays of all sizes. Contact us today to set up an evaluation for your system.
What to Do When a RAID 50 Loses Data
When your RAID 50 fails, you need to take immediate steps to minimize logical and physical damage. Keep the RAID turned off until you can speak with a professional data recovery engineer. Running the array in a failed state could cause extensive media damage, and even if all of the hard drives in your RAID are functioning properly, you may unintentionally overwrite your data by attempting to repair the system.
For the best results, shut your array down using its power switch. Do not shut down the RAID through its operating system, as this could cause unintentional damage depending on the source of the failure. Do not attempt to rebuild the array and never run utilities like chkdsk or Scandisk. These applications could disrupt the parity block of a damaged hard drive, greatly complicating the data recovery process.
Contact Secure Data Recovery Services as soon as possible to schedule a media evaluation. We can analyze your array at any of our facilities to provide a price quote, turnaround estimate and other key case information.
We offer free diagnostics for our standard RAID data recovery services, and if you need a fast recovery, our 24/7/365 emergency services provide excellent turnarounds of less than 48 hours on average.
RAID 50 Data Recovery Services with Reliable Results
When you need RAID 50 recovery or repair, you need a dedicated engineering team that understands RAID architecture. Secure Data Recovery Services' engineers have decades of combined experience with various RAID configurations, and we take essential precautions to protect your media at all times. We also maintain a large inventory of RAID hardware and hard drive components in order to treat mechanical media issues as quickly as possible.
We were the first data recovery provider to establish a certified Class 10 ISO 4 Cleanroom, and by maintaining state-of-the-art facilities with strong security controls, we give you a simple, hassle-free way to restore any RAID 50.
We provide:
Risk-Free Standard RAID Data Recovery Evaluations
A No Recovery, No Charge Guarantee
Advanced Technology and Dependable Results
Frequent Status Updates and Powerful Case Monitoring Tools
SSAE 18 Type II Security Certification
Comprehensive RAID 50 Repair Services to Limit Your Downtime
Secure Data Recovery Services provides the nation's most advanced resource for RAID 50 data repair and recovery. Our flexible service options and state-of-the-art technology give you a dependable way to restore missing databases, email archives and other files, and with our no recovery, no charge guarantee, you can use our RAID services with confidence. Call our 24/7 RAID recovery line today to start your case or for more information.
RAID 50 Data Recovery Reviews
David Gomez
Reviewed on Apr 24, 2019 | Houston, TX
Couldn''t be more satisfied
Couldn''t be more satisfied with Ryan Wiggins'' excellent customer service and excellent communication. I especially appreciated being provided with a detailed list of what files were recoverable and what could not be recovered before committing to their recovery services. I highly recommend Secure Data Recovery for all of your data recovery needs!
Monique Brown
Reviewed on Apr 15, 2019 | ,
Very helpful representative
Luke Marrali, went above and beyond to provide excellent customer service. I had inquired to other similar companies, but the services I received through Secure Data was very helpful and needed when others had failed. They were not interested in taking my money, but with helping me access the correct information that I was looking for. I will be using this product in the future and recommending it... Read More to others. I give them a 5 star.
Christiana Hutchinson
Reviewed on Mar 17, 2015 | Lake Charles, LA
Excellent Service and Overall Experience
I was very fortunate to have contacted Rob Anderson as my Secure Data Recovery representative. The entire process was very smooth from start to finish. Thank you for helping us in our need for one of our customers. Again, great service.
Frequently Asked Questions
What are some of the common causes of data loss on a RAID 50 array?

RAID 50 generally provides better fault tolerance than other common RAID levels, but this depends on the exact configuration of the array. We have received cases that have sustained multiple hard drive failures during RAID rebuild procedures. While this failure scenario is relatively rare, it can occur on some systems.

Logical issues can also prevent normal data access on a RAID 50. File corruption, software problems, virus damage and user error can cause data loss in a matter of seconds. It is important to remember that no RAID level offers perfect protection from data loss, and you should regularly back up your RAID 50 to prevent these types of issues from affecting your files.

What does RAID 50 data recovery cost?

Costs vary for any RAID data recovery, and because nested RAID levels have a number of configuration options and potential failure scenarios, we need to perform a full in-office analysis in order to provide a price quote.

We offer risk-free standard diagnostics for all nested RAID systems. Within several days, we can give you an accurate price quote and a reliable turnaround estimate. High-priority evaluations are available; contact our customer service team for more information.

Can I get expedited treatment for my failed RAID 50 array?

Yes. We offer several service options for RAID 50, including priority and 24/7/365 emergency services. Whether you are working on a limited budget or you need to control your downtime, Secure Data Recovery Services can help you find a case-appropriate option for your RAID 50 array.

How long does data recovery take for a RAID 50?

As with pricing, turnaround times vary from case to case. However, Secure Data Recovery Services has state-of-the-art RAID data recovery tools and an advanced team of engineers, and we can treat many cases in less than a day under our emergency option.

Do nested RAID levels complicate the data recovery process?

Not necessarily. While engineers need an advanced knowledge of RAID 50 architecture in order to provide consistent results, the chances of a successful recovery on a RAID 50 system are relatively high.

Secure Data Recovery Services regularly treats RAID 50 arrays, and our teams have access to next-generation tools including a certified Class 10 ISO 4 Cleanroom and an expansive library of RAID controller cards and media components. We offer an overall success rate of over 96 percent for all RAID levels.

What can I do to improve my chances of a full, successful recovery?

When a failure occurs, you should shut down your RAID 50 immediately. Do not attempt to rebuild your RAID 50 if a previous rebuild attempt has failed or if you notice any unusual failure symptoms that might indicate configuration issues.

Make a list of failure symptoms and gather basic information about your RAID 50, including the number of hard drives in the array and the total logical size of the system. Contact Secure Data Recovery Services as soon as possible to set up a new case.