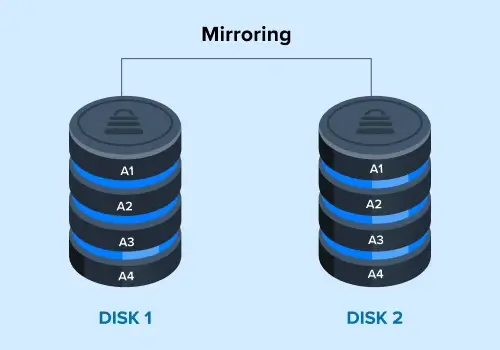 RAID 1 Data Recovery
Secure Data Recovery Services offers reliable RAID 1 data recovery services through an expansive network of offices. As the world's most innovative RAID data recovery company, we provide fast turnaround times, dependable success rates and best-in-class security.
Our customers rate our services:
We Helped Thousands Get Their Lost Data Back.
With over 5,469 satisfied customers and growing, we are proud to provide outstanding customer experience and quality service that consistently exceed customer expectations.
View All
In many ways, RAID 1 is the most basic form of true RAID. RAID 1 systems use mirroring, which means that each drive in the array is exactly the same. When the array writes data, it writes identical data to each hard disk drive. Most simple RAID 1 arrays have two drives, although some systems have additional drives for additional fault protection. Businesses often mirror RAID 0 or RAID 5 arrays with a RAID 1, creating an identical copy of the primary array to add additional redundancy.
RAID 1 offers several advantages over other popular RAID configurations such as RAID 5 and RAID 0. It is an extremely dependable option, as the system will not lose data as long as one drive is functional. However, RAID 1 does not offer performance improvements over a standard hard drive and may actually offer slower performance without the implementation of multiple RAID controllers. Because of this, RAID 1 is typically used when high fault tolerance is more important than performance. However, while RAID 1 provides significant protection, no RAID configuration perfectly prevents data loss.
Common RAID 1 failure scenarios include:
Accidental File Deletion or Formatting
Faulty RAID Controller
Errors During RAID Rebuild
Hardware Conflicts
Software Errors Causing File Damage or Corruption
Corrupt RAID Array Configuration
Multiple Hard Drive Failures
Electronic Damage
Operating System Failures
Because RAID 1 failures are relatively uncommon, you need to work with an experienced data recovery company to successfully retrieve your data. Secure Data Recovery Services offers dedicated, professional repair and recovery services for all types of RAID systems including RAID 1.
What to Do When Your RAID 1 Fails
If you cannot access data on a RAID 1, do not attempt to rebuild the array or take any other steps to repair your system. Do not reboot the array, as you may inadvertently contribute to platter damage and media corruption by operating the system in a failed condition.
Likewise, you should never run any disk utilities on the system. Common utilities like Scandisk and chkdsk can damage a failed RAID, and while RAID 1 is more resistant to this type of damage than other RAID configurations, disk utilities can only contribute to data loss. Power the system down by holding down its power button or by flipping its power switch and contact Secure Data Recovery Services to discuss recovery options.
An Advanced RAID 1 Data Repair Company
We maintain a state-of-the-art RAID data recovery laboratory in order to treat every RAID 1 failure as quickly and effectively as possible. Our certified Class 10 ISO 4 Cleanroom allows our engineers to repair damaged RAID members without risking media contamination, and thanks to our large library of controller cards and components, we can repair virtually any damaged array in a matter of days. We also maintain excellent security standards and post our certification documents online.
Reasons to use Secure Data Recovery Services for RAID 1 data recovery:
24/7/365 Emergency RAID Services
Free Standard RAID 1 Data Recovery Evaluations
No Recovery, No Charge Guarantee
Advanced Equipment and Certified Class 10 ISO 4 Cleanroom
Expert RAID Services with Dedicated Engineering Teams
Industry-Leading 96 Percent Success Rate
SSAE 18 Type II Certification
At Secure Data Recovery Services, we maintain the world's best RAID 1 services by investing in our facilities. Our engineers have years of experience with all types of RAID, and because we offer RAID 1 repair along with our data recovery services, we can effectively eliminate unnecessary downtime while restoring your system to a working state. If you have lost data from a mission-critical array, you need reliable RAID services from an industry leader. Contact Secure Data Recovery Services today to start your case.
RAID 1 Data Recovery Reviews
Long Tran
Reviewed on Jan 25, 2022 | Green Island, NY
Fast process, excellent recovery, awesome customer service. You will not be disappointed. I emailed the company and Jake Gambatese from Secure Data Recovery called me back within 20 minutes and explained all the options and and the process to me with details. Jake is really responsive and helpful with all the questions i have for him. I would recommend this Company to all my partners, and friends.
Mark Speer
Reviewed on Apr 03, 2021 | Braselton, GA
My experience with SDR was very good. The customer engagement, communication and service was outstanding along with the technical ability to recovery the data that was on failed RAID drives. The costs is premium but they delivered and were able to restore all of my data from the failed drive system.
Timothy Cord
Reviewed on Mar 24, 2021 | Irving, TX
Jake G. & Secure Data: Highly Recommended!!
My company worked with Jake G. at Secure Data to recover historical data from a RAID 1 Server 2003 R2 hard drive failure. Jake and his team were very knowledgeable, they communicated regularly with us, and even helped us out on the data recovery costs and turnaround time. Highly recommended! They beat all of their deadlines and were consummate professionals. Will use Jake G. and Secure Data for fu... Read Moreture data recovery needs.
Roy Andrews
Reviewed on Mar 23, 2021 | Temple, GA
I stumbled across these guys online and was surprised to find they had a shop near me. Jake was great to work with and will definitely be working with these folks going forward on any future data issues my customers may have.

Roy Andrews
Doug Branson
Reviewed on Jun 02, 2020 | Nashville, TN
Use them. Plain and simple.
My representative was Jake Gambatese and he and the team at Secure made the process very simple. They retrieved all of my data and sent it back quickly. Communication was prompt and clear. I highly recommend using Secure Data Recovery if you want your data back quickly.
John Terry
Reviewed on Apr 22, 2019 | Henderson, NC
Recent recovery of RAID 1 Data
Built my own RAID 1 configuration. used a total of 16 TB broken into Drive E mirror F, G mirror H. this was a software RAID config. Well computer onboard video bombed and could not bypass or install PCI Video card. my G H RAID stopped working and could not recover or access drives. I had many sleepless nights let me tell you. 70,000 Jpegs and home videos.
this company made my life whole ag... Read Moreain. pics from the 1960s thru current. I was sweeting when I saw the data being copies to my new drive setup. I scrapped the RAID configuration and went with a standard drives, backed up weekly. A special thanks to Frederick Wright for guiding me thru this major dilemma. Cost was reasonable considering my lifetime loss of memories, which I am so relieved I got back. I''m now using off site backup and cloud.
Frequently Asked Questions
How can data loss occur on a RAID 1 array?

RAID 1 is a mirrored set of hard drives, so a single hard drive failure should not cause data loss under normal circumstances. Even so, RAID 1 is not a suitable replacement for a good backup strategy. Common sources of data loss include virus attacks, accidental file deletion, software errors and file corruption.

You can prevent data loss on your RAID 1 array by backing it up on a regular basis and by immediately replacing any damaged RAID members.

Is RAID 1 data recovery expensive?

No two failure scenarios are exactly the same, and our engineers need to perform a full analysis on your RAID before quoting a price. Factors that will affect your price quote include your failure scenario, the number of drives in your RAID 1 and the array's operating system. We offer free diagnostics with our standard data recovery service.

RAID 1 data recovery is generally affordable. Secure Data Recovery Services provides a flexible set of turnaround options; our 24/7 emergency service helps you restore a mission-critical server as quickly as possible, and we can even perform remote data recovery in some circumstances. Contact our RAID team to discuss available options.

Can data recovery engineers treat a single hard drive from a failed RAID 1?

No, we will need to perform data recovery on the entire array, to get the most recent data back. When a mirrored set fails, file corruption can occur inconsistently across the array, and we need to repair the entire system in order to recover all of your data in its original condition.

How will Secure Data Recovery Services return the recovered data from my RAID 1 array?

We can return your data on the return media of your choice. Our teams can transfer individual files to you via secure FTP, giving you instant access to critically important data. We can also transfer data onto a new RAID array or onto external media. Speak with our customer service team for additional options.

How can I find a qualified RAID data recovery company?

Ask about the company's tools and credentials. Experienced providers have dedicated equipment and can safely treat any RAID array without invalidating manufacturer warranties.

Secure Data Recovery Services is an industry leader in RAID data recovery. Our teams work in a certified Class 10 ISO 4 Cleanroom, and we have a number of security credentials (including the industry's first SSAE 18 Type II certification) to show our commitment to our clients.

Can I download any software utilities to treat data loss on a RAID 1?

We do not recommend this. Most file utilities are not designed for mirrored sets and can cause file damage when used incorrectly. Furthermore, RAID 1 systems often experience relatively complex failure scenarios. Commercial data recovery applications cannot treat these issues effectively.

The safest course of treatment for a failed RAID 1 is to disconnect the device's power source and contact a professional data recovery provider. By turning your system off as soon as you notice file loss, you will increase your chances of a full recovery by maintaining your array in its original condition.