Data Recovery Services in Alexandria - RAID, SSD & Hard Drive Recovery
We have provided data recovery in Alexandria, VA since 2007. Our engineers have recovered files from thousands of damaged or defective HDDs, SSDs, and servers. We have a location at 5100 Leesburg Pike, near the intersection with South George Mason Drive, east of Crossroads Place in western Alexandria.
With a free consultation and guaranteed results, we are the trusted experts for hard drive data recovery in Alexandria, VA.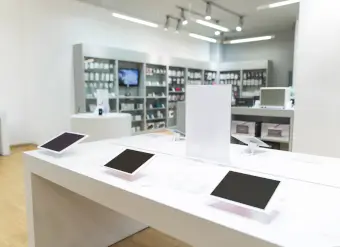 Secure Data Recovery Services
Emergency Services Available 24x7
Secure Data Recovery Near You
Need data recovery services in Alexandria, VA? We have several stores throughout Northern Virginia.
In Arlington, we have a location at 2801 Columbia Pike, on the corner of Walter Reed Drive, west of Arlington National Cemetery and Reagan National Airport. We have another location in Centreville at 13848 A-Lee Highway, east of Lotte Plaza Market. Our Herndon store is located at 727 Elden Street, near Old Town Hall and Pines Center. You can also find us in Haymarket at 6432 Trading Square, off the John Marshall Highway, in the Haymarket Village Center.
Alexandria, VA is as convenient as ever.
Call or visit one of our locations to start a case and experience complete peace of mind with our "No Data, No Recovery Fee" guarantee.
Alexandria, VA Data Recovery Company
Secure Data Recovery Services is the authority in hard drive recovery, SSD recovery, and RAID recovery. Since 2007, our data recovery company has helped tens of thousands of individuals and businesses of all sizes in Northern Virginia successfully recover from every type of data loss scenario imaginable. We have seen your failure type before and our team understands the importance of data in the modern world. We're ready to recover your lost data with our flexible Economy and Standard data recovery services, or immediately with our Emergency data recovery option.
What Can We Recover For You Today?
In addition to hard drive recovery and RAID recovery, we specialize in complex data loss solutions for SSD drives and other NAND-based flash memory devices, iPhone and Android smartphones and mobile devices, network-attached (NAS and SAN) storage systems, and virtual machines.
Alexandria, VA Data Recovery Reviews
Victor Pa
Reviewed on May 15, 2023 | Fairfax, VA
Great service at a reasonable rate
Secure Data Recovery did a great job recovering our data from a defective Western Digital external drive. Our rep Eric was very helpful explaining the process and replying back to our questions. The pricing was reasonable and turnaround time was excellent.
Paula Zappone
Reviewed on Mar 28, 2023 | Fairfax, VA
I cannot tell you how happy I am with this company!!! I take A LOT of photos, A LOT. Plugged in external hard drive to hear clicks, my stomach dropped. Did a little research and came across Secure Data Recovery. Eric Dvorin was very kind and patient answering all of my questions. Very professional and responsive. AND they were able to recover my photos!!!
BJ Nichols
Reviewed on Mar 13, 2023 | Silver Spring, MD
Scott provided accurate information and excellent service. Thank you
Yeah Hyun Cook
Reviewed on Mar 10, 2023 | Arlington, VA
I am VERY happy with the level of ownership and customer-obsession Scott (M.) has shown in handling my data recovery case. Due to personal reasons, I had to expedite the process and Scott''s timely communications and customer-service really helped me feel comfortable going through the process. He is highly articulate, clear with instructions and supportive. If you are in need of getting data recov... Read Moreery service (especially if you are in a tight timeline!), connect with Scott at Secure Data Recovery - you will be in good hands.
Olivier Saint-Paul
Reviewed on Jan 20, 2023 | Bethesda, MD
Everybody hates when a hard drive dies with some important stuff inside. I had 4To of video projects that I didn''t want to lose. Jonathan was excellent in helping me recover all that. Everything went quickly and smoothly from sending my device to tracking my new hard drive.
Thanks for everything
[email protected]
Reviewed on Jun 20, 2022 | Bethesda, MD
Their price may be high, but the results were as good as predicted.
They''re not kidding about "96% success rate", in fact that''s pretty much exactly how much of my original data got recovered completely in tact. The remaining 4% or so that got damaged seems mostly light damage, tried some damaged videos and theyre playable, have a few skips etc.
I had a 1TB Toshiba external drive, dam... Read Moreaged by dropping onto ground from less than 1ft high while running. The dreadful clicking noise afterwards. It got some platter damage.
Pleased with the results :)
Why Choose Secure Data Recovery in Alexandria, VA?
Certified and Verified Secure
Transparent Process
Trusted and Guaranteed Results
Secure Data Recovery Services operates in world-class facilities that undergo regular SSAE 18 SOC 1, SOC 2, and SOC 3 audits to verify the integrity of all cybersecurity management control systems. This means that your data is protected at every stage of the recovery process.
Each of our Lab facilities also has a certified Class 10 ISO 4 cleanroom. This specialized environment provides state-of-the-art filtration to remove potentially harmful airborne particulates that could damage the sensitive internal components of storage devices.
For more than a decade, the engineers at Secure Data Recovery Services have built a reputation as the most reliable provider of professional data recovery in the industry. Our expert team maintains a documented 96% successful recovery rate.
We maintain partnerships with every major digital storage manufacturer to ensure our custom solutions never threaten any existing product warranties. We also invest heavily in research and development to keep pace with rapidly evolving digital storage technology.
Free Data Recovery Quote
We intimately understand all data loss scenarios and will exhaust all options technologically possible to reunite you with your lost data as quickly as possible. When you choose Secure Data Recovery Services, you get the most credentialed professionals in the industry.
Service times and exact pricing for a successful recovery always depend on the specific damage to the storage, which is why we offer free, no-risk diagnostics with every standard service.
Our quotes consist of:
Price for successful recovery
Time estimates for job
Key information about the events that led to data loss
Call 703-382-8914 to speak to a data recovery expert 24x7 and schedule your free data recovery consultation with a no-obligation price quote.