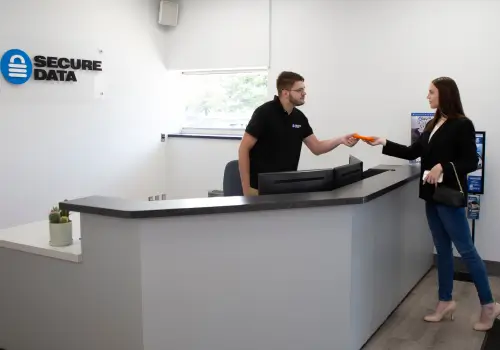 Data Recovery Services in Franklin - RAID, SSD & Hard Drive Recovery
Secure Data Recovery offers professional recovery services for hard drives, RAID arrays, SSDs, and mobile devices in the city of Franklin, MA. We can effectively eliminate downtime and minimize the other consequences of data loss with experienced engineers and the fastest turnaround times in the industry.
Our customers rate our services:
We Helped Thousands Get Their Lost Data Back.
With over 5,469 satisfied customers and growing, we are proud to provide outstanding customer experience and quality service that consistently exceed customer expectations.
View All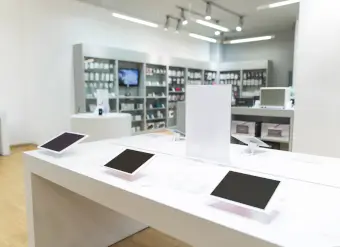 Secure Data Recovery Services
Emergency Services Available 24x7
Franklin, MA is home to many parks including the Franklin State Forest. In addition to its green space, Franklin is known for opening the first public library in America with the first books donated by Benjamin Franklin. The city is part of New England's rich history and Secure Data Recovery is glad to be a part of that history, helping customers with their recovery needs since 2007.
Expert Data Recovery Services
Secure Data Recovery Services is the authority in Hard Drive Recovery, SSD Recovery and RAID Recovery. Since 2007, our data recovery company has helped tens of thousands of individuals and businesses of all sizes successfully recover from every type of data loss scenario. We understand the importance of data in the modern world and with our Economy, Standard and Emergency Data Recovery Options and state-of-the art technology we are ready to get your lost data back right now.
Experience total piece of mind with a "No Data, No Recovery Fee" Guarantee.
Recovery Services We Offer
Franklin, MA Data Recovery Reviews
Henry Mena
Reviewed on Sep 29, 2023 | Willimantic, CT
Absolutely amazing customer service and service!
SecureDataRecovery provided a top tier service for me. They handled everything professionally, helped me with financing options, and were very quick with their work. I highly recommend them to anyone who is looking to get data recovery services!
John Crosby
Reviewed on Sep 25, 2023 | Newport, RI
Professional Service with excellent results!
From start to finish, Secure Data Recovery made things easy for me to resolve my data loss issue. When my phone''s hard drive fried and I had no options as the local cellular repair service deemed it dead on arrival. I heard about Secure Data Recovery and they made everything seamless, from the prepaid shipping envelopes to the free diagnostics and the transfer of data onto media that is easily t... Read Moreransferred to a phone. Thank you Secure Data Recovery for retrieving priceless photos and valuable data from my damaged phone. 5 stars! * * * * *
Gary Gallion
Reviewed on Sep 20, 2022 | Bell Buckle, TN
Really awesome, professional and prompt service! I wasn''t expecting to get much of my data back, but was pleasantly surprised to see that only a handful of files couldn''t be recovered. Thanks team, for your fantastic help!
Kelly Shelton
Reviewed on Jun 15, 2019 | Sandwich, MA
Very happy with my results. I sent another disc with a similar issue to a competitor and they were not able to recover my data. I decided to use a different company (Secure Data Recovery) hoping I would have better results, but wasn''t optimistic. Thank goodness they were able to retrieve 10 years of family pictures that I would have lost forever.
Ryan Wiggins was very responsive to my emai... Read Morels. He usually responded within an hour and kept me updated on what was going on with my hard drive.

Jen Daigneault
Reviewed on Sep 18, 2018 | Quincy, MA
Thank you for getting all my photos back!
I dropped my external hard drive while it was on and completely broke it. On it was irreplaceable family photos from trips and pictures of old artwork. I brought it to a few places that said they couldn't help me and told me I needed a special place with a clean room to work on it.

I looked around and got a few different quotes, but I still wasn't ready to get it fixed. A lot of the pla... Read Moreces were rude when I asked questions so trusting them with my files was hard.

Finally I came across Secure Data Recovery and realized they had a drop off location down the street from my office in Boston. When I called I spoke to Frederick Wright he was so helpful answering all my questions. He set up the account for me online and sent me a confirmation email right away.

When I went to the building the woman there was very helpful labeling and boxing up the broken and new externals for shipping to the main office. She could tell I was really nervous shipping the only copies of my files and even called me later that day to say everything was shipped out and to tell me the next steps.

Frederick checked in with me throughout the entire process. He checked in with me to let me know when my package arrived, after they did the initial testing, and to go over competitor pricing that I had received.

I was really afraid that nothing would be able to be recovered, but they were able to get all my files back. They also turned everything around faster than I expected and shipped my new external back to me with all my files and no issues.

Thank you again for saving all my files and all the support Frederick gave me! It really gave me peace of mind the whole time they were working on it and I am so happy to have my files back.
Lynette Horn
Reviewed on Aug 15, 2018 | Woodstock, CT
I purchased a brand new Macbook pro. After 5 weeks it completely failed and I had not set up ANY back-ups.I contacted Secure Data and they were great from the very first conversation through bunches of emails through the delivery of my recovered data. They recovered everything of value to me and I am happily working again (and on another brand new MacBook Pro, although diff make/model). A huge Th... Read Moreank You to all the talented folks at Secure Data! I don't know how you did it, but you did!!!
Certified Security
Secure Data Recovery protects your media and data throughout every step of the recovery process. We perform recoveries in our Class 10 ISO 4 Cleanroom facility, which limits dust particles in the air, preventing your device from experiencing further physical damage. We are an SSAE 18 Type II Certified Company that is audited regularly to ensure we meet industry standards. We hold other privacy certifications including:
PCI-DSS Compliance
HIPAA Compliance
Apple Mac Certified
GSA Approved
Privacy Shield Certified
24/7 Customer Service
The almost 33,000 residents of Franklin, MA deserve quality customer service as soon as their media fails. Secure Data Recovery has 24/7 phone lines and our representatives will set up your case, explain the recovery process, and answer any questions you may have. We offer free diagnostics with our standard service and our emergency service has an average turnaround of 48 hours.
Each case is given a diagnostic report with an estimated turnaround time and price point. After receiving the report, you are under no obligation to continue and we stand by our no data, no recovery fee promise. We even offer a 10% discount for military and students, like those attending Franklin's own Dean College.
What to do When Your Device Fails
If your device fails due to physical damage, logical damage, accidental file deletion, or failed rebuild, our engineers can retrieve your important files. Do not attempt to recover the data yourself as this could cause further damage and render your files unrecoverable. Call a professional as soon as your media fails. Our engineers will not void your product warranty and safely image your device to preserve the original device. Call to learn more about our services or start your case at 1-800-388-1266.