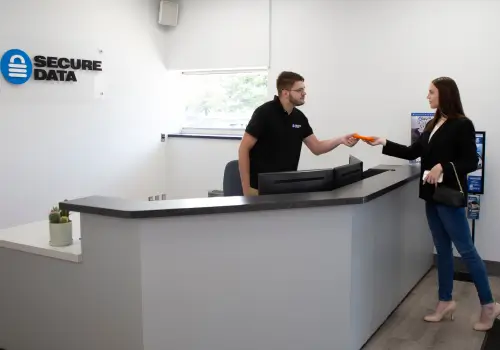 Data Recovery Services in Sandy Springs - RAID, SSD & Hard Drive Recovery
Secure Data Recovery Services provides Sandy Springs, Georgia with a dependable source for hard drive data recovery, RAID recovery and repair, mobile data recovery, tape and other professional media services.
Our customers rate our services:
We Helped Thousands Get Their Lost Data Back.
With over 5,329 satisfied customers and growing, we are proud to provide outstanding customer experience and quality service that consistently exceed customer expectations.
View All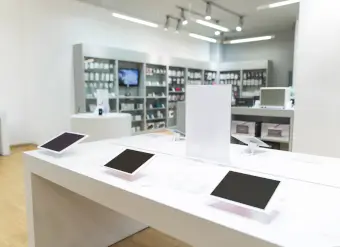 Secure Data Recovery Services
Emergency Services Available 24x7
Expert Data Recovery Services
Secure Data Recovery Services is the authority in Hard Drive Recovery, SSD Recovery and RAID Recovery. Since 2007, our data recovery company has helped tens of thousands of individuals and businesses of all sizes successfully recover from every type of data loss scenario. We understand the importance of data in the modern world and with our Economy, Standard and Emergency Data Recovery Options and state-of-the art technology we are ready to get your lost data back right now.
Experience total piece of mind with a "No Data, No Recovery Fee" Guarantee.
What Can We Recover For You Today?
Sandy Springs, GA Data Recovery
Jeremy Woods
Reviewed on Jan 03, 2018 | Snellville, GA
I was very satisfied with Secure Data Recovery. They were able to restore all of my data without any issues. They provided good customer service and worked with me to arrange a more affordable solution. I would recommend them for data recovery of any kind.
Dianna Thomason
Reviewed on Nov 17, 2015 | Powder Springs, GA
I have to admit that I was hesitant about acquiring Secure Data Recovery Services in Atlanta for several reasons. I truly believed that our issue was a simple fix that did not require sending off to an out of state facility. When they explained the process, I thought for sure this was some nonsense. Then later I understood. Mitchell Moore explained the process from beginning to end with precis... Read Moreion. I have never experienced the level of customer service in the past and I am extremely happy about the process. All of our data was recovered, but most importantly to be given an update as progress was made for each and every phase was outstanding. No complaints and very pleased...
Torin Mariani
Reviewed on Sep 29, 2015 | Snellville, GA
Having preparing for the recent release of Windows 10 I had made an external back up of everything on my computer for a fresh install and just move my data back afterward.

However being in the process of moving during the time I decided to wait till after i moved to restore everything. That was the wrong choice however. During the loading onto the truck, a box was knocked off the back ... Read Moreand spilled open, This box just so happened to contain the backup drive and with the large dent that came from the drop I just knew it wasn't good.

While searching for Recovery Services, I came across Secure Data Recovery. After sending my drive and getting the issues located, all the while getting some of the best customer service i've ever had! I just hoped that everything would go right. Checking on the status of the repair and seeing it get closer to being done was very informative and a great feature.

Unfortunately after the drive spending a few weeks with 'SDR' I received an update that even after multiple trial and errors that my drive was completely unrecoverable. Having at least expecting this I thanked them for the outstanding effort in trying to recover the drive. Im going to treat my future backups much safer now, But if I ever have to deal with data loss again Secure Data Recovery will be my first call!
Technical and Business Capabilities You Trust
One reason our customers love us is because we maintain major, verified business and technical certifications attesting to our continued investment in standards, technologies, training and sound business operations.
Data Security and Confidentiality
Our company takes customer data security and confidentiality very seriously. Our certifications in this area include SOC 1® and SOC 2® Under the Guidance of SSAE 18 Security Certifications and EU-US Privacy Shield. We also adhere to PCI-DSS standards and use DoD-standard 256-bit encrypted networks for data transfers.
Leading-Edge Technology
Secure Data Recovery Services was the first data recovery company to build certified Class 10 ISO 4 Cleanrooms. We employ Apple Mac Certified technicians and are approved by major hardware manufacturers and vendors.
Business Trust
We publically display our third-party business credentials on our website:
No. 1 Rating in Top Ten Reviews
TRUSTe Certified Policy
Better Business Bureau A+ Accreditation
GSA and ISSA Approved Contractor
Any Media, Any Device, Around-The-Clock Service
Regardless of the digital storage media suffering data loss or corruption, including hard drives, hybrid drives, SSDs, USB drives, tapes, memory cards and so on, it is critical to consult our Sandy Springs Authorized Partner Location immediately. Attempts by yourself or a less-adept recovery company could mean permanent loss of your valuable information.
We are certified to service any type of logical data, computer or network equipment such as databases, virtual servers, RAID arrays/storage controllers, servers, desktops, laptops, tablets and smartphones.
Our highly-skilled data recovery specialists are available 24/7/365 to assist you. Ask about our emergency recovery service with on-average 48-hour turnaround for mission-critical cases.
The First Step: A Risk-Free Evaluation
At Secure Data Recovery Services' Sandy Springs Authorized Partner Location,we offer rapid, free media evaluations that provide a list of recoverable data and service options to meet your needs. All of our work is backed by a No-Recovery/No-Cost guarantee. Case monitoring is available via phone, app or our web portal.
In Sandy Springs, Immediate Data Recovery Assistance
Call our award-winning customer service reps now at 1-800-388-1266 to initiate your case evaluation or make inquiries about data recovery or our other services, which include database repair or data migration and conversion.