Data Recovery Services in Alpharetta - RAID, SSD & Hard Drive Recovery
We have offered reliable data recovery services in Alpharetta, GA for over 15 years. Recovering from sudden data loss has never been convenient. Our store at 5460 McGinnis Village Place, off Christopher Robin Road and west of the Flynn Crossing shopping mall, is available for walk-ins.
Trust the professionals for hard drive data recovery in Alpharetta, GA. Our process includes free, comprehensive diagnostics and a "No Data, No Recovery Fee" guarantee.
Our customers rate our services:
We Helped Thousands Get Their Lost Data Back.
With over 5,331 satisfied customers and growing, we are proud to provide outstanding customer experience and quality service that consistently exceed customer expectations.
View All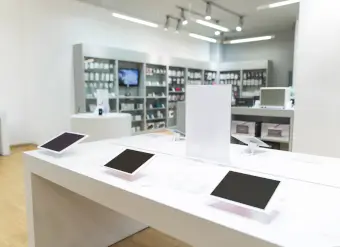 Secure Data Recovery Services
Emergency Services Available 24x7
Secure Data Recovery Near You
Need data recovery services in Alpharetta, GA? In addition to our location in eastern Alpharetta, GA, we have stores throughout Metro Atlanta.
For data recovery in Atlanta, we have a location at 2490 Briarcliff Road, in the Brighten Park shopping mall, near the North Druid Hills intersection. Or visit us at 857 Collier Road, near the Howell Mill Road intersection, in Atlanta's Wildwood neighborhood. We also have a store at 3340 Peachtree Road near the Buckhead Theatre in northern Atlanta.

You can also find us in Sandy Springs at 5920 Roswell Road, north of Interstate 285, in the Parkside Shopping Center. Our Marietta store can be found at 2727 Canton Road, near the intersection with Piedmont Road. In Roswell, we are located at 740 Hembree Place, near the intersection with the Hembree Parkway, south of the Wellstar North Fulton Medical Center. Or stop into our store at 3330 Cobb Parkway in Acworth.
Call us or visit one of our convenient locations to start a case and reclaim lost data.
Roswell, GA Data Recovery Company
Secure Data Recovery Services is the authority in hard drive recovery, SSD recovery, and RAID recovery. Since 2007, our data recovery company has helped tens of thousands of individuals and businesses of all sizes in Metro Atlanta successfully recover from every type of data loss scenario imaginable. We have seen your failure type before and our team understands the importance of data in the modern world. We're ready to recover your lost data with our flexible Economy and Standard data recovery services, or immediately with our Emergency data recovery option.
What Can We Recover For You Today?
In addition to hard drive recovery and RAID recovery, we specialize in complex data loss solutions for SSD drives and other NAND-based flash memory devices, iPhones and Android smartphones, network-attached (NAS and SAN) storage systems, and virtual machines.
Alpharetta, GA Data Recovery Reviews
Sarah Uhn
Reviewed on Jul 14, 2023 | Duluth, GA
Thank you to Jonathan + the Secure Data Recovery team who all put in time & energy to help me recover lost data on a damaged hard drive. Jonathan was very helpful in the process by communicating, answering all of my questions and being patient with me. Not only did the team recover all of my data, but data was recovered almost two weeks earlier than expected - That was such a relief and I am etern... Read Moreally grateful for their work.
John Hughes
Reviewed on Sep 16, 2022 | Johns Creek, GA
Very pleased with the professionalism
Timothy explained and walked me through the restoration process upfront and provided several options. I was communicated frequently, throughout the process, and Timothy provided prompt responses to any of my questions or concerns. I received all my data back fully restored, quicker than expected. Overall, I was very pleased with Timothy and Secure Data for their customer support. Hopefully I do no... Read Moret need their service again, but I would definitely recommend them to others. Thanks again.
Scott Peneau
Reviewed on Mar 09, 2022 | Cumming, GA
Great Customer Service & Quick Response
Scott McMacken with Secure Data provided super quick response and service from the first phone call to the follow up after delivery. The process was very easy and fast with FedEx overnight both ways and Secure Datas quick turnaround time. I chose the expedited option and had my data back in 4 business days. Thanks Scott and and Secure Data team!
Amy Ishii
Reviewed on Feb 22, 2022 | Norcross, GA
Tim Rutan was my sherpa, navigating me through the process to submitting my drive. A complete mechanical failure causing loss of my important personal pictures and work files is nerve-wracking already, but he was completely professional and understanding throughout the whole process. I knew what to expect the whole time, and why the costs were what they were. All thanks to his quick communication.... Read More I ended up not using their services for completely unrelated reasons (was able to get my most important files from a different source). Even after discovering I decided not to be a customer, Tim never waivered in his friendly and quick communicaton in getting my harddrive sent back to me. That is why I wanted to submit a review and recommend Secure Data Recovery, as I would 100% go back to them myself.
Olivier Hustin
Reviewed on Feb 09, 2022 | Cumming, GA
Excellent Data Recovery service
Very satisfied by the Data Recovery and Customer Service offered by Eric D. He helped recover all the data from a defective laptop hard drive I thought could not be salvaged. Eric made the shipping, pricing and data recovery process straightforward. I would highly recommend Secure Data Recovery to anyone.
Aundrey Mattox
Reviewed on Dec 29, 2021 | Smyrna, GA
Our client needed to have a critical data recovery project completed. Scott with Secure Data Recovery Services assisted with getting us the best possible price to get the project completed with a high degree of success. These guys are the best in the business when it comes to Data Recovery Services. I would highly recommend Secure Data Recovery Services for any sort of data recovery project. S... Read Morecott is an awesome communicator and very knowledgeable. Thanks Scott!
Why Choose Secure Data Recovery in Alpharetta, GA?
Certified and Verified Secure
Transparent Process
Trusted and Guaranteed Results
Secure Data Recovery Services operates in world-class facilities that undergo regular SSAE 18 SOC 1, SOC 2, and SOC 3 audits to verify the integrity of all cybersecurity management control systems. This means that your data is protected at every stage of the recovery process.
Each of our Lab facilities also has a certified Class 10 ISO 4 cleanroom. This specialized environment provides state-of-the-art filtration to remove potentially harmful airborne particulates that could damage the sensitive internal components of storage devices.
For more than a decade, the engineers at Secure Data Recovery Services have built a reputation as the most reliable provider of professional data recovery in the industry. Our expert team maintains a documented 96% successful recovery rate.
We maintain partnerships with every major digital storage manufacturer to ensure our custom solutions never threaten any existing product warranties. We also invest heavily in research and development to keep pace with rapidly evolving digital storage technology.
Free Data Recovery Quote
We intimately understand all data loss scenarios and will exhaust all options technologically possible to reunite you with your lost data as quickly as possible. When you choose Secure Data Recovery Services, you get the most credentialed professionals in the industry.
Service times and exact pricing for a successful recovery always depend on the specific damage to the storage, which is why we offer free, no-risk diagnostics with every standard service.
Our quotes consist of:
Price for successful recovery
Time estimates for job
Key information about the events that led to data loss
Call 470-622-5156 to speak to a data recovery expert 24x7 and schedule your free data recovery consultation with a no-obligation price quote.