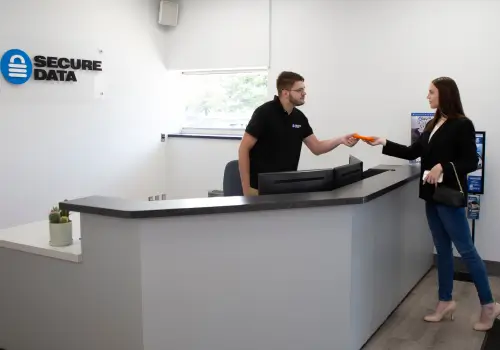 Data Recovery Services in Greenwich - RAID, SSD & Hard Drive Recovery
Secure Data Recovery Services in Greenwich, Connecticut provides a secure set of professional data services through our local office, including hard drive data recovery, data tape repair and RAID data recovery.
Our customers rate our services:
We Helped Thousands Get Their Lost Data Back.
With over 5,320 satisfied customers and growing, we are proud to provide outstanding customer experience and quality service that consistently exceed customer expectations.
View All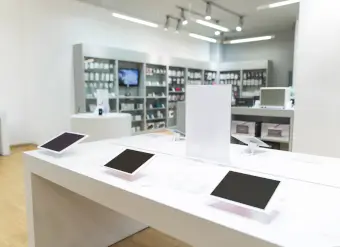 Secure Data Recovery Services
Emergency Services Available 24x7
Expert Data Recovery Services
Secure Data Recovery Services is the authority in Hard Drive Recovery, SSD Recovery and RAID Recovery. Since 2007, our data recovery company has helped tens of thousands of individuals and businesses of all sizes successfully recover from every type of data loss scenario. We understand the importance of data in the modern world and with our Economy, Standard and Emergency Data Recovery Options and state-of-the art technology we are ready to get your lost data back right now.
Experience total piece of mind with a "No Data, No Recovery Fee" Guarantee.
What Can We Recover For You Today?
Greenwich, CT Data Recovery Reviews
Daniel Braun
Reviewed on May 12, 2023 | East Hartland, CT
Scott was very helpful explaining what was needed to recover my lost files. Pricing seemed reasonable.
Jeff Chodack
Reviewed on Apr 13, 2023 | New Milford, CT
I had an External Hard Drive with many photos of family and friends. Most of the JPGs had been backed up but I had not backed up my camera RAW files and that was my mistake. Sooner or later hard drives fail, and I knew better. Secure Data did a great job recovering the files and a big shout out to Scott McMacken who answered all my questions and worked with me to find the best solution within m... Read Morey budget. Scott was very responsive when I had questions and always kept me in the loop as the recovery proceeded. They sent me a detailed list of the files that could be recovered as well as a list of those that were not recoverable. The secure drive of backup files arrived quicker than expected.
Thanks to Scott and the rest of the Secure Data Team.

Mary Alonzo
Reviewed on Feb 01, 2023 | Southington, CT
Thank you Secure Data & Daniel Novak
Thank you Secure Data and more specially Daniel Novak for restoring my backup. Computer Hard Drive crashed to oblivion on 12/21. Received a new empty hard drive on 1/6. Plugged in my backup local hard and that failed. 98% of my life was on that computer with over 10 years of medical, family information, recipes, intricate Excel spreadsheets, you name it, disappeared. I feel very fortunate and ... Read Moream grateful that Daniel Novak was assigned to my case. He was so thorough and patient and explained the whole process of recovery to me. It seemed as though he works 24/7 because every time I asked a question he immediately responded. He took ownership of my case and helped put me at ease. He offered advice regarding how to protect my files going forward. I never felt rushed through a question or concern. The files were restored within the time frame promised. Daniel assured me that he will be available should a problem or question arise during the installation process. I have no doubt that he will.
Mark Richter
Reviewed on Aug 01, 2021 | Branford, CT
Client called with a non-booting PC and no backups. Reached out to Anna Kazakovtseva at SecureData. Anna was extremely responsive and helpful and emailed a prepaid label. Shipped the drive to the recovery center the same day. The recovery team was able to recover 99% of the drive except for some log files. They returned the data on an external secure drive and we were able to restore the needed d... Read Moreata onto a new machine.

If you find yourself in a similar situation don''t hesitate to reach out to Anna and the team. They provide excellent, timely and fairly priced service.
Stephanie Rufa
Reviewed on May 26, 2021 | New Milford, CT
I experienced a hard drive failure and contacted Secure Data Recovery for help. I had a lot of questions and was concerned about the cost. I spoke with Tim on multiple occasions and was reassured as he clearly explained the process and answered all of my questions. I received a copy of (most of) my data earlier than expected and was given specific information regarding files that couldn''t be reco... Read Morevered. Overall the process was simple and Tim was great to work with.
Usmat
Reviewed on May 24, 2021 | Southbury, CT
Retrieiving info from Lacie Harddrive
Great experience with Secure Data Recovery. The specialist Scott McKacken was very courteous and very helpful. Scott worked with me on the price. Highly recommended.
Like all of our locations, our Greenwich, Connecticut facility is accredited with the Better Business Bureau, and has a top rating of A+ from the trusted organization.
BBB of Connecticut - Accredited Company with an A+ Rating
Our A+ rating with the BBB is the result of years of excellent standards of service. Read about how we were assigned this top rating in our latest business review from the BBB.
With a local economy mainly focused around the insurance service industry, Greenwich, Connecticut is one of the nation's wealthiest cities per capita. It is known for its strong community and its numerous historical attractions, and by establishing a local office, Secure Data Recovery Services is proud to serve the city of Greenwich, Connecticut and the surrounding area.
Some of the most common causes of data loss for Greenwich computer users include:
Physical hard drive failures
RAID hardware failures and failed rebuilds
File deletion and accidental formatting
Virus damage
Fire and smoke damage
Water damage, electronics damage and more
Secure Data Recovery Services can help you restore missing files after virtually any type of data loss event. Our experts have experience with both physical and logical failure scenarios, and we offer an overall success rate of 98 percent. By rebuilding damaged devices and treating corrupt or deleted files with specialized tools, we provide safe, secure results.
We also offer free diagnostics and a no recovery, no charge guarantee for all standard data recovery cases. Contact our local office today to get started.
What to Do When a Data Storage Device Fails
Sudden data loss can have severe consequences for any computer user. However, you may cause accidental damage by attempting to run your device in a failed state or by attempting your own recovery. Regardless of the apparent cause of the failure, operating your storage system will significantly increase the risk of permanent data loss.
To quickly restore access to important files, we recommend turning your system off as soon as possible. This helps to limit physical and logical damage, particularly for hard drives and other mechanical media. Schedule diagnostics at our Greenwich, Connecticut data recovery office for a professional analysis and free quote.
Our team will carefully analyze your failure scenario to determine an appropriate course of action. We will provide a fast price quote and turnaround estimate, and after receiving your approval, we will treat physical media damage in a certified Class 10 ISO 4 Cleanroom.
With an advanced laboratory and an extensive set of security certifications, we safely treat thousands of digital storage devices each year through our large service network. Our engineers have experience with all operating systems and file systems. With our proprietary tools, we can safely treat corrupt or damaged files, including RAID data recovery, in Greenwich, Connecticut.
Advanced Resources for Data Recovery in Greenwich, CT
Secure Data Recovery Services invests in new technologies, and our teams have decades of relevant experience. We can safely repair most systems in a matter of hours under our 24/7/365 emergency service, and we offer several other options to help our data recovery clients avoid serious downtime.
Security is a major factor for Greenwich, Connecticut's insurance service industry, and we take appropriate measures to protect our clients' data. Secure Data Recovery Services was the first provider in Connecticut with a SSAE 18 Type II SOC-1 certification, and we fully comply with a number of established standards.
Other advantages of working with Secure Data Recovery Services include:
Free diagnostics and no recovery, no charge guarantee
Advanced options for data tape repair and RAID data recovery
Support for all operating systems
Multiple service options with flexible turnaround times
High success rates for all types of digital storage devices
Secure Data Recovery Services is proud to provide exceptional options for Greenwich, Connecticut hard drive data recovery, media repair and related services. As one of the only providers with established security credentials, we can safely treat any type of device, and our no recovery, no fee guarantee means you don't pay a penny unless we recover data. Greenwich, Connecticut residents can get started with our online recovery form.