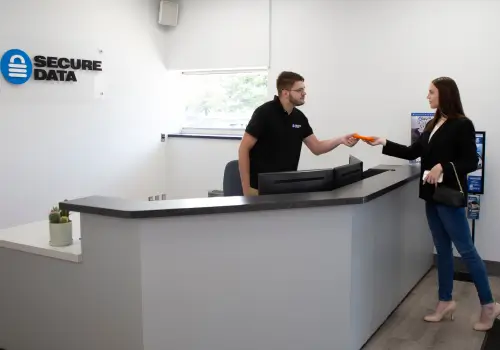 Data Recovery Services in Danbury - RAID, SSD & Hard Drive Recovery
Data loss can have a terrible impact on both your individual digital life and your office storage systems. But there is a way to get your digital life back on track. With Secure Data Recovery, you will have a team of certified engineers on your side who boast an industry-leading 96% success rate. When our team is on the job, you can rest easy knowing your data will be back in your hands.
Our customers rate our services:
We Helped Thousands Get Their Lost Data Back.
With over 5,453 satisfied customers and growing, we are proud to provide outstanding customer experience and quality service that consistently exceed customer expectations.
View All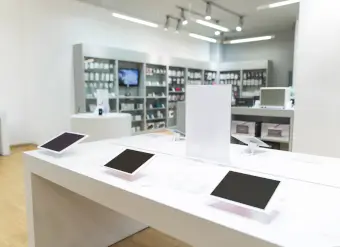 Secure Data Recovery Services
Emergency Services Available 24x7
Ranked as the second-best city to live in the United States by USA Today in 2015, the city of Danbury has a history of industry. Once a major hat-making center, the city now hosts businesses like Collins Aerospace, GE Commercial Finance, and Western Ct Health Network. But whether you're one of the city's 84,000 residents taking a day stroll through Squantz Pond State Park, or a visitor stopping to explore the Danbury Railway Museum, the interruption of data loss can turn a fun day into a hassle. But with Secure Data Recovery on your side, you'll have the industry's leaders to recover your data.
Expert Data Recovery Services
Secure Data Recovery Services is the authority in Hard Drive Recovery, SSD Recovery and RAID Recovery. Since 2007, our data recovery company has helped tens of thousands of individuals and businesses of all sizes successfully recover from every type of data loss scenario. We understand the importance of data in the modern world and with our Economy, Standard and Emergency Data Recovery Options and state-of-the art technology we are ready to get your lost data back right now.
Experience total piece of mind with a "No Data, No Recovery Fee" Guarantee.
Recovery Services We Offer
Danbury, CT Data Recovery Reviews
GERALD GREEN
Reviewed on Nov 08, 2023 | Monterey, MA
I was very skeptical that the data on my external hard drive could every be recovered. Elliot Fisher assured me that my doubts were unfounded. He proved himself to be absolutely correct. All my files are back where they belong. Secure Data did an excellent job. I wouldn''t hesitate to call upon them in the future. Many thanks . The Company was a pleasure to deal with.
Yuliya Ulyanava
Reviewed on Oct 28, 2022 | Bloomfield, CT
Very professional service
I had very pleasant experience with this company. They reply to your online request within next hour, provide a free evaluation and free shipping, the recovery process itself was fast, in my opinion. And you can always go online and see the status of your case. My representative was extremely helpful, very professional and knowledgeable. I would strongly recommend this place.
Shan Wallace
Reviewed on Oct 11, 2021 | Danbury, CT
I was completely distraught about my hard drive but the Secure Data Family truly helped me out not this one. I worked with Eric Dvorin the entire time and he ensured me everything would be done to retrieve my files. Eric was understanding, communicated extremely well. Eric even helped figure out a plan for me when it was time to get a quote and make a payment. Eric thank you so much for all of you... Read Morer help!
Mary Kathleen Schulman
Reviewed on Dec 04, 2019 | Fairfield, CT
Excellent Service and Professionalism
My laptop broke and I was unable to recover the files on the hard drive on my own, so I decided to entrust it to Secure Data Recovery after reading about their experience and high standards for certifications. My account representative, Jake Gambatese, was very helpful, knowledgeable and quick to respond to all of my questions - he really helped put my mind at ease throughout the process. My hard ... Read Moredrive was restored in no time and I have my files back now, including priceless photos and memories I was afraid I had lost forever! Huge thank you to Secure Data and especially to Jake for all of your help!
Saskia De Jongh
Reviewed on Dec 15, 2016 | Riverside, CT
I can't thank the people of Secure Data enough, esp. Jeremy, for what they did. Not only the way they communicate is amazing, very quick and correct, but also saving so many of my important and valuable pictures and videos I thought I had lost forever is just beyond words. I am so happy I found this company. It's always scary to leave your valuable disk with an for me unknown company, but they des... Read Moreerve all the trust. They are extremely reliable and deliver top quality work.
Jesika Estepanian
Reviewed on May 13, 2015 | Old Greenwich, CT
I had a Dell system - RAID10, only 1 1/2 years old
It was not suppose to fail, but it did
Your company was highly recommended, and when I called , Alec was incredibly helpful, explained and answered all my questions on the phone.
The follow up he provided me with was efficient and very important for peace of mind for me.
As I mentioned to him over the phone, I hope I never have... Read More to talk to SDR again, but if I do, I would prefer it to be through Alec.
Best of luck
Jesika Estepanian
Praiseworthy Customer Service
Our 24/7 customer service is always on the lookout for data loss, so whether it strikes in the morning or in the middle of the night, you can always count on us to be there when it matters! We aim to make the data recovery process as easy and stress-free for you. When you entrust us with your media, we'll give you a risk-free diagnostic evaluation of your media along with a price quote at zero obligation.
Our certified engineers are the best in the industry thanks to their rigorous training in the latest methods of data recovery. We're always staying ahead of the cutting-edge recovery techniques through the efforts of our specialized R&D department. Our researchers are always looking for new ways to recover data not just from current media, but even from media that's soon to hit the market. Our methodology is so thorough, if your data still proves unrecoverable, we can promise you that no competitor can get that data back. But that also means you won't have to pay for the recovery service fee. That's our "no data, no recovery fee" guarantee.
Highly Qualified Service
Our many certifications play an important part in maintaining our fantastic success record. Each certification is a promise of quality for our customers. With our Class 10 ISO 4 Cleanrooms, you'll know that your media will be treated in the best environment possible for recovering data by keeping airborne particles to a minimum. Meanwhile, with our SSAE 18 Type II certification, you can rest assured that your data privacy will be strictly protected by us. Finally, when your data is ready to be returned to you, our FIPS 140-2 Level 3 Data Handling Practices means you'll receive your data on our award-winning, hardware-encrypted transfer media. With us, your data security is guaranteed.
Shield Your Digital Estate in Danbury, CT
For every information-storing device out there, there's a host of ways that data loss can reach your data. Here are some ways that data loss can happen to your media:
Multiple hard drive failures
Accidental rewriting or deletion of important files
A malicious virus infects your computer and wreaks havoc across vital files
The ways of data loss are many, but the experts at Secure Data Recovery can be your single solution to all of them. Call us at 1-800-388-1266 and keep your data safe.