Data Recovery Services in Colorado Springs - RAID, SSD & Hard Drive Recovery
We have served the Colorado Springs metropolitan area for over a decade by offering industry-leading data recovery services from failed hard drives, SSDs, and servers. Our store at 3033 North Hancock Avenue, between Columbine Boulevard and Primrose Drive, is less than two miles from Palmer Park.
Use the experts for hard drive data recovery in Colorado Springs. We can reunite you with your data. Our services feature free diagnostics and a "No Data, No Recovery Fee" guarantee.
Our customers rate our services:
We Helped Thousands Get Their Lost Data Back.
With over 5,329 satisfied customers and growing, we are proud to provide outstanding customer experience and quality service that consistently exceed customer expectations.
View All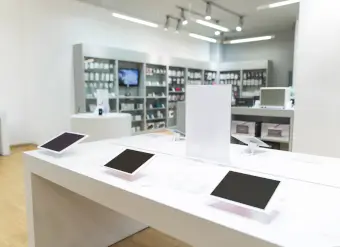 Secure Data Recovery Services
Emergency Services Available 24x7
Secure Data Recovery Near You
Looking for data recovery services in Colorado Springs? We have multiple locations in the Pikes Peak area, including our downtown Pueblo store at 119 West 6th Street, just off Interstate 25.
Data recovery in Colorado Springs, CO is closer and more convenient than ever for residents of the Springs. Call us or stop at one of our stores to schedule a free consultation and receive a no-obligation quote.
Colorado Springs Data Recovery Company
Secure Data Recovery Services is the authority in hard drive recovery, SSD recovery, and RAID recovery. Since 2007, our data recovery company has helped tens of thousands of individuals and businesses of all sizes in the Colorado Springs metropolitan area successfully recover from every type of data loss scenario imaginable. We have seen your failure type before and our team understands the importance of data in the modern world. We're ready to recover your lost data with our flexible Economy and Standard data recovery services, or immediately with our Emergency data recovery option.
What Can We Recover For You Today?
In addition to hard drive recovery and RAID recovery, we specialize in complex data loss solutions for SSD drives and other NAND-based flash memory devices, iPhones and Android smartphones, network-attached (NAS and SAN) storage systems, and virtual machines.
Colorado Springs Data Recovery Reviews
Noah Elliott
Reviewed on Aug 22, 2023 | Colorado Springs, CO
Awesome, Thorough, Excellent services
Recently, I had the pleasure of working with Secure Data Recovery and specifically Jake Gambatese. They were able to get me all my data back to me. I have nothing but positive things to say about my experience. Was really worried I would not be able to get my data back, but they got me everything I needed for both personal and professional work. They were very responsive and answered all my questi... Read Moreons in a timely manner. I would highly recommend them to anyone looking to rescue their data. Thank you to everyone at Secure Data.
John Duston
Reviewed on Jan 24, 2023 | Cañon City, CO
Professional and courteous service!
This is the first time using a data recovery service. I keep very important records on a portable drive (WD) This drive was purchased August 2022 and failed January 2023. I spoke with customer service at WD with no luck. In fact they could care less that their product failed.
I found SDR while searching for solutions to try and restore my data. They had great reviews so I filled out the ... Read Moreonline form.
I was surprised that Jonathan called me with in the hour and discussed the issue I was having. He was calm and reassuring.
Jonathan offered to provide an overnight shipping label and perform diagnostic testing on my drive. The turn around time was incredible. He called me to let me know they had a "Chance" of recovery of most data. Jonathan kept in contact and performed professionally throughout the process. Great performance of customer service! Thanks
Catherine Stitt
Reviewed on Jan 27, 2022 | Cañon City, CO
Excellent Service and Successful Data Recovery
I foolishly waited too long to start a full back up of my critical data after my external hard drive started giving signs of failure. As I was backing up 20+ years of photos (plus any number of irreplaceable documents), the drive stopped responding and I knew that my normal methods of recovering the data on my own were probably not going to work. I contacted SecureData Recovery Services for a quo... Read Morete and I was contacted by Eric, who sent me the shipping label for my disabled drive for overnight delivery. Eric and Mitchell kept me informed on what their team was doing and what their diagnostics revealed - I was very relived when they felt that with some work on the original drive they thought they could successfully recover the data! Although I picked the "slow" time frame, they had the drive back to me in about two weeks, which was faster than my expectations, and they were able to recover everything I hoped they would. Eric was great to work with throughout the whole process.

While I''ve been preaching to all my friends about creating appropriate backups of their own data (because we all get complacent) I would not hesitate to recommend Eric and Secure Data Recovery Services if you find yourself in the same situation I did. I am very satisfied with the service and results I received!
Keith Lang
Reviewed on Feb 02, 2021 | Cary, IL
I had a WD Passport that died with data that had not been backed up recently.
The service provided was timely, professional, and courteous.
Timothy kept me well informed during the entire process.
Sam Gravitt
Reviewed on Nov 23, 2020 | Highlands Ranch, CO
Secure Data Recovery Services did a great job with my failed thumb drive recovery. Elijah was very professional, explained the process thoroughly, and answered all my questions. The process was just as described and I couldn''t be happier with the outcome. I would absolutely recommend this fine company and all the folks that work there!
Frank Davis
Reviewed on Oct 23, 2020 | Colorado Springs, CO
Secure Data Recovery Services did a great job with HD recovery. Elijah was professional, responded quickly, and answered all my questions. I would recommend, great company.
Why Choose Secure Data Recovery in Colorado Springs?
Certified and Verified Secure
Transparent Process
Trusted and Guaranteed Results
Secure Data Recovery Services operates in world-class facilities that undergo regular SSAE 18 SOC 1, SOC 2, and SOC 3 audits to verify the integrity of all cybersecurity management control systems. This means that your data is protected at every stage of the recovery process.
Each of our Lab facilities also has a certified Class 10 ISO 4 cleanroom. This specialized environment provides state-of-the-art filtration to remove potentially harmful airborne particulates that could damage the sensitive internal components of storage devices.
For more than a decade, the engineers at Secure Data Recovery Services have built a reputation as the most reliable provider of professional data recovery in the industry. Our expert team maintains a documented 96% successful recovery rate.
We maintain partnerships with every major digital storage manufacturer to ensure our custom solutions never threaten any existing product warranties. We also invest heavily in research and development to keep pace with rapidly evolving digital storage technology.
Free Data Recovery Quote
We intimately understand all data loss scenarios and will exhaust all options technologically possible to reunite you with your lost data as quickly as possible. When you choose Secure Data Recovery Services, you get the most credentialed professionals in the industry.
Service times and exact pricing for a successful recovery always depend on the specific damage to the storage, which is why we offer free, no-risk diagnostics with every standard service.
Our quotes consist of:
Price for successful recovery
Time estimates for job
Key information about the events that led to data loss
Call 719-215-7879 to speak to a data recovery expert 24x7 and schedule your free data recovery consultation with a no-obligation price quote.