Data Recovery Services in Roseville - RAID, SSD & Hard Drive Recovery
Recovering data from a failed storage device has never been easier for Roseville, CA residents. For over 15 years, we have served Roseville, CA and the surrounding area with certified data recovery services. Our location at 5140 Foothills Boulevard, on the corner of McAnally Drive, near Foothill Junction, is available for walk-ins.
Trust the experts for hard drive data recovery in Roseville, CA. We offer a free consultation, no-obligation quote, and fast turnarounds times.
Our customers rate our services:
We Helped Thousands Get Their Lost Data Back.
With over 5,329 satisfied customers and growing, we are proud to provide outstanding customer experience and quality service that consistently exceed customer expectations.
View All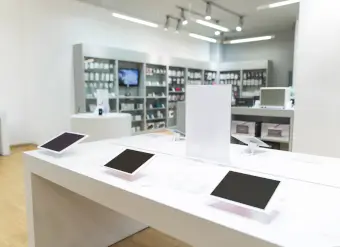 Secure Data Recovery Services
Emergency Services Available 24x7
The engineers at Secure Data Recovery have successfully recovered tens of thousands of failed devices. Our personnel possess the most industry-specific certifications of any data recovery company. We will exhaust every technological option available to resolve data loss situations for our Roseville, CA customers.
Secure Data Recovery Near You
Are you looking for data recovery services in Roseville, CA? We have multiple stores throughout the Greater Sacramento area.
We have a location in northeast Sacramento at 2933 Fulton Avenue, between Marconi Avenue and Valley Road, just south of the Capital City Freeway. We have another Sactown store at 333 University Avenue, in the Campus Commons neighborhood, along the banks of the American River. Or visit us in Citrus Heights at 5500 Sunrise Boulevard, Suite 300, near the intersection with Pebble Beach Drive.
Roseville, CA data recovery is more convenient than ever.
Call or stop into one of our stores today to start the data recovery process.
Data Recovery Company in Roseville, CA
Secure Data Recovery Services are the Roseville hard drive recovery, SSD recovery and RAID recovery experts. Since 2007, our data recovery company has helped tens of thousands of individuals and businesses of all sizes in Roseville successfully recover from every type of data loss scenario imaginable. We have seen your failure type before and our team understands the importance of data in the modern world. We're ready to recover your lost data with our flexible Economy and Standard data recovery services, or immediately with our Emergency data recovery option.
What Can We Recover For You Today?
In addition to hard drive recovery and RAID recovery, we specialize in complex data loss solutions for SSD drives and other NAND-based flash memory devices, iPhone and Android smartphones and mobile devices, network-attached (NAS and SAN) storage systems, and virtual machines.
Roseville, CA Data Recovery Reviews
Amoldeep Bains
Reviewed on Aug 23, 2023 | Roseville, CA
I had looked into many other places to recover the data on my drive, what drew me to this company was the customer service! Scott did amazing and gave me the reassurance I needed! My drive was successfully recovered even sooner than the time frame I was given! The price for the recovery was also reasonable with my budget!
Matt Brys
Reviewed on Jan 04, 2023 | Roseville, CA
About a week ago, we discovered that the RAID file server which houses critical data for our company crashed. Additionally, our back-up was corrupted, leaving us dead in the water. In speaking with Dell (the server manufacturer), it was determined that our only shot at recovering the data was to find a data recovery company. We are in the Sacramento, Ca area and contacted a few data recovery speci... Read Morealists in our region and beyond. We landed on Jonathan and Secure Data. Approximately one week from shipping our hard drive set to Secure Data, the team shipped us a new hard drive with ALL of our files restored. All of them. And... they all appear to work great. Jonathan even sent us a critical database file via file transfer ahead of the shipment so we could get back online. We are grateful for the effort of the entire team.
Garth Nearents
Reviewed on Oct 23, 2022 | Roseville, CA
Secure Data Recovery was the first company I called to retrieve my most important files for my company... My project files... All of them. Without that folder I would be out of business. Once I spoke to Elliot about the urgency and getting his assurances I did not need to call anyone else. His customer service was great throughout. Very communicative and prompt. I would not only recommend Secure D... Read Moreata but also Elliot Fisher. Nice work guys! Thank you Elliot!
Jim Dragon
Reviewed on Mar 29, 2022 | Rocklin, CA
From the moment I contacted Data Recovery Services, the support was excellent. Without much knowledge of the data recovery process, Jonathan made it extremely simple and worry free by sending me links to the closest drop off location. The staff at the drop off location were knowledgeable and provided me with the necessary tracking and shipping details to give me piece of mind when sending my lapto... Read Morep across the country. Every step along the way during the diagnostic process of the laptop, Jonathan provided key details and always kept me informed. I will recommend Jonathan to other friends and colleagues if their computer crashes. Keep up the great work!
Tyler Winick
Reviewed on Mar 06, 2021 | Roseville, CA
Full Recovery, answered all my questions.
I am so grateful for the help I received from Scott McMacken and the team at secure data. He answered all my questions in a timely matter and helped me though a difficult recovery.
Accounting Pottery World
Reviewed on Jan 13, 2021 | Rocklin, CA
They made the best of a bad situation. Scott (Chris) McMacken was always very responsive to my questions and took us through the steps and options in trying to recover our hard drives. Very professional. Hope to never be in this position again, but, if we were, we would contact Scott and Secure Data Recovery.
Why Choose Secure Data Recovery in Roseville, CA?
Certified and Verified Secure
Transparent Process
Trusted and Guaranteed Results
Secure Data Recovery Services operates in world-class facilities that undergo regular SSAE 18 SOC 1, SOC 2, and SOC 3 audits to verify the integrity of all cybersecurity management control systems. This means that your data is protected at every stage of the recovery process.
Each of our Lab facilities also has a certified Class 10 ISO 4 cleanroom. This specialized environment provides state-of-the-art filtration to remove potentially harmful airborne particulates that could damage the sensitive internal components of storage devices.
For more than a decade, the engineers at Secure Data Recovery Services have built a reputation as the most reliable provider of professional data recovery in the industry. Our expert team maintains a documented 96% successful recovery rate.
We maintain partnerships with every major digital storage manufacturer to ensure our custom solutions never threaten any existing product warranties. We also invest heavily in research and development to keep pace with rapidly evolving digital storage technology.
Free Data Recovery Quote
We intimately understand all data loss scenarios and will exhaust all options technologically possible to reunite you with your lost data as quickly as possible. When you choose Secure Data Recovery Services, you get the most credentialed professionals in the industry.
Service times and exact pricing for a successful recovery always depend on the specific damage to the storage, which is why we offer free, no-risk diagnostics with every standard service.
Our quotes consist of:
Price for successful recovery
Time estimates for the job
Key information about the events that led to data loss
Call 916-586-8915 to speak to a data recovery expert 24x7 and schedule your free data recovery consultation with a no-obligation price quote.