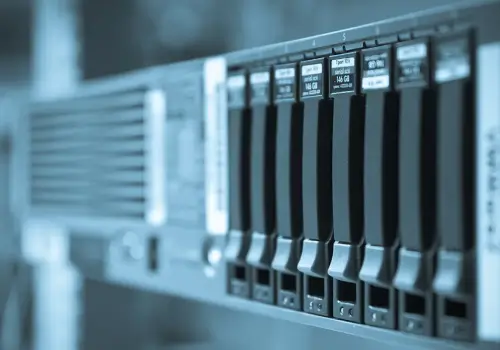 EMC RAID Data Recovery and RAID Repair Services
Secure Data Recovery Services provides a reliable and professional resource for EMC RAID data recovery. As RAID specialists, we recover files from hundreds of arrays each year, and our engineers can treat all failure scenarios effectively while maintaining excellent security controls.

Secure Data Recovery Services' RAID engineers can treat all EMC systems regardless of size or configuration.

Our customers rate our services:
We Helped Thousands Get Their Lost Data Back.
With over 5,329 satisfied customers and growing, we are proud to provide outstanding customer experience and quality service that consistently exceed customer expectations.
View All
EMC offers enterprise-level storage products and systems, including a number of RAID arrays that use a proprietary RAID technology called RAID-S. This technology is similar to RAID 5, but offers better performance for some applications.
EMC storage systems also support other RAID levels, and the company's devices have a reputation for reliability and availability. When RAID failures occur, the most likely reasons for data loss include data corruption, hardware failures, hard drive losses past redundancy, user error and accidental deletion.
Secure Data Recovery Services offers professional data recovery services for RAID 0, 1, 5, 6, RAID S and all other RAID levels. With decades of combined experience, our RAID data recovery team has worked with every popular EMC storage system.
We offer EMC data recovery for all systems including:
Symmetrix VMAX and Symmetrix VMAXe
VNX and VNXe
CLARiiON
Celerra
Iomega RAID
Isilon and More
Secure Data Recovery Services' engineers also have experience with VMware, VPLEX and other virtualization platforms, which allows for high data recovery success rates and fast turnaround times for newer systems. Unlike many other providers, we offer free EMC data recovery diagnostics for all RAID, NAS and SAN systems. Call us today to schedule an evaluation at one of our offices.
Professional EMC Data Recovery with Reliable Results
We use the latest data recovery techniques and technologies to provide the best possible EMC data recovery services. Through regular investments in our laboratory and ongoing staff training, we maintain an excellent overall success rate of 96 percent.
Advantages of Secure Data Recovery Services include:
Multiple Service Options and 24/7/365 Emergency RAID Services
Numerous Security Credentials and Certified Cleanroom Technology
Hardware Library with EMC RAID Controllers for Faster Service
Online Case Status Monitoring Tools
Onsite RAID Repair to Limit Your Business's Downtime
No Recovery, No Charge Guarantee and Risk-Free Diagnostics
Secure Data Recovery Services uses proprietary software to rebuild damaged or corrupted data, often resulting in a full recovery in less than a week under our standard service option. Our engineers can also safely repair physically damaged media in our certified Class 10 ISO 4 Cleanroom.
We were the first data recovery provider to earn a SSAE 18 Type II security certification, and our engineers always take appropriate precautions when handling sensitive recovered data. Whether you need access to a single file or you need to restore a full server to a working condition, we have the expertise and credentials to provide reliable results.
What to Do When an EMC RAID Fails
If your EMC storage system fails, do not attempt to rebuild the RAID or treat data corruption issues with software. EMC systems need prompt attention from experienced RAID recovery specialists. Keep track of any error messages or LED indicators that preceded the failure and contact a professional data recovery company as soon as possible.
Secure Data Recovery Services offers no-risk diagnostics for all EMC systems, including the Symmetrix and CLARiiON series. Within a day of receiving your media, we will provide you with a free price quote, turnaround estimate and a synopsis of the factors that contributed to your RAID failure.
When you work with Secure Data Recovery Services, you can choose from several turnaround levels, including our best-in-class 24/7/365 emergency services, to restore your system cost effectively. With state-of-the-art security and advanced laboratory technology, we offer the best available option for EMC data recovery. Contact our customer service team to get started or for more information.
EMC Data Recovery Reviews
Michael Steinman Jazz Lives
Reviewed on Sep 23, 2019 | Great Neck, NY
I called Secure Data Recovery and spoke to Jake Gambatese, who explained everything very clearly (in a friendly human manner) on the phone and followed up with emails. He was a pleasure to deal with: not a robot, able to answer questions in a casual yet specific way, and his approach was very comforting (when the possibility of losing one''s data is imminent, one needs comfort). Ultimately I did... Read Moren''t need SDR because I had -- like a good boy -- backed up my external hard drive with a duplicate -- but Jake was the very model of how to deal with customers, and should I ever screw up again, I hope he''s on the phone.
Patrick Cuba Coltsmann
Reviewed on Sep 23, 2019 | ,
My man Jake was quick with all his emails and VERY effective. Really glad he was my representative.
John Smith
Reviewed on Sep 18, 2019 | Monkton, MD
Just got my data back and I couldn''t be happier! The technicians were able to make a full recovery and my representative Scott Moses was very kind and professional. He answered my questions thoughtfully and made sure that I knew exactly what was happening with my drives. I''m very thankful to SDR and Scott, and will definitely be using their services again should I run into any further trouble wi... Read Moreth data loss.