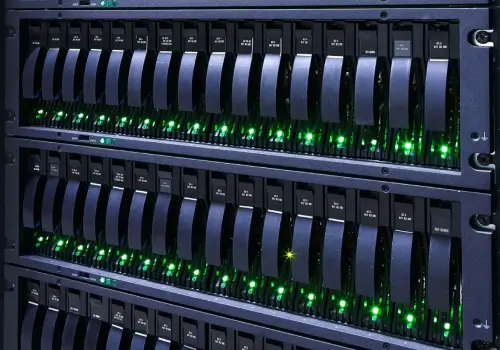 Dell RAID Data Recovery Services
Secure Data Recovery Services provides a dedicated, professional resource for Dell RAID data recovery and server repair. Our engineers can quickly restore data from any damaged RAID system and rebuild your array to prevent downtime and productivity losses.
We offer professional RAID recovery services for all PowerEdge RAIDs including tower, rack and blade servers.

Dell is one of the most popular server and storage system manufacturers in the world. Their PowerEdge and EqualLogic series are particularly popular thanks to flexible tower, rack-mount and modular options. Dell servers are RAID-capable, and most companies configure their servers with RAID 5 or other high- performance, redundant configuration options.
RAID provides essential protection against data loss, but systems can still fail after re-striping errors, unintentional volume deletion, multiple mechanical failures and other events. In most situations, LCD error messages or audible alarms accompany these failures. Some PowerEdge systems also have email notification systems to inform system administrators of hard drive failures and other mechanical issues, but every server is different and failure scenarios vary.
At Secure Data Recovery Services, we regularly work with Dell RAID systems. Our engineers can repair damaged hard drives, restore corrupted files and rebuild your array after virtually any unexpected failure. With our no recovery, no charge guarantee, we deliver dependable results with industry-leading security and fast turnaround times.
To set up a free evaluation for Dell RAID data recovery, contact our customer service team today.
An Experienced Dell Server Data Recovery Provider
Dell servers in the PowerEdge and EqualLogic series have dozens of potential configuration options, and regardless of whether you are running a fairly traditional or complex RAID, you should always look for an experienced data recovery company that can handle the case quickly and safely.
Secure Data Recovery Services specializes in Dell RAID data recovery. Our laboratory features dedicated recovery stations for VMFS, HFS+, Ext4, Ext3 and other file systems, and we can quickly repair damaged or corrupt files.
We can also treat physical media issues. As one of the first data recovery companies with a certified Class 10 ISO 4 Cleanroom, we are uniquely qualified to repair damaged hard drives, solid-state drives and other storage devices.
Other features of our RAID data recovery laboratory:
Experienced Engineering Teams
An Expansive Hardware Library with Media Components and RAID Controller Cards
SSAE 18 Type II Certification
Frequent Case Status Updates and 24/7 Customer Service
We know how Dell server failures affect our customers. To minimize your downtime, we offer 24/7/365 emergency data recovery services and remote data recovery. We have a network of offices across the United States and can turn most cases around in less than 48 hours. All of our services feature a no recovery, no charge guarantee, and our free diagnostics give you an easy way to get a price quote and turnaround estimate before making a case decision.
What to Do When a Dell RAID Server Fails
If your Dell server fails, do not attempt to rebuild or reinitialize the array. Note any LCD errors, BIOS errors or mechanical failure symptoms and contact Secure Data Recovery Services immediately. Do not run data recovery software or disk utilities.
Secure Data Recovery Services can treat all RAID failure scenarios including:
Accidental File Deletion or Formatting
Failed RAID Rebuild or Reinitialized Array
Electronic Damage
Multiple Simultaneous Hard Drive Failures
Virus Damage, Controller Card Issues and More
Secure Data Recovery Services provides a comprehensive resource for Dell RAID data recovery and RAID repair. With more than 40 offices in the United States, we provide easy access for our clients, and our excellent security credentials help you maintain compliance while using our services. For a free evaluation or for more information, call our 24/7 RAID data recovery line today.