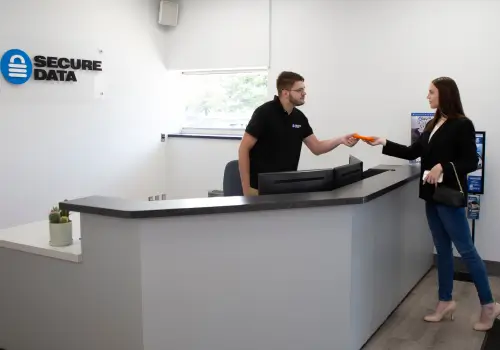 Data Recovery Services in Indianapolis - RAID, SSD & Hard Drive Recovery
Secure Data Recovery has provided Indianapolis with certified data recovery services for over 15 years. We pride ourselves on delivering excellent success rates in the most challenging circumstances. Stop into our store at 6520 East 82nd Street, between Center Run Drive and Craig Street, just east of Castleton Square.
Experience peace of mind with a free evaluation and guaranteed results from the experts in hard drive data recovery in Indianapolis.
Our customers rate our services:
We Helped Thousands Get Their Lost Data Back.
With over 5,329 satisfied customers and growing, we are proud to provide outstanding customer experience and quality service that consistently exceed customer expectations.
View All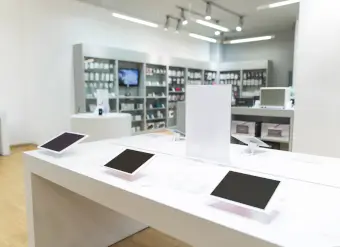 Secure Data Recovery Services
Emergency Services Available 24x7
Secure Data Recovery Near You
Need data recovery services in Indianapolis? With multiple stores in the Indianapolis metropolitan area, we have a convenient location for you. You can find us in northwest Indianapolis at 5455 West 86th Street, near the intersection with Zionsville Road.
We have two additional stores in Central Indiana. We are located at 136 South 9th Street in Noblesville, on the corner of Maple Avenue. Or visit us in Avon on US Route 36, east of the intersection with Ronald Reagan Parkway.
Indianapolis data recovery is within reach.
Contact us or drop into one of our locations to start a case and reclaim lost data.
Indianapolis Data Recovery Company
Secure Data Recovery Services is the authority in hard drive recovery, SSD recovery, and RAID recovery. Since 2007, our data recovery company has helped tens of thousands of individuals and businesses of all sizes in the Indianapolis metropolitan area successfully recover from every type of data loss scenario imaginable. We have seen your failure type before and our team understands the importance of data in the modern world. We're ready to recover your lost data with our flexible Economy and Standard data recovery services, or immediately with our Emergency data recovery option.
What Can We Recover For You Today?
Indianapolis, IN Data Recovery Reviews
Kazuki Maeda
Reviewed on Jul 27, 2023 | West Lafayette, IN
Professional data recovery service
My NAS stopped booting up all of sudden. Multiple HDDs were configured in RAID0 and data extraction was challenging. I reached SDRS and Scott promptly processed the case with clarity and transparency. The data was successfully recovered. I highly recommend SDRS.
Darrell Young
Reviewed on Jul 03, 2023 | South Bend, IN
Scott got my data back, thanks again for the great work.
Bailey Bender
Reviewed on Jun 28, 2023 | Indianapolis, IN
After my phone was run over multiple times, I did not have much hope for data recovery. However, Secure Data Recovery Services recovered 100% of all data in a short amount of time. Elliot Fisher gave great customer service, being both prompt to respond and informative about the process of data recovery. I could not ask for better service or results. Thank you all for recovering my photos and irrep... Read Morelaceable memories!
Deborah Christie
Reviewed on May 02, 2023 | ,
Most appreciative and relieved
I had the pleasure of working with Timothy. Wish all business went this well. Timothy was knowledgeable and understanding of the impact data loss can have. The process was straightforward and simple and Timothy was excellent and timely in communicating each step along the way. Data loss is a nightmare, and I am appreciative that your process at Secured Data Recovery did not add stress to a dis... Read Moreaster. At the risk of sounding like a cliché, it was truly a pleasure doing business with you. I would highly recommend Secure Data Recovery to anyone facing data loss. They saved me personally a great deal of time and the company a significant amount of money by recovering the data quicker than it would have taken us to restore from backup. Thank you again!
Jeff Yates
Reviewed on Apr 08, 2023 | Jeffersonville, IN
VERY HAPPY! definitely recommend!
I am more than happy with my experience. I was told 3-5wks wait and got my data back in less than 4. My point of contact, jake, was awesome. Kept me informed through the whole process and answered all my questions, even on the weekends. The cost was more than I expected but well worth it. DEFINITELY would use them again!
H L
Reviewed on Mar 16, 2023 | Indianapolis, IN
Jonathan Nguyen is great. My hard drive became corrupted and died. It was suggested that I use Secure Data Recovery. I called and Jonathan picked up my call. Service has be great
Why Choose Secure Data Recovery in Indianapolis?
Certified and Verified Secure
Transparent Process
Trusted and Guaranteed Results
Secure Data Recovery Services operates in world-class facilities that undergo regular SSAE 18 SOC 1, SOC 2, and SOC 3 audits to verify the integrity of all cybersecurity management control systems. This means that your data is protected at every stage of the recovery process.
Each of our Lab facilities also has a certified Class 10 ISO 4 cleanroom. This specialized environment provides state-of-the-art filtration to remove potentially harmful airborne particulates that could damage the sensitive internal components of storage devices.
Secure Data Recovery Services' facilities in Indianapolis have accreditation with the Better Business Bureau and maintain an A+ business rating. Your complete satisfaction is our mission. We strive to deliver the highest quality of service for every data recovery case.
For more than a decade, the engineers at Secure Data Recovery Services have built a reputation as the most reliable provider of professional data recovery in the industry. Our expert team maintains a documented 96% successful recovery rate.
We maintain partnerships with every major digital storage manufacturer to ensure our custom solutions never threaten any existing product warranties. We also invest heavily in research and development to keep pace with rapidly evolving digital storage technology.
BBB A+ Certified Data Recovery Company
All of our locations are accredited with the Better Business Bureau, and our A+ rating reflects a commitment to exceptional customer interaction with every case.
BBB of Indianapolis, IN Accredited Business with an A+ Rating
The BBB issues company reviews to report accreditation levels and ratings. Our latest review details the standards that led to our top rating of A+.
Indianapolis and Marion County residents have a local resource for repairing all forms of media damage and data loss, including:
Hard drive head crashes and electronic issues
Failed RAID rebuild procedures
User error and accidental deletion
Virus damage
Software and operating system errors
Fires, flooding, and other environmental disasters
Our teams can successfully treat virtually any damaged device, helping you regain access to important files after a media disaster. At Secure Data Recovery Services, we pride ourselves in offering the highest success rates and quickest turnaround times for hard drive recovery. Prospective Indianapolis computer users can also take advantage of our flexible service options, including a 24/7 emergency service.
If you cannot access a hard drive, solid-state drive, or any other device, we can quickly provide diagnostics and a free quote through our local office in Indianapolis. Hard drive data recovery and repair is a quick, secure, and dependable process. Contact us today for more information or to start your case.
Free Data Recovery Quote
We intimately understand all data loss scenarios and will exhaust all options technologically possible to reunite you with your lost data as quickly as possible. When you choose Secure Data Recovery Services, you get the most credentialed professionals in the industry.
Service times and exact pricing for a successful recovery always depend on the specific damage to the storage, which is why we offer free, no-risk diagnostics with every standard service.
Our quotes consist of:
Price for successful recovery
Time estimates for job
Key information about the events that led to data loss
Call 317-527-4699 to speak to a data recovery expert 24x7 and schedule your free data recovery consultation with a no-obligation price quote.