Data Recovery Services in Jupiter - RAID, SSD & Hard Drive Recovery
Restoring lost data from a failed RAID, SSD, hard drive, or other data storage has never been more convenient for communities in Jupiter, FL and the greater West Palm Beach area. Our Sims Creek store on W. Indiantown Road a few blocks southeast of the Riverwalk can assist with any type of data loss.
Get complete peace of mind with our "No Data, No Recovery Fee" guarantee.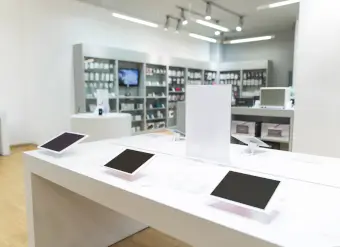 Secure Data Recovery Services
Emergency Services Available 24x7
Secure Data Recovery Near You
Looking for data recovery in Jupiter, FL? We have multiple stores across Palm Beach, Broward, and Miami-Dade counties to ensure that you have access to a data recovery location near you. In addition to our Jupiter, FL office, you can visit us in West Palm Beach near the junction of Hank Aaron Drive and Palm Beach Lakes Blvd. just a few blocks west of Roosevelt Estates. Need data recovery in Boca Raton? Visit us on Yamato Road near the junction with NW 2nd Street just west of Highland Beach.
Call us or stop by to schedule your free data recovery consultation with a no-obligation price quote.
Jupiter, FL Data Recovery Company
Secure Data Recovery Services is the authority in hard drive recovery , SSD recovery, and RAID recovery. Since 2007, our data recovery company has helped tens of thousands of individuals and businesses of all sizes in Jupiter, FL and its surrounding areas successfully recover from every type of data loss scenario imaginable. We have seen your failure type before and our team understands the importance of data in the modern world. We're ready to recover your lost data with our flexible Economy and Standard data recovery services, or immediately with our Emergency data recovery option.
What Can We Recover For You Today?
In addition to hard drive recovery and RAID recovery, we specialize in complex data loss solutions for SSD drives and other NAND-based flash memory devices, iPhone and Android smartphones and mobile devices, network-attached (NAS and SAN) storage systems, and virtual machines.

Jupiter, FL Data Recovery
Louis Raskin (CRYPTOLETE)
Reviewed on Jun 24, 2021 | Jupiter, FL
I sent my broken hard drive in after a local shop couldn't recover the data from it. I was assigned Eric Dvorin as my account manager and he was able to assist me through the whole process. Really professional and also down to earth. The process was a pleasure. Very happy with everything all around.
Chynna Tackett
Reviewed on Aug 20, 2020 | Wellington, FL
Was relatively quick to respond and friendly
Whenever I had a question, it was answered quite fast. Even my frustrating issues regarding shipment were forgiven by the oh so patient Kyle. It''s just disappointing that I was not able to go through with the recovery: cost is something I really need to pay attention to. If nothing else, I know what is wrong with my flash drive now.
Daniel Lamazza
Reviewed on Jul 03, 2020 | Boca Raton, FL
Recovering data made easy
When my six-month-old daughter grabbed my laptop And slammed it on the floor and broke my flash drive I thought I lost a lot of good work forever! thanks for the help of secure data and my rep who walked me through the process of recovery Chris I was able to get my data back quickly and most importantly didn't lose any of my files
Alex Kopacz
Reviewed on Mar 15, 2020 | Wellington, FL
A big shout out to Secure Data Recovery!
I can''t thank Scott Moses and the team at Secure Data Recovery enough! Not only did SDR recover my data in a timely manner but they helped me understand the process and kept me informed every step of the way. In an otherwise very stressful situation, I immediately felt at ease after my initial conversation with Scott. I''ve learned a ton through my working relationship with Scott and SDR and f... Read Moreeel better informed so we don''t run into similar issues in the future. Highly recommended!!
Rainey Cummins
Reviewed on Sep 09, 2017 | Lake Worth, FL
I was unable to access years of photos on my external hard drive. My son came across Secure Data Recovery and I am so glad he did! Amazing company! My account rep, Frederick Wright was amazing and very patient with me. He was able to work with me and my budget.

I have all my photos back and I am EXTREMELY SATISFIED and would highly recommend them to anyone needing data recovery. Th... Read Moree Secure Data Recovery team has been professional, timely and courteous.

Thank you so much to the techs!!
Why Choose Secure Data Recovery In Jupiter, FL?
Certified and Verified Secure
Transparent Process
Trusted and Guaranteed Results
Secure Data Recovery Services operates in world-class facilities that undergo regular SSAE 18 SOC 1, SOC 2, and SOC 3 audits to verify the integrity of all cybersecurity management control systems. This means that your data is protected at every stage of the recovery process.
Each of our Lab facilities also has a certified Class 10 ISO 4 cleanroom. This specialized environment provides state-of-the-art filtration to remove potentially harmful airborne particulates that could damage the sensitive internal components of storage devices.
For more than a decade, the engineers at Secure Data Recovery Services have built a reputation as the most reliable provider of professional data recovery in the industry. Our expert team maintains a documented 96% successful recovery rate.
We maintain partnerships with every major digital storage manufacturer to ensure our custom solutions never threaten any existing product warranties. We also invest heavily in research and development to keep pace with rapidly evolving digital storage technology.
Free Data Recovery Quote
We intimately understand all data loss scenarios and will exhaust all options technologically possible to reunite you with your lost data as quickly as possible. When you choose Secure Data Recovery Services, you get the most credentialed professionals in the industry.
Service times and exact pricing for a successful recovery always depend on the specific damage to the storage, which is why we offer free, no-risk diagnostics with every standard service.
Our quotes consist of:
Price for successful recovery
Time estimates for the job
Key information about the events that led to data loss
Call 800-388-1266 to speak to a data recovery expert 24x7 and schedule your free data recovery consultation with a no-obligation price quote.